1. Introduction
Table 1.
Names of different products under different reaction conditions
Reactant A
Reactant B
Reactant C
Ratio (

n

∕

n

)
Solvent
Product number
1:3:1
Distilled
MSDS-1
SDS
HCHO
C4H11NO2
1:3:2
Water
MSDS-2
There are lipophilic and hydrophilic groups in the molecular structure of a surfactant, and the existence of an amphiphilic structure makes adsorption possible on the liquid interface. After the adsorption of a surfactant, the interfacial properties of a solution change significantly [1]. Experimental studies found that the structure of a surfactant has a significant impact on its properties [2, 3] such as washing, wetting, dispersing, emulsifying, solubilizing, foaming, and so on. Surfactants are widely used in the fields of washing products, chemical industry, medicine, textile, remediation of petroleum-contaminated soil [4, 5, 6], and so on. As a result of the continuous development of the economy, the chemical industry in China has grown significantly with the rise in demand and application of surfactants. To effectively promote the application of surfactants in various fields, we need to strengthen the chemical structure of surfactants [7]. For anionic surfactants, the active constituents are anions. In general, the length of carbon chains is between 12 and 18. When they dissolve in water, they produce hydrophilic anionic groups [8]. The catalog of anionic surfactants is very large with a wide variety, which forms a complete system, and it has an extensive range of practical applications [9]. However, it has some shortcomings. For example, it cannot meet the demand of extreme environments such as high methanol content, high salinity, high temperature, and so on. In this work, modified sodium dodecyl sulfate surfactants (MSDS-1 and MSDS-2) were prepared by using methanol and diethanol amine as modifiers to overcome these shortcomings [10].
2. Experimental section
2.1. Materials
Sodium dodecyl sulfate (SDS) was purchased from Xi'an Chemical Reagent Factory. Methanol and formaldehyde were purchased from Tianjin Tianli Chemical Reagent Co., Ltd. Diethanol amine was purchased from Tianjin Kelong Chemical Reagent Factory. All chemicals were used without further purification.
2.2. Synthesis and reaction mechanism of surfactants
Formaldehyde, SDS, and diethanol amine were weighed in proportion (molar ratio as shown in Table 1). Sodium dodecyl sulfate was placed in a 250 mL flask. To this, 200 mL distilled water was added as the solvent. Formaldehyde was added to the flask drop by drop at 70 °C at a rate of 1 drop/s, and the mixture was stirred for 3 h. As shown in Scheme 1, two possible reactions provide two products, which were named as shown in Table 1. They are MS (ESI) of MSDS-1 m∕z: 382; MS (ESI) of MSDS-2 m∕z: 499.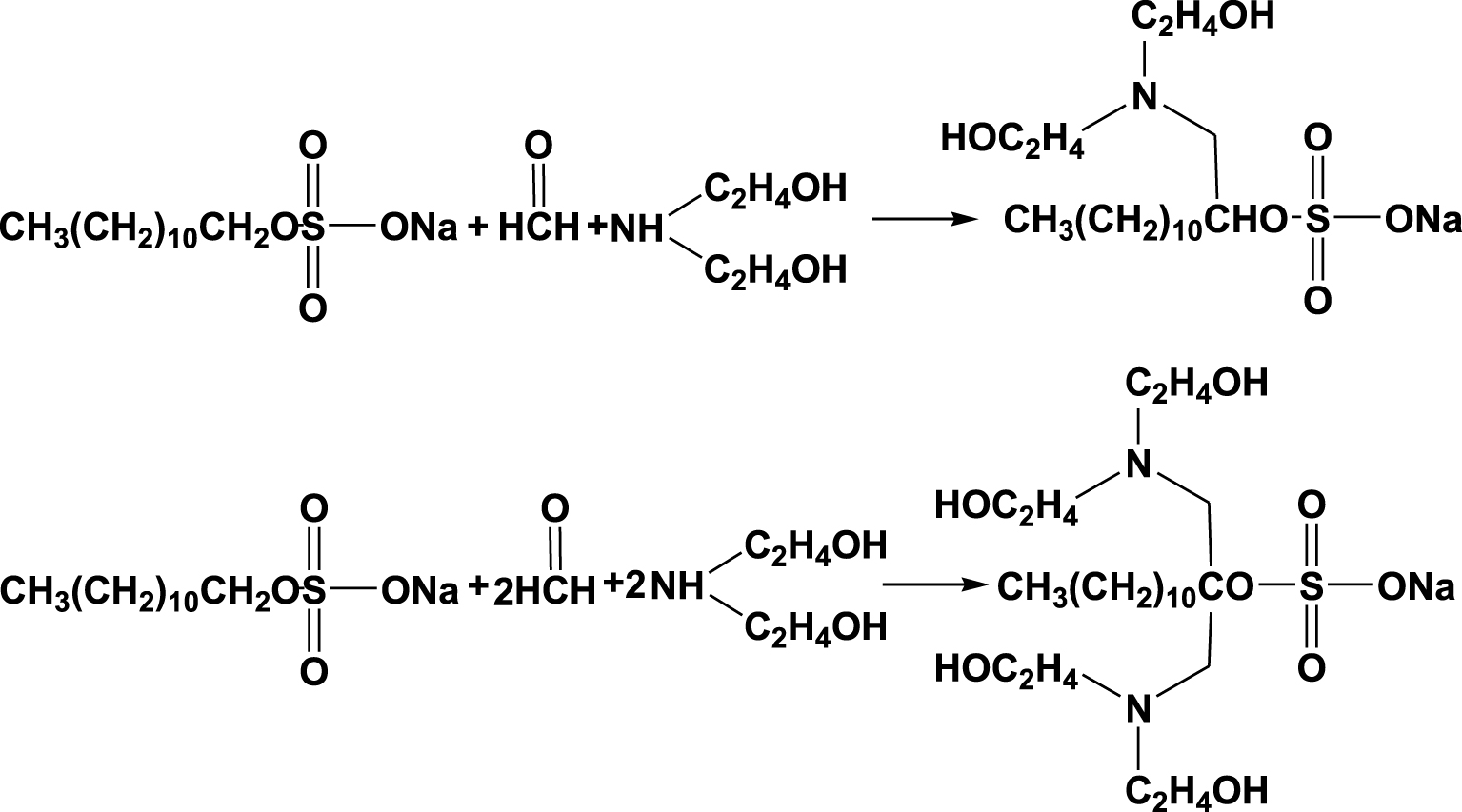 Table 2.
Critical micelle concentration and surface tension for a surfactant concentration of 0.05%
Surfactant
cmc value (%)
0.05% surface tension (mN/m)
SDS
0.0090
33.2
MSDS-1
0.0091
31.6
MSDS-2
0.0094
31.8
2.3. Surface tension measurements
Distilled water was used to prepare 0.0001%, 0.0005%, 0.001%, 0.003%, 0.005%, 0.008%, 0.01%, 0.02%, 0.03%, 0.04%, and 0.5% (mass fraction) surfactant solutions. The surface tension of each surfactant solution was determined by a tensiometer, and the critical micelle concentration (cmc) was determined [11]. The tensiometer was checked before the surface tension measurement using distilled water to confirm the standard surface tension value of distilled water [12]. Each experiment was repeated thrice.
2.4. Foaming ability measurement
There are many methods for generating foaming, including the sparge tube technique or gas flow and "whipping" [13, 14]. In the present study, the high-speed stirring method was used to evaluate the foaming properties of surfactant solutions. The foaming ability was measured as the volume of the foam produced immediately after the mechanical agitation stopped. The foam volume and foam half-life (time taken to separate 50 mL water) were recorded.
2.5. Microstructure of foams
The microstructure of foams produced by different surfactant solutions and their changes with time were studied using an optical microscope, whose light source is polarized light (DM4500P LFD, Germany).
3. Results and discussion
4. Conclusion
In this work, modified sodium dodecyl sulfates (MSDS-1 and MSDS-2) are prepared by the Mannich reaction of SDS, formaldehyde, and diethanol amine. After modification, the surface tension is basically unchanged, and the foaming performance and foam stability are improved. At the concentration of 0.5%, the initial foam volumes of MSDS-1 and MSDS-2 can reach 425 mL and 435 mL, respectively, which are much higher than that of SDS. Compared with SDS, the temperature resistance, methanol resistance, salt resistance, and condensate resistance of MSDS-1 and MSDS-2 are improved. Among them, the temperature resistance, salt resistance, and methanol resistance of the MSDS-1 solution are the best. The MSDS-2 solution has the best anti-condensate performance. In addition, the foam size becomes smaller, the foam wall thickens, and the foam stability increases.