1. Introduction
Detecting and characterizing active faults in mainland France is a difficult task. Until recently, a way of determining whether a fault should be considered as potentially active (or not) was to analyze the tectonic deformations over a period of time of several millions of years, for instance after the Miocene [e.g. Jomard et al. 2017]. Such an approach was guided by the combination of (1) a potential poor coverage of Upper Pleistocene to Holocene deposits (i.e. typically the last 100 ka), hence limiting the capacity to detect recent deformations in the geological record, and (2) a need to include a series of earthquake recurrence intervals, which could eventually represent time spans from tens to hundreds of thousands of years in intraplate regions, or even more to several million years [see for instance International Atomic Energy Agency, IAEA 2010]. This approach aimed at covering an appropriate time span to capture the present-day behavior of faults in terms of kinematics (i.e. sense of movement and slip rate), considering that the boundary conditions and processes controlling these deformations have remained stable through time.
However, permanent and temporary geodetic measurements (mainly GNSS), recorded over the past 20 years in France [e.g. Masson et al. 2019], show that the strain field observed at the surface is not consistent anymore with the Mio-Pliocene contraction inferred from geological data, especially in the Alpine and Pyrenean ranges and forelands, whereas the national-scale or regional-scale stress orientation inferred from focal mechanisms, can be consistent with far-field plate tectonics [e.g. Mazzotti et al. 2021; Mathey et al. 2021, respectively]. This suggests a combination of processes at play behind current deformation and seismicity, at least locally, possibly diverse in origin, from plate tectonics, to isostatic or local forces, even gravitational potential of the lithosphere [e.g. Camelbeeck et al. 2013; Vernant et al. 2013; Calais et al. 2016; Genti et al. 2016; Sternai et al. 2019; Mathey et al. 2021; Malcles et al. 2020].
The entire mainland France can be described now as a part of a plate interior. But despite very low strain rates [∼10−9 an−1, Masson et al. 2019], France and neighboring regions have experienced moderate (5 < M < 6) or even strong (M⩾6) earthquakes in history [ref. Sisfrance and Manchuel et al. 2018]. Although the historical archives cover several hundred years, this very low strain rates setting requires extending the recording to geological information in order to complete the earthquake information. The "Failles ACTives France" axis (FACT) in the Action Transverse Sismicité (ATS) of the Resif-Epos consortium aims at filling this gap [see Masson et al. 2021].
In this paper, we argue that the knowledge of active faults in mainland France is still largely fragmentary and we emphasize that a significant effort needs to be engaged to bring robust data, especially on the numerous faults which have not been studied yet. These data will provide an important input not only for further seismic hazard models but also for conceptual models describing the processes behind seismicity. We hereafter focus on some recent examples of investigations performed along suspected active faults in mainland France. These faults are located in mountainous areas, their forelands or the remote lowlands and even offshore (Figure 1). Along them, new approaches and new tools are being implemented in order to go further in the characterization of their past activity.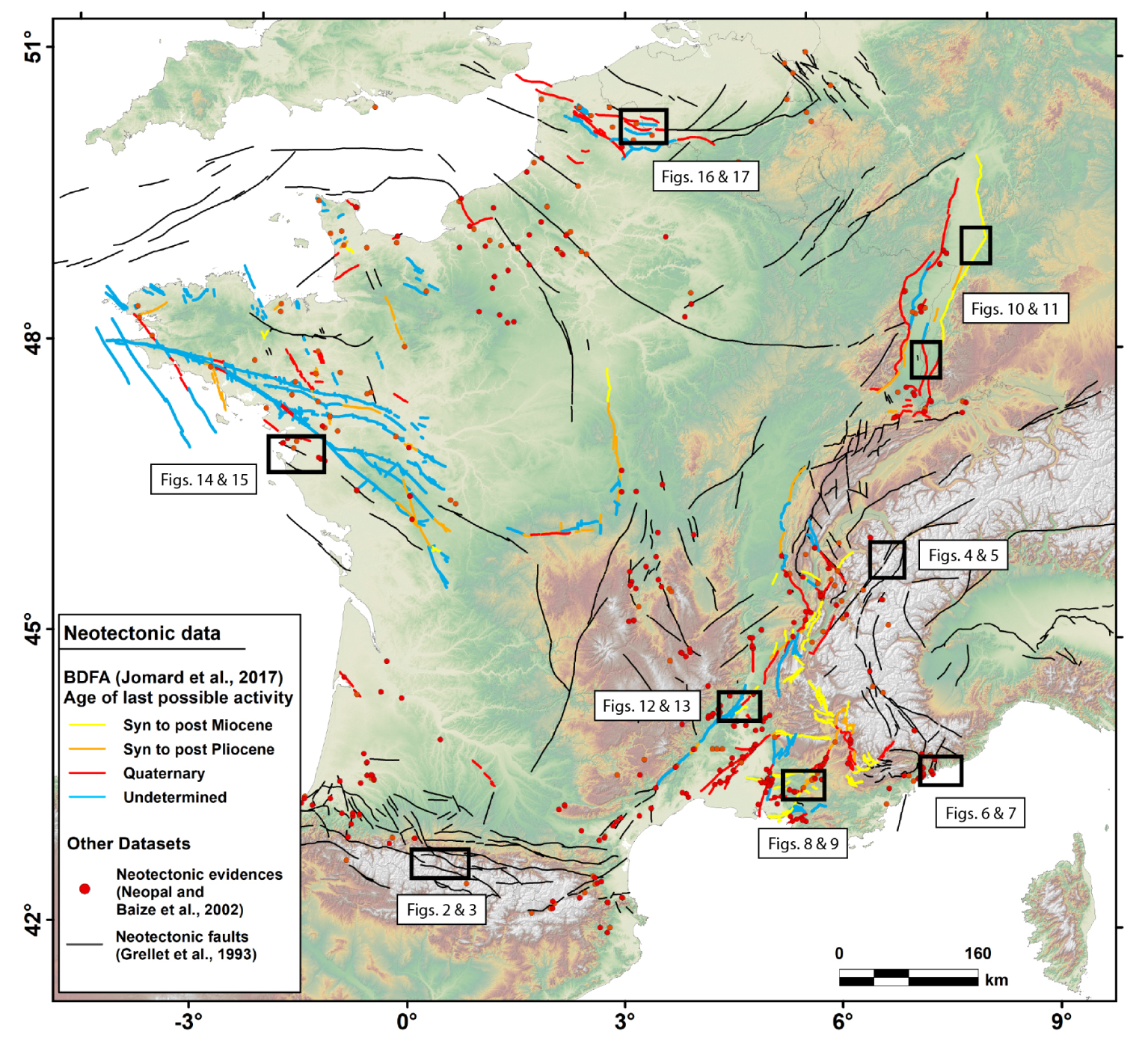 2. State of the art
It is during the last twenty years that the unequivocal explanation of the tectonic deformation and seismicity in mainland France by the Africa–Eurasia convergence has been questioned, largely from the results obtained from geodetic networks. Since the recent installation of these networks, spatial geodesy has failed to show measurable and significant crustal deformation around the main seismotectonic structures [e.g. Nocquet and Calais 2003]. At this time scale of observation, mainland France was usually considered belonging to a rigid block at the resolution of ∼0.25 mm/yr [Nocquet 2012]. It is only recently that Masson et al. [2019], using a field of densified GNSS velocities and alternative calculation strategies, detected regional deformation rates of the order of 10−9 yr−1, based on regionally coherent GNSS velocity fields. Other authors combining modeling and other geodetic data [e.g. Fuhrmann et al. 2015; Mathey et al. 2020], succeeded in detecting relative block movements around major geological structures (the Haute-Durance fault and the Upper Rhine Graben faults, respectively).
Geology and its branch of study of past earthquakes, paleoseismology, which a priori considers longer-term markers of deformation, paradoxically have provided little robust information on activity of faults in France, and on a limited number of cases. The old literature, which is often driven by other objectives than demonstrating active tectonics, is full of more or less reliable "evidences" of surface deformation, which have been partially analyzed and discussed in various compilations in terms of neotectonics [Baize et al. 2002; NéoPal Database; Bellier et al. 2021]. Recently, efforts to integrate these "evidences" in order to define seismogenic sources have been undertaken, first of all in the definition of seismotectonic zones and faults at the scale of the national or regional scale [e.g. Larroque et al. 2012; Baize et al. 2013], then more specifically in the periphery of nuclear sites as part of a joint Institut de Radioprotection et de Sûreté Nucléaire (IRSN)–Environment Ministry effort to define basic parameters characterizing potentially active faults (degree of activity, geometry, kinematics), compiling data available in the literature (BDFA)[Jomard et al. 2017].
Actually, few faults have been investigated in-depth, exploring their relationships with current seismicity, seeking the recent stratigraphic record of past earthquakes, and quantifying their seismotectonic parameters. Indeed, the endeavor to obtain convincing results is big, because the level of tectonic activity is low during the recent and relevant period (i.e. Quaternary), and major morphogenic earthquakes (M > 6) are rare. Moreover, tectonic deformations are easily balanced or erased by external processes (erosion and sedimentation), and then difficult to detect.
Among the faults studied in a thorough and relatively complete manner, we can point out the Middle Durance fault zone which carries a recurrent historical seismicity (one significant event per century, since the sixteenth century), extensively mapped and defined from a geometric point of view, thanks to the analysis of seismic profiles and of microseismicity [Cushing et al. 2008], completed by paleoseismological results [Sébrier et al. 1997]. Recent tectonic activity and geometry of the Vuache fault, the source of the 1996 ML ∼ 5.3 Epagny earthquake [Thouvenot et al. 1998], have been clarified by Baize et al. [2011] and, in the same region, the Holocene activity of the Culoz fault system has been demonstrated by seismic profiles in the Lac du Bourget sediments [De La Taille et al. 2015]. In the Alps, Cara et al. [2017] identified, on the basis of tectonic and seismological data, several surface faults as potential sources of the damaging Chamonix earthquake (Mw ∼ 5.3; 1905), a hypothesis which is currently under investigation (see hereafter, the Vallorcine fault). Thouvenot et al. [2003] and Billant et al. [2015, 2016] explored the Belledonne Fault activity, the major active fault close to Grenoble, respectively with seismological and geological approaches. In a suposedly less active area of France, the study of the Dover Strait faults (Pas-De-Calais), the suspected source of the 1580 Dover earthquake (M ∼ 6) highlighted a remarkable structural signature but limited surface activity, prior to the Lower Pleistocene [García-Moreno et al. 2015]. Paleoseismological studies themselves, demonstrating the coseismic character of the deformations on the fault and possibly the timing of these, were carried out successfully only on a few cases, such as along the Trévaresse fault [Chardon and Bellier 2003; Chardon et al. 2005], the Achenheim [Lemeille et al. 1999] and Reinach faults in the Upper Rhine Graben [Ferry et al. 2005], or on a segment potentially connected to the Nîmes fault [Carbon et al. 1993]. Unfortunately, this kind of extensive studies on geological objects can be considered as exceptions [see more details in the article by Bellier et al. 2021].
3. Studying active faults in Metropolitan France: new studies and perspectives
4. Discussion and conclusions
In this contribution, we have emphasized some basic results and highlighted several clues, methods and strategies that are currently under development to characterize active faults in mainland France. These investigations involve new and innovative techniques as well as classical approaches, and mobilize earth scientists from various fields of expertise (geologists, geophysicists, geomorphologists, earthquake geologists).
4.1. Toward a contribution to the quantification of fault activity
The examples presented here cover a large panel of settings, and illustrate that the tectonic context in the different French regions affected by earthquakes is complex, and probably controlled by several different geodynamic processes as summarized by Mazzotti et al. [2020] and developed in references therein. These processes comprise long-term and large-scale tectonics including the African–Eurasian convergence, the counter-clockwise rotation of the Adria microplate [e.g. Eva et al. 2020; Mathey et al. 2021], the Atlantic ridge push [Gölke and Coblentz 1996], the isostatic motions related to local or regional internal and/or external phenomena [e.g. Sternai et al. 2019; Malcles et al. 2020], the stresses caused by Gravitational Potential Energy [Camelbeeck et al. 2013] and/or transient processes [e.g. Grasso et al. 1992]. The understanding of "faults" in a conceptual framework is then difficult and the classical scheme established for fast faults with a tectonic loading governing a seismic cycle probably becomes unsuitable in the state of knowledge [Calais et al. 2016]. Seismic hazard calculation models will however undoubtedly benefit from a better characterization of active faults. Determining fault geometry at the surface (length, segmentation) and at depth (width, dip angle) with geological and geophysical data, estimating the fault kinematics with seismological or paleoseismological data, or assessing their slip rates with geodetical or geological information, are the keys to convert those faults into potential earthquake sources for seismic hazard models. Such geological information are necessary to define fault models through their related magnitude-frequency distribution of seismicity, including in slowly deforming regions [e.g. Clément et al. 2004; Chartier et al. 2017; Gómez-Novell et al. 2020; Valentini et al. 2020].
4.2. Unclamping the caveats
To pursue the effort already engaged (see the foregoing sections) with a good chance of success, some caveats must be taken into account and the recent studies' background helps a lot in understanding how to overcome them.
First, and echoing the previous sections, we emphasize that the cases analyzed had been explored with success by the following appropriate strategies depending on the setting, sometimes favoring the geology of superficial formations (e.g., trenches), sometimes subsurface geophysics, sometimes tectonic geomorphology, or even the use of advanced seismological data. The feedback of the La Rouvière Fault study near Le Teil (see above) has reminded to us, trained earthquake-geologists, that fault activity could be recorded as well in a priori unsuitable settings, such as slopes in hilly and covered regions. This underlines the potentiality and relevance of "classical" geological and paleosismological investigations, and the necessity to include them in the first stages of investigations. However, we stress that the intraplate context of low deformation makes it necessary to conduct multidisciplinary research to describe the geological features at various temporal—while remaining in the Quaternary period limit—and spatial scales, and to discuss the potential controls on the apparent deformation, whatever they are external or internal processes. Such studies should involve complementarity of the invested researchers.
Concretely, some technical means are also crucial to move forward. The acquisition or provision of a very high-resolution DEM appears necessary to detect potential morphotectonic signatures of fault activity, small surface deformations and a good visualization of the terrain that precedes any investigation on surface formations. For instance, the availability of the LiDAR DEM of Baden-Würtemberg (Germany) or in Provence enabled imaging of potential deformation markers prior to trenching [e.g. Thomas 2018; Reicherter et al. 2021].
InSAR is also now widely used to access the slow ground displacements at regional scales, and the results could be particularly relevant in neotectonics and fault study because of their spatial coverage which drastically complete the GNSS velocity fields [e.g. Berthelon et al. 2019; Mathey 2020].
Several dating methods (e.g. in situ-produced cosmogenic radionuclides, OSL, ESR, 14C) now allow to date almost all types of material/deposits (quartz, carbonates, volcanic, detrital, organic, etc.) exposed in surface or buried, and to (almost) all Quaternary time scales: this could allow reaching time constraints unequaled until today. Thus, we can quickly revisit the shortcomings of dating associated to known deformation markers, among them undated potential paleoseismic events [e.g. see the Trévaresse Fault trenches: [Chardon et al. 2005]; the Courthézon trench deposits: Carbon et al. 1993] or fault mirrors [e.g. Vignaroli et al. 2020].
High-resolution geophysical subsurface prospecting techniques will be beneficial, including georadar [e.g. McClymont et al. 2008], electric tomography [e.g. Nguyen et al. 2007; Villani and Sapia 2017], seismic reflection in S waves [e.g. Wang et al. 2021]. Such techniques will help in locating faults below the Quaternary deposits (see the example of the Marsanne fault above). Within the offshore region of mainland France, active faults can be investigated thanks to appropriate techniques such as multi-channel seismic reflection and multibeam bathymetry, and Remotely Operated Vehicles) [e.g. Escartín et al. 2016, and the Ligurian fault system presented above].
4.3. Further studies strategy
The strategy of targeting the epicentral area of large historical earthquakes as an indicator of the seismic activity of active geological structures and as a guide to studying them has proved to be successful in most cases. However, it has also shown its own limits with the occurrence of the Le Teil earthquake, relatively far from any significant historical epicentral area. The occurrence of this earthquake in 2019 also revealed the gaps in our knowledge on the active faults: the source fault (La Rouvière fault) is now proved to have been responsible for tectonic deformations during the Pleistocene–Holocene [Ritz et al. 2021], while it was missing from any study in the literature and hence in the BDFA [Jomard et al. 2017].
How can we proceed in order to improve our state of knowledge? The first option can be to continue on the "track of the historical earthquake", investigating the faults in their immediate vicinity. However, given the long recurrence intervals of earthquakes, we also need extending beyond, by targeting the inherited structures longer than 5 km with either a morphological signature, or limiting Plio-Quaternary sedimentary basins. The target areas could still be very wide in Mainland France and one could suggest piloting studies by societal issues such as proximity to populated areas, environmentally hazardous facilities, or strategic areas for communications, transport of essential resources, etc. Anyway, defining targets, as well as implementing complementary approaches, implies close collaboration between academic researchers, with their thematic knowledge, institutional scientists, with their regional and regulatory knowledge, and finally industry/stakeholders, with their prioritization of the facilities to be protected.
The FACT group within the ATS consortium action [Masson et al. 2021] has been exactly built in the perspective of rendering the active fault studies efficient, gathering the national scientific community to define the priority targets, propose the best technical and scientific strategies and tools, and discuss the results and their interpretation, and build up the most complete possible database of active faults for the Quaternary period. It gathers volunteer earthquake geologists, who are involved in fieldworks in nine regions of mainland France, with one or two points of contact per region. Those are in charge of coordinating a reassessment of the existing databases, and of the launching of new investigations with the appropriate methods. A close collaboration with neighboring countries (Belgium, Germany, Italy, and Spain) has been established to cover the transnational geological objects and themes.
Conflicts of interest
Authors have no conflict of interest to declare.
Author contributions
JFR, SB: conception and design of the work, writing of the Introduction (1), State-of-the-art (2) and Discussion sections (4), and homogenization of the Regional sections; acquisition, analysis and interpretation of data; conception of figures.
LA, CA, FG, CK, PL, CL, FL, KM, JLM, MO, MR, RV: writing of the Regional sections (3); drafting the text and revising it critically; acquisition, analysis and interpretation of data; conception of figures.
PAn, PAr, JB, LB, MF, CF, LG, HJ, PLR, JLL, SM, CP, JP, GR, KR, OS, CV, MVM, JVDW: revising the text; participating in acquisition, analysis and interpretation of data and/or to the FACT working group.
Acknowledgments
We thank the Transverse Seismicity Action (ATS) of the Resif-Epos Consortium for its support to the "Failles ACTives France" (FACT) axis, and the INSU-Tellus program for funding several research projects (e.g. The morphotectonic and paleoseismological investigations along the CFS, following the Le Teil, 11-11-2019 earthquake, and the ongoing studies along the Vallorcine and the Trevaresse faults). The FACT axis Region 1 (Cevennes) acknowledges also the IRSN and the CEA for their support during the paleoseismological investigations along the La Rouvière Fault. SB and HJ field work and projects were funded by IRSN. LB work was funded by the CEA. JFR, SB and LA thank also V. Godard, E. Beucler, Y. Gaudemer, M. Meghraoui, for their help and their implication in the management of the FACT axis at the regional scale. RV and JLM thank F. Berger and J.-M. Monnet (INRAe Grenoble) for granting them the use of their Chamonix LiDAR data. FL thanks the Flotte océanographique française and Ifremer for its support during the TELEPRESENCE project, and the captain and crew of the R/V L'Europe. Géoazur participation was supported by the RiTMICA project (Risques Telluriques Multiples, Intégrés, sur la Côte d'Azur—granted by IDEX UCAJedi). We also thank two anonymous reviewers whose comments and corrections helped improve a first version of the manuscript.