1. Introduction
Paleoseismology was developed by US geologists, at the turn of the 1960s and 1970s to address the lack of historical earthquake records in the western states, with the goal of identifying and characterizing past earthquakes beyond the scope of instrumental seismicity. The overall methodology used to identify paleoseismic events can be summarized as the search for evidence (or clues) preserved in Late Quaternary sedimentary deposits associated with their cumulative effects on the landscape. These paleoearthquakes are determined either directly through the discovery and analysis of their past ruptures at or near the surface, or indirectly, through changes in the past geological and geomorphic environments. This indirect approach, which is not the subject of this review paper, is a specific branch of paleoseismology that attempts to associate recorded effects (lake destabilization, disturbance of sediments—liquefactions, sedimentary veins, landslides, block falls and by extension the disorders to ancient constructions by archaeoseismicity) of earthquakes whose location and source are not necessarily identifiable. To analyze the direct earthquake effects, paleoseismology requires the identification of active faults in order to associate past surface ruptures with their seismogenic characteristics (past earthquake locations, magnitudes, average return periods, etc.). Hence, these paleoearthquake data permit to extend the temporal scales provided by the instrumental and historical seismicity to the prehistoric time period. Thus, paleoseismic studies allow for improved the hazard analyses (e.g., prior to the construction of nuclear facilities). This method was first used in regions characterized by moderate to high level of seismicity (i.e., the central and western United States). In parallel with these first paleoseismic studies, mapping work or compilations were also performed to obtain the most comprehensive view of faults capable of producing significant earthquakes (e.g., M⩾6). A detailed report of the methods and origin of paleoseismology is provided in McCalpin [2009]. Paleoseismic researches also contributed greatly to basic research about fault seismogenic behavior and seismogenesis. These researches have spread worldwide among seismic regions and many studies are now conducted each year (average of ∼100/year of published works worldwide since 2003, Figure 1).
The objective of this paper is to provide a critical review of the paleoseismic studies that have been conducted in metropolitan France during the past thirty years. Metropolitan France is characterized by a low level of seismicity, although damaging earthquakes (intensity ⩾ VIII MSK) have occurred in several locations, one to three times per century, with magnitudes estimated to be approximately in the range Mw 5.0–6.5 [e.g., Manchuel et al. 2018] including the Le Teil earthquake. Faults slip rates associated with this seismicity appear to be very low (≪1 mm/year, see Section 3). Thus, paleoseismic information should be of primary interest in regions with very low deformation rates to try to better understand the low slip rate faults' behavior. However, is it possible to conduct such paleoseismic studies, with enough confidence in such regions? To address this question, we first present the evolution of the paleoseismic investigations in metropolitan France, which is summarized in three steps (see Section 2). Next, we conduct critical analyses of nine selected trench sites that document the most relevant paleoseismic studies (see Section 3). These critical analyses provide insight into the most interesting results obtained by paleoseismic studies as well as their limitations or uncertainties so that their conclusions can be reevaluated in the light of current knowledge and experience. In several cases, the most critical point is the identification of the active fault and its relationship to the potential surface rupture(s). All the strengths and weaknesses of the paleoseismic studies presented in metropolitan France are discussed. Finally, the conclusions propose a summary of the main results obtained during the last thirty years and some recommendations for future studies in regions with low seismicity.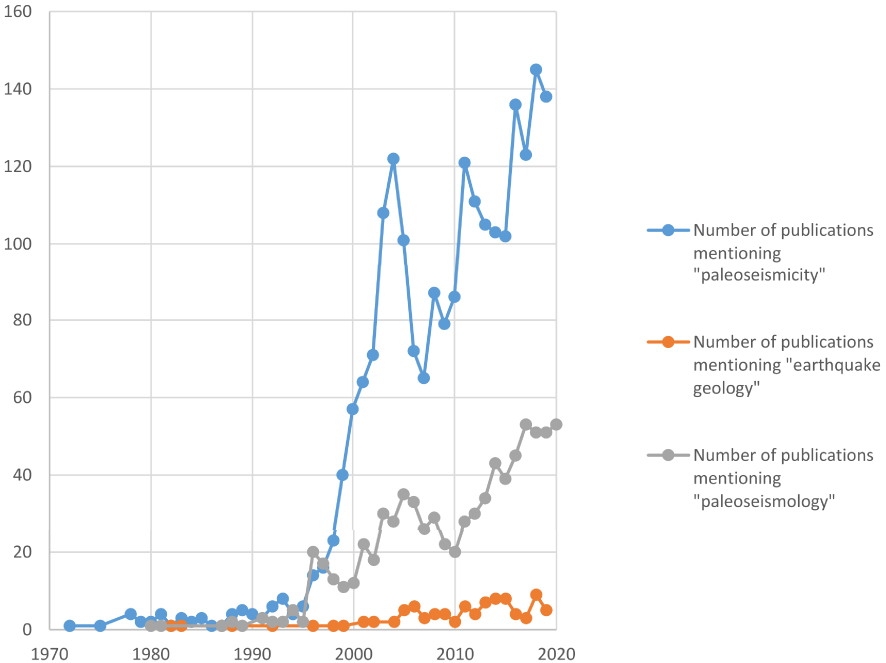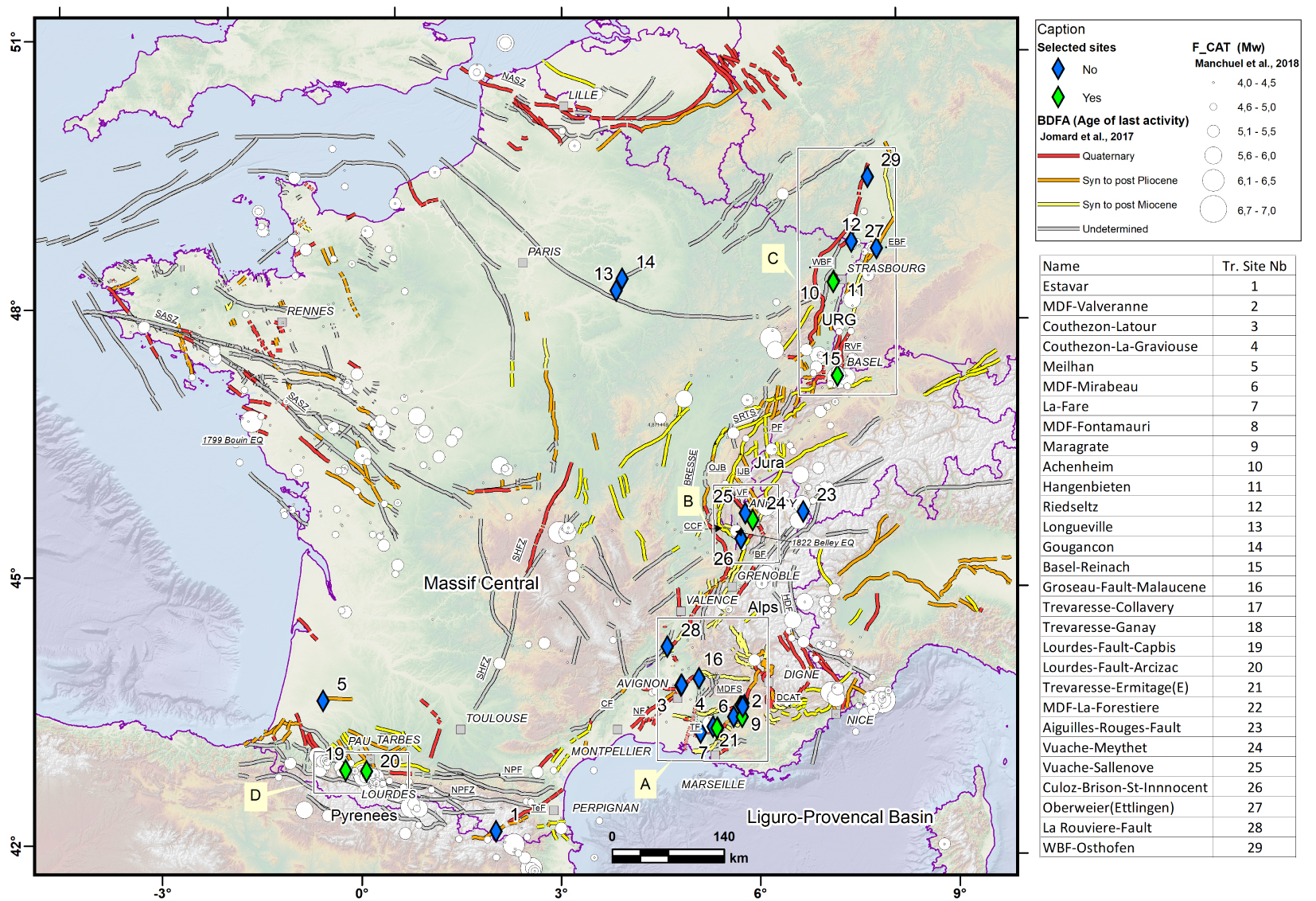 2. Evolution of paleoseismic investigations in metropolitan France
2.1. The beginnings of paleoseismology in metropolitan France (1990–1995)
In metropolitan France, the development of paleoseismic studies started in the early 1990s. From this beginning until now, three time periods may be distinguished. Following the example of studies carried out in the field of nuclear installation safety on a global scale and following significant earthquakes that had impacted this type of installation [i.e., 1988 Spitak Nuclear power Plant, Armenia—see Griffin et al. 1991]. Studies were carried out to determine whether paleoseismic events had occurred in regions where nuclear installations were already located, using trenches on already identified faults, without implementing a complete approach to identify the more favorable locations using this method. These first studies (see Figure 2 and Table A1) focused on the Nîmes Fault (NF) with a trench at Courthézon, Vaucluse [Carbon et al. 1995, Combes et al. 1993] and on the Middle Durance Fault (MDF) in the Valvéranne valley (see Section 3.1.3.1) north of Manosque [Sébrier et al. 1997]. Other sporadic paleoseismicity studies were also conducted by IPSN/GEOTER (mainly unpublished reports) in SE France: La Fare Thrust Fault, Mirabeau and Fontamauri on the MDF near a reported Quaternary deformation [Villéger 1983], Vinon-sur-Verdon (north of the village) and on the Bersezio Fault in the southern tips of the French–Italian Alps [Ghafiri 1995]. These trenches were not conclusive given the very poor Quaternary sedimentary settings specific to this region. It should be noted that as part of the ITER preliminary program, a trench showing a fault affecting Pliocene up to early Quaternary deposits was also excavated in 1995, in the south of Vinon-sur-Verdon [see in Thomas et al. 2020].
Parallel to these trench investigations, studies have focused on indirect paleoseismic signatures in lake sediments [e.g., Beck et al. 1996, Chapron et al. 1996, Kremer et al. 2020] and possible disorders on cave speleothems [e.g., Lemeille et al. 1999a], which remains controversial since other causes of speleothem breakages are possible [glacial creeping for example; see review in Gilli 2005].
Finally, the "French" approach at that time focused on a first list of "evidences of deformation" affecting the Plio-Quaternary [e.g., Grellet et al. 1993, Baize et al. 2002] based on an analysis of the literature (including unpublished reports), geological map booklets, or local to regional studies not necessarily addressing paleoseismic topics (e.g., geomorphological papers, very local observations from geologists, etc.).
2.2. Emergence of the multidisciplinary paleoseismic approach (1995–2000)
The study of the Plio-Quaternary deformation evidences showed its limits, as it was not simple or possible, with some exceptions, to link them to potential surface rupture [Baize et al. 2002] and very little indications in terms of paleo-magnitudes, age, and return period of paleoseismic events. While the first trench studies (Courthézon, Valvéranne) seemed promising and confirmed the possibility of active faults that could produce significantly stronger earthquakes than those listed in the French historical seismicity catalog, the approach was only focused on local studies of very few sites located on a fault considered active.
The Annecy earthquake in July 1996, occurred on a well-known fault that was associated with some Quaternary deformation evidences while the earthquake area did not have any record of historical earthquakes. This was the first time in France that a significant earthquake occurred on a well-identified fault whose rupture is reported to have reached the ground surface [Thouvenot et al. 1998]. This event probably contributed to accelerate paleoseismological works in France.
The study in 1996 of the Bree Fault by the Royal Observatory of Belgium [Camelbeeck and Meghraoui 1998] and the impetus given to a first European scale program of multidisciplinary paleoseismic studies initiated many investigations in Western Europe, including regions bordering metropolitan France (E.U. Paleosis, SAFE, FAUST projects, …). Multi-scale approaches using different techniques ranging from morphotectonic analysis of Digital Elevation Models (DEM) at different resolutions, to subsurface geophysics (Ground Penetrating Radar—GPR, ERT, High-resolution seismic reflection/refraction) and the implementation of various dating methods (14C, 10Be, OSL, …) have enabled better identification of the seismic sources and their potential [e.g., Lemeille et al. 1999b, Lacassin et al. 2001, Meghraoui et al. 2001, Ferry et al. 2005, Chardon et al. 2005].
2.3. Paleoseismic studies in the beginning of the 21st century
During the first decade of the 21st century, some paleoseismicity studies were carried out in southeastern France, particularly along the Trévaresse Fault [Lacassin et al. 2001, Chardon and Bellier 2003, Chardon et al. 2005, 2009] and the MDF [Siame et al. 2004, Cushing et al. 2005, 2008]. In the Pyrenees, one can quote the work of Alasset and Meghraoui [2005] and in the Upper Rhine Graben (URG) those of Meghraoui et al. [2001] and Ferry et al. [2005]. Nevertheless, the interest for paleoseismicity using trenching observations in metropolitan France has rapidly declined and there have been only few works between approximately 2005 until 2015 [see Table A1, Baize et al. 2011, De La Taille 2015]. On the other hand, more integrated studies aimed at completing the parameters useful for the development of seismic hazard assessment have increasingly emerged, combining quantitative geomorphology, morphotectonics, geophysical and structural geology approaches to define seismic potential and slip rates on the basis of displacement of geomorphic features [e.g., Siame et al. 2004, Cushing et al. 2008, Baize et al. 2011, Billant et al. 2015, 2016, Godard et al. 2020]. Dating, which is crucial for determining fault slip rates, can essentially only be carried out by in situ sampling, and trenching, or "pits" (see Section 3).
3. Some case studies of paleoseismic investigation in metropolitan France for 30 years
Selected examples of published paleoseismic studies based on trench observations are presented below. These nine examples correspond to the most relevant paleoseismic studies performed within metropolitan France during the past 30 years. They belong to the following seismotectonic settings: Alpine frontal deformations in Provence (Trévaresse, NF, and MDF—trench sites #2, 3, 9, 21 in Figures 2 and 3) and southern Jura (Vuache Fault—trench site #24 in Figure 2), URG faults (Achenheim–Hangenbieten close to Strasbourg, Reinach–Basel Fault in the Basel area where the strongest western European earthquake occurred in 1356—trench sites #10 and 15 in Figure 2), and Pyrenean northern seismic zone (Lourdes Fault—trench sites #19, 20 in Figure 2). Most recent works are not included since research is still in progress [Ritz et al. 2020, 2021a,b, Reicherter et al. 2020].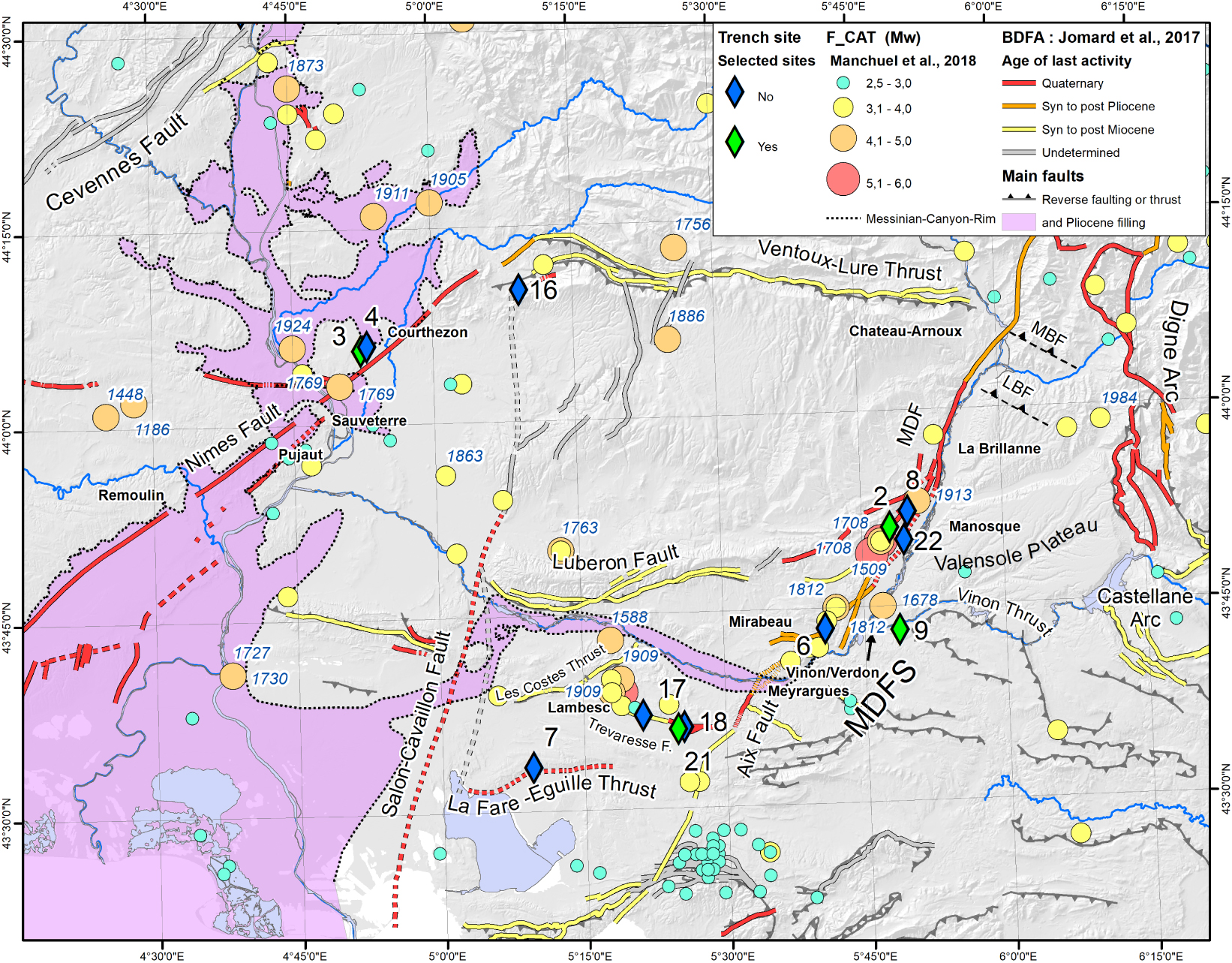 5. Conclusions
We have presented a synthesis of the paleoseismic studies, which have been conducted in metropolitan France over the last 30 years. A short summary of the evolution of these studies and a critical analysis of the most interesting ones permit highlighting the strengths and weaknesses of the paleoseismic methodology in France and neighboring areas. Due to the climate of Western Europe during the Late Pleistocene and Holocene (alternating glacial and interglacial periods with strong to weak erosional conditions), high imprint of human activity on the landscape, and low slip rates of active faults, the application of the paleoseismic approach in metropolitan France to identify faults likely to generate destructive earthquakes, is challenging. Many of these paleoseismic studies are confronted with the difficulty of associating Quaternary deformation observed at the surface with a well-identified fault. In too many trench analyses, the fault identification is not robust, although this problem is now better accounted for in most published paleoseismic observations. Indeed, there is not yet a straightforward methodology to address the issue of fault identification; nonetheless, the best results are obtained using a guideline based on a multidisciplinary approach at different scales (e.g. SAFE and Paleosis European projects), from regional (e.g., 20 km–1 km) to local (1 km–1 m).
Paleoseismic studies have permitted to obtain important new results. The most important is that the Trévaresse Fault, the source fault of the Mw ∼ 6, Provence earthquake of 1909, has generated several earthquakes with surface ruptures observed at the same location. This demonstrates that even in regions of low seismicity and with slow-slipping faults, seismic events can repeat on the same fault. In addition, the displacement per event appears to range between 20 and 30 cm, thus, this reverse fault could fit the characteristic earthquake model. Whatever the model, more data are needed to determine whether this is the common fault behavior in metropolitan France. Data from neighboring countries, indicate that several active faults in Western Europe, both normal and reverse, produce repeatedly earthquakes even with very low slip rates, on the order of 0.01 mm/yr. Such slip rates indicate that the recurrence interval between two destructive earthquakes should be at least 10–30 ka for Mw ∼ 6 to permit the corresponding seismic loading, if this behavior model applies. Consequently, such long recurrence intervals do not favor preserving a long record of seismic events at a single paleoseismic site. Hence, only exceptional site conditions will allow to get a long seismic record and thus, the fault behavior model may remain beyond the reach of paleoseismic studies in metropolitan France. Finally, these paleoseismic results clearly display evidence that the historical seismicity is not enough to properly assess seismic hazard in metropolitan France.
Paleoseismic studies were also confronted with ruptures on secondary faults, these are of two different origins: either splays connected with major faults or bedding slip in folds. The first case raises the problem of the source significance with respect to the potential magnitudes associated with surface rupture. There are two faults with such problem in the URG, namely the BRF and the Achenheim–Hangenbieten Faults, where well-identified splays from major normal faults are seen on seismic lines rather than on the major fault. In both cases a non-seismogenic origin for the surface ruptures has been proposed (slope instability), casting questions on the significance of such shallow normal fault ruptures and their implications for the local seismic hazard. In contrast, bedding slip is a more robust indicator of strong seismic events, nonetheless its occurrence is limited. To our knowledge, Valvéranne on the MDF is the only identified site in France with such structural configuration. Bedding slip is considered as a seismogenic source [Kelsey et al. 2008] that corresponds to slip accommodating folding triggered by coseismic slip on a "master ramp fault". It is suggested that "folding earthquakes" are probably in the range of magnitude 6. This agrees with previous magnitude estimates on the MDF [Cushing et al. 2008].
The 2019, Mw 4.9 Le Teil earthquake raises the question of the seismic loading and seismic source dimensions that can trigger such shallow events on faults that have not experienced ruptures during the Late Quaternary [Cornou et al. 2021, Ritz et al. 2020, 2021b]. Thus, faults capable of producing surface ruptures can remain unnoticed. It raises questions about the seismogenic behavior and the concept of a seismic cycle for such type of faults. Whatever small faults capable of producing Mw ∼ 5 events can be damaging and even cause surface rupture if their foci are very shallow, as demonstrated by the 1996 Annecy earthquake (Mw ∼ 4.8 ± 0.5) and the recent 2019 Le Teil earthquake [Ritz et al. 2020, 2021b]. Obviously, such faults cannot be completely inventoried in the whole metropolitan France, except probably in the vicinity of nuclear and hazardous facilities where specific investigations should be performed.
Paleoseismology can provide important inputs for the seismic hazard assessment such as fault slip rates and return period of destructive earthquakes. These data can be useful both for probabilistic and deterministic seismic hazard assessment [IAEA TECDOC No. 1767 2015]. The segment rupture dimension assessment highly depends on the fault segment length and its rooting at depth. Segment length permits to estimate the maximum magnitude for a given fault source. A precise chronological framework is needed to quantify seismicity rates and return periods. Identification of paleoruptures at the surface indicates the potential for capable faults and for shallow destructive earthquakes. In addition, precise knowledge of the surface fault trace for major and secondary faults permits to perform a probabilistic fault displacement hazard analysis that allows to assess rupture hazard for critical facilities [i.e., Baize et al. 2020, Nurminen et al. 2020].
Based on our review we formulate four recommendations for future paleoseismic investigations in metropolitan France, or more generally in regions characterized by low slip rates:
Not all Quaternary deformation seen at the surface, including those inside trenches, are necessarily of tectonic origin, thus, other non-tectonic origins should be considered, and their likelihood evaluated.
Well-constrained fault identification implies relating convincingly a surface rupture of tectonic origin to a major fault observed on subsurface geophysical imagery. Such fault identification is necessary to assess the source dimensions and hence the potential magnitudes, and the associated seismic hazard.
Too many paleoseismic events inferred from trench observations were poorly dated, significant efforts have to be made for using modern dating methods focused on the Quaternary, these must be continued. Indeed, successful dating needs to fulfill three points: (1) a clear identification of the seismic event horizon, (2) a selection of material suitable for dating and contemporaneous with deposition, and (3) to use, if possible, multiple dating methods.
Blind seismogenic faults are potential sources for seismic hazard. Accounting for these sources imply developing some indirect paleoseismological approaches to better quantify the deformation they can produce at the surface [see e.g., Siame et al. 2015].
Conflicts of interest
Authors have no conflict of interest to declare.
Acknowledgments
We greatly want to thank the editors for giving us the opportunity to contribute to this special issue, and for the careful handling of the manuscript. We also want to thank both reviewers for their comments and more specifically Kris Vanneste, for the long time he spent making very careful corrections and suggestions all through our manuscript. We also thank Dominique Chardon, Jochen Hürtgen, Stéphane Baize and Hervé Jomard for providing information and for their insights on the local studies reported in the paper. We also thank Lionel Siame for his thorough read-through and suggestions for improvement of the paper. Some studies reported in the text were supported by the ECCOREV Research Federation (Aix-Marseille Université, CNRS), IRSN (and former IPSN) research studies, sometimes with the contribution of GEOTER (former GEOTECSIS), EU PALEOSIS and SAFE projects, IRSN–CEREGE collaboration programs and the Cashima Research Project (funded by the CEA Cadarache and ITER organization), and are also a contribution to the Labex OT-Med (n ANR-11-LABX-0061) funded by the French Government "Investissements d'Avenir" program of the French ANR through the A∗MIDEX project (n ANR-11-IDEX-1144 0001-02).