1. Introduction: Auxin as a master regulator of root growth during gravity response
Auxin is a key factor in regulating root growth upon gravistimulation. It is mainly produced in the leaves and then transported downward to the root tip through the auxin carrier PIN FORMED 1 (PIN1; [1, 2]). In the scenario where the root is aligned with the gravity vector, auxin is distributed equally on both sides of the root tip by other auxin carriers, such as PIN3, 4 and 7 [3]. During the gravity response, auxin is mainly transported and accumulated to the lower side of the root (Figure 1, Panel 1–2; [4, 5]). The higher auxin concentration promotes the activation of the "non-genomic" auxin signaling pathway in the root epidermis which in turn triggers ROP6 activation [6, 7]. This cellular signaling cascade inhibits the endocytosis of cargo proteins and reorganizes microtubules in order to restrain cellular growth (Figure 1, Panel 3; [8, 9]). This pathway creates a differential growth, which on the upper part is not affected while in the lower is decreased. Together, this local regulation of cellular growth promotes bending at the organ level in order to realign the root according to the gravity vector (Figure 1, Panel 2).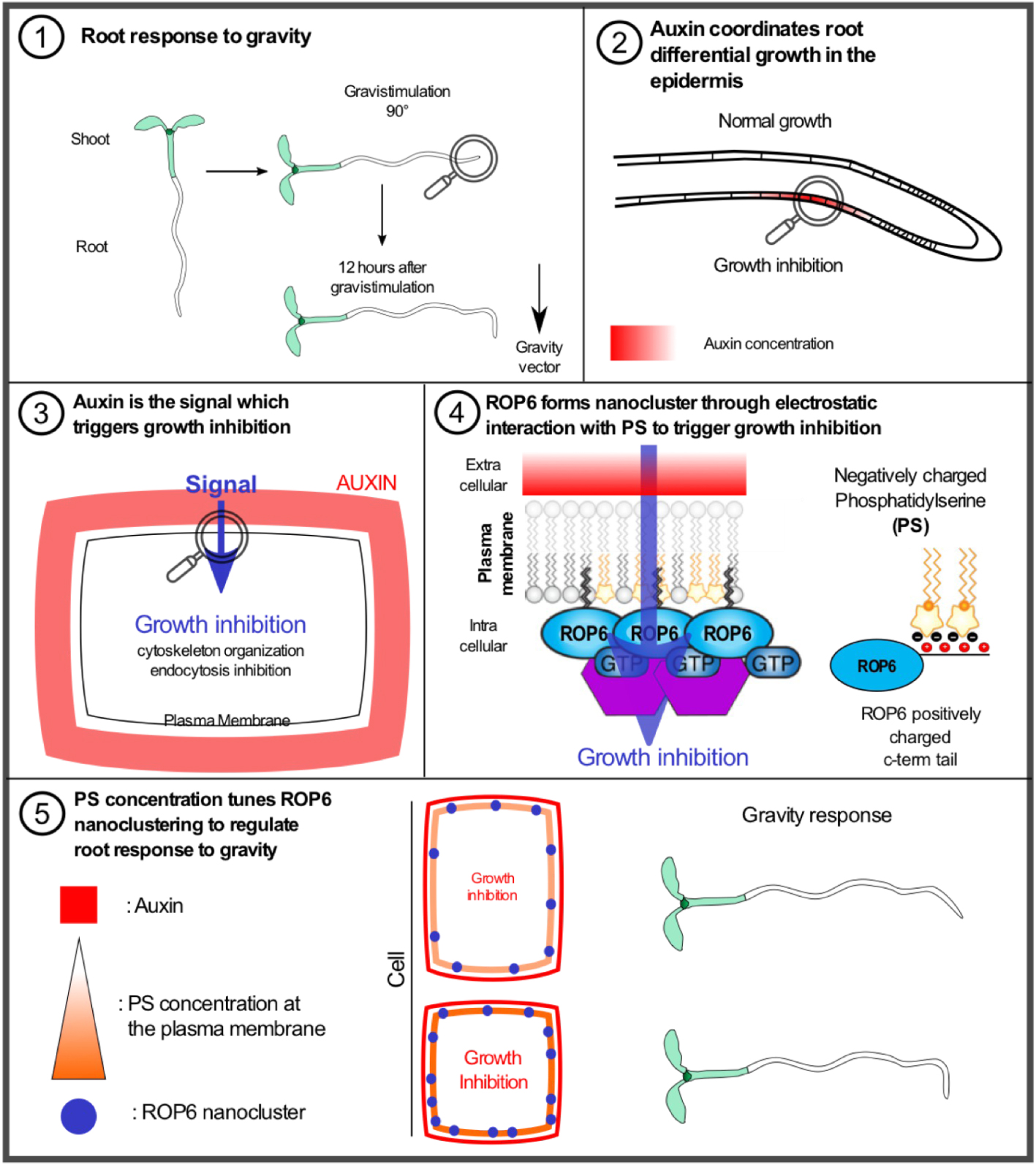 3. Conclusion
To conclude, we combined different approaches to uncover, from the macroscopic to the nanoscopic scales, how an environmental cue, such as gravity, impacts plant architecture. Studying the involvement of the GTPase in the response to gravity, we uncovered an unexpected mechanism regulating GTPase activity. Notably, we found that the activation of the GTPase into its active form is not sufficient to trigger downstream signaling. Besides, phosphatidylserine, which is thought to be a membrane structural lipid, is a key component in membrane protein organization and dynamics. Finally, the regulation of endogenous cellular phosphatidylserine level tunes directly the signaling by acting on nanocluster formation, which we envision as signaling platforms that allow to control signal specificity, strength and duration.
1. Introduction : Modulation de la croissance racinaire via l'auxine en réponse à la gravité
Une hormone spécifique des plantes, l'auxine est l'un des facteurs clef de l'adaptation de la croissance en fonction de la gravité. L'auxine est principalement produite par les feuilles. Elle est ensuite acheminée jusqu'à la pointe racinaire par le transporteur d'auxine PIN FORMED 1 (PIN1 ; [1, 2]). Lorsque la racine est alignée avec le vecteur de gravité, l'auxine, via d'autres transporteurs de la famille PIN (PIN3, 4 et 7), est distribuée également de part et d'autre de la racine permettant une croissance équilibrée des deux côtés de la racine [3]. Lorsque la racine perçoit un changement d'alignement, l'auxine est alors principalement transportée et accumulée du côté inférieur de la racine (Figure 1, Panel 1–2; [4, 5]). Cette forte concentration d'auxine va ensuite promouvoir l'activation de la voie « non-génomique » de l'auxine dans l'épiderme racinaire. Elle va déclencher, au niveau de la membrane plasmique, l'activation de ROP6 [6, 7]. Cette cascade d'événements agit au niveau cellulaire en inhibant l'endocytose de protéines cargos et en régulant l'organisation des microtubules pour freiner la croissance cellulaire (Figure 1, Panel 3; [8, 9]). Cette voie de signalisation a pour effet de créer une croissance différentielle ; la face supérieure de la racine maintient une croissance normale alors qu'elle est réduite au niveau de la face inférieure, assurant ainsi la torsion de la racine en vue de s'aligner à nouveau avec le vecteur de gravité (Figure 1, Panel 2).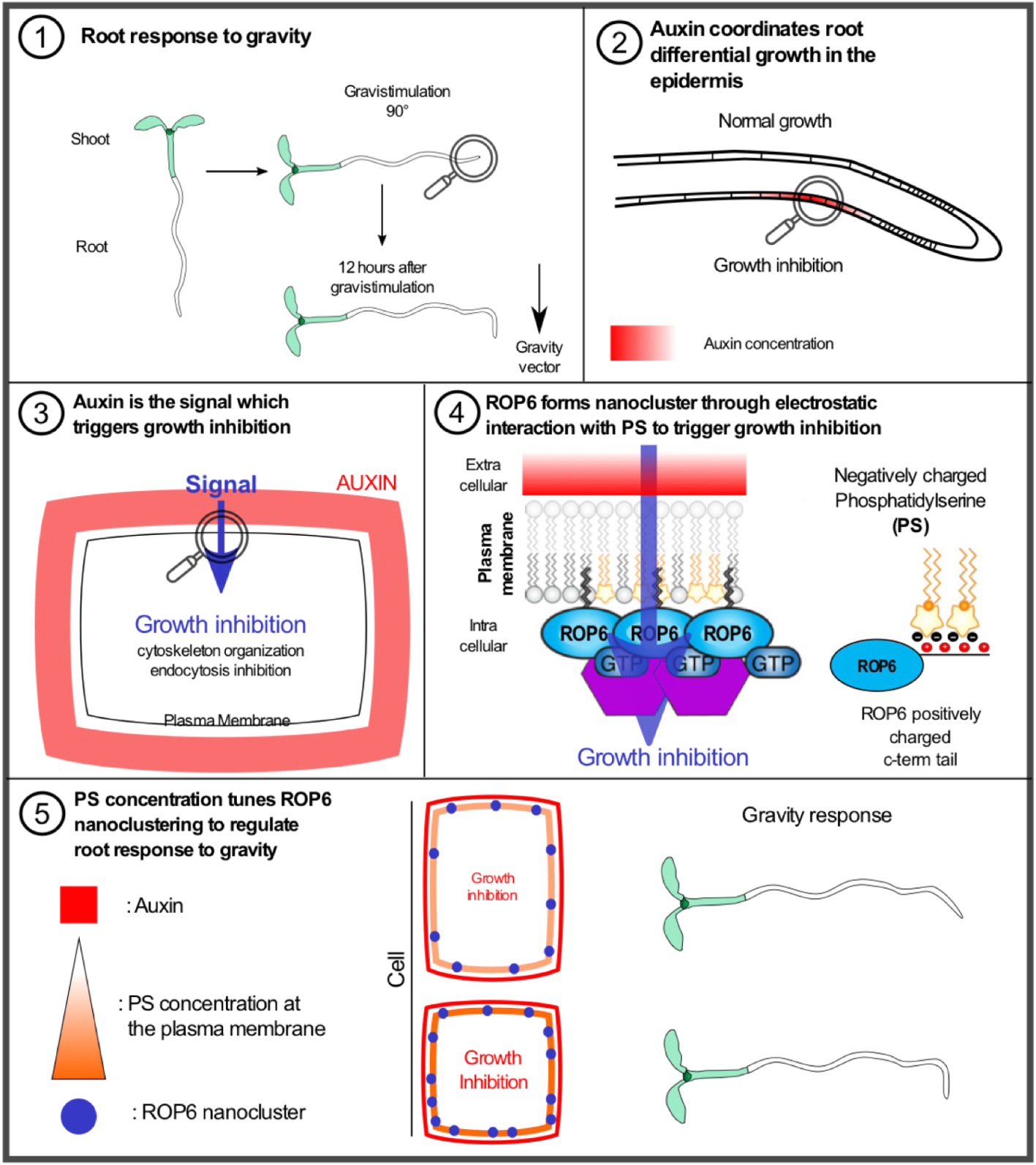 3. Conclusion
Pour conclure, nous avons décrit un mécanisme qui permet l'intégration d'une variable environnementale de l'échelle macroscopique à nanoscopique en combinant des approches diverses. Au long de cette étude, plusieurs résultats clefs ont été mis en lumière. Notamment que la forme active de la GTPase n'est pas suffisante pour déclencher la voie de signalisation en aval. Mais encore que la phosphatidylsérine, restreint jusqu'alors à un rôle structurel dans la membrane plasmique, est un lipide clef dans l'organisation protéique de la membrane plasmique. Mais aussi que la régulation de la quantité cellulaire de phosphatidylsérine endogène est capable de réguler directement des voies de signalisation via la formation de nanoclusters, décrits comme des plateformes de signalisation.