1. Introduction
Previous research [1] has revealed that alumina–boria catalysts could be employed in catalyzing reactions, like methanol dehydration. Xiu et al. [2] employed a bimodal mesoporous boria–alumina composite for the dehydration of methyl alcohol to obtain methoxymethane, with a yield of 85%. Forni et al. [3] reported a sol–gel synthesis for the fabrication of a boron–alumina catalyst, which exhibited high catalytic efficiency for vapor-phase Beckmann reordering of (hydroxyimino)cyclohexane to caprolactam. Total conversion of cyclohexanone oxime was achieved, even with a small quantity of acid sites. Alumina belongs to a group of catalysts characterized by moderate acidity. Other than hydroxyl groups (none of them behaving as Bronsted acids), the remaining centers are associated with Lewis acidity. Modification of alumina with boron oxide generates Bronsted acid centers on the catalyst surface. Further, because boron has greater electronegativity than aluminum, borinic acid has a tougher acid force than aluminum hydroxide, contributing to organic bond cracking [4].
On the other hand, the problem of new energy sources and the question of finding resources for the petrochemical industry is one of the most important tasks of industrial chemistry and semi-product sources for almost all other branches of industry. Obtaining liquid biofuel from biomass is a different energy source, offering environmental benefits, such as fewer greenhouse influences and can be pollution-free of nitrogen and sulfur chemicals [5, 6].
Nowadays, the use of lignin represents a sustainable option, as it can be employed as process heat or transformed into renewable fuels by thermochemical technologies. Pyrolysis is the most common thermochemical process used to produce aromatic hydrocarbons from lignin polymer [7]. Lignin from softwood, hardwood, and grass have coniferyl and sinapyl alcohol monomer units [8]. Furthermore, lignin is an organic irregular polymer formed through free radical polymerization from an enzyme of alcohol precursors. As a consequence of electron delocalization in the aromatic ring, polymer bonding could take a place at different sites of the phenylpropane monomer.
Proposing a series of catalysts that selectively form organic molecules, with potential use as biofuel or organomolecules with added value in the chemical industrial market, in particular for complex organic vapors generated from lignin by pyrolysis, is necessary. However, prior to application of these materials, to study the complex lignin composition and catalytic support materials, including catalytic characteristics, such as catalytic activity, acidity, mesoporosity, stability, and even selectivity, it is necessary to understand constituent monomer units of lignin and identify the preferences of cracking of the catalysts.
In this research, we propose a catalytic material composed of synthetic aluminum–boron oxide, synthesized by a sol–gel route. One advantage of this method is the ability to tune final properties by the processing steps. The synthesized catalysts were used in coniferyl aldehyde cracking, with the aim of better understanding the catalytic activity according to characterization properties of the material's surface. Coniferyl aldehyde was chosen instead of alcohol monomer because of its market acquisition facility.
2. Material and methods
2.1. Synthesis of aluminum–boron catalysts
A solution of orthoboric acid in 2-propanol was added, dropwise, to an aluminum isopropylate solution with continuous stirring, ensuring that orthoboric acid and aluminum isopropylate reacted completely. The molar ratio of aluminum isopropylate and orthoboric acid was 1:0.4. The pH was maintained at 3 or 4 to produce two different materials, a solution of acetic acid at 0.1 M was used to adjust the pH during the synthesis. To obtain the catalysts, the calcination was carried out at 550 °C for 8 h. All reagents were supplied by Sigma-Aldrich. A commercial catalyst of Pt/Al2O3 at 1 wt% (supplied by Sigma-Aldrich) was used in catalytic tests for comparison.
2.2. Characterization
Thermal study of the xerogels (synthesized material dried at 70 °C) was accomplished by employing a TA Instruments, model SDT-2960, thermogravimetric analyzer with a heating rate of 5 °C/min in air. X-ray diffraction (XRD) was performed with a Bruker Advance D8 diffractometer using Ni-filtered Cu Kα radiation in the 2𝜃 range (5–110°), an accelerating voltage of 35 kV, and a scan rate of 1.50°/min. The identification of crystalline phases was done using the Joint Committee on Powder Diffraction Standards (JCPDS) database. In order to study the evolution of the phases present during the preparation of the catalysts, samples were prepared from 200 to 550 °C and at each 50 °C, XRD were obtained.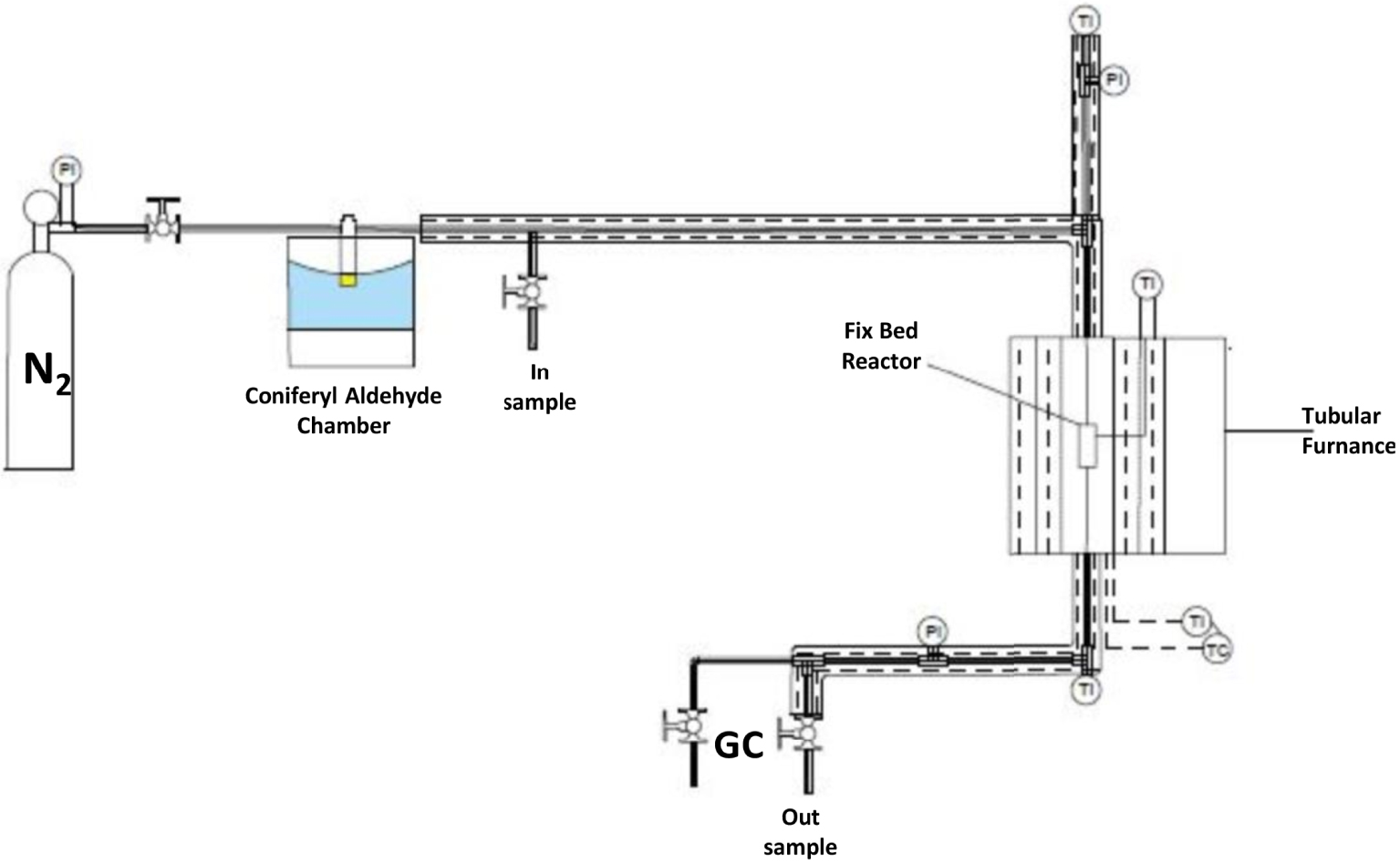 Scanning electron microscopy (SEM) images were acquired with a Nova Nano SEM200 at 10 kV and 6 mm working distance. High-resolution transmission electron microscopy (HRTEM) pictures were obtained using a Titan G2 80–300 at 300 kV, with Schottky-type field emission. HRTEM micrographs were recorded with a CCD camera and GATAN software. To prepare materials for HRTEM analysis, the powder catalysts were ultrasonically spread in ethyl alcohol and, then, supported on holey carbon-covered copper grids.
Fourier transformation infrared spectra (FT-IR) of the catalysts were recorded using a Perkin-Elmer P 1000 spectrometer. N2 sorption isotherms at 77 K were documented in a Quantachrome Co Autosorb-1 apparatus. Just before adsorption test, all powder catalysts were degassed overnight at 300 °C, and ultra-high purity He and N2 gases were used for adsorption runs.
2.3. Kinetic tests
A steel tubular reactor with an internal diameter of 6 mm was introduced into a tubular furnace, fitted alongside a temperature controller, and was packed with a gram of catalyst. Gas temperatures at the entry and exit of the steel tube were determined using type-K thermocouples. Figure 1 illustrates the experimental setup used for the coniferyl aldehyde (supplied by Sigma-Aldrich) reaction tests. The reactor influent and effluent gas analysis was performed with a HP 5890 gas chromatograph (GC), fitted with a flame-ionization detector and using an HP-5 column of 10 m length and 0.533 mm inner diameter. The steel reactor was operated with a steady state downstream, regularly after 30–40 min of operation steady state was achieved. For kinetic tests, the input concentration of coniferyl aldehyde was varied using a heat controlled vapor chamber, and the catalytic reaction was conducted at different temperatures (200, 230, 260, and 290 °C). Employing the volume reactor and total input flow of 100 mL/min, the calculated spatial velocity (SV) was 2122 h−1. The weight hourly space velocity (WHSV), calculated as the mass of flow divided by catalyst mass, was of 43.7 h−1. The next compounds were obtained in the purest possible presentation; acrolein, toluene, anisole, guaiacol, veratrol, methyl isoeugenol, 2-methoxy-4-methyl-phenol, 3-methylcatechol, eugenol, isoeugenol, pyrocatechol, decane, dodecane, tridecane, tetradecane were supplied by Sigma-Aldrich, and the GC factors were obtained in order to evaluate the concentration of the catalytic reaction products. For the reaction rate calculation, the approximation of differential reactor was used: − rCA ≈ (CCAo vo)x∕W, where rCA is the reaction rate of coniferyl aldehyde (CA), CCAo is inlet molar concentration of CA, vo the inlet volumetric flow, x the conversion fraction and W the weight of catalyst. The sieves used to choose the catalyst diameter size were 40 and 60 of mesh (425–250 μm according to ASTM). The reactor outlet was open to the atmosphere, then the pressure was considered atmospheric. The taking of inlet and outlet samples was done three times for each condition of operation.
3. Results and discussion
4. Conclusions
Two catalysts were synthesized from a mixture of aluminum oxide and boron oxide by a sol–gel method at both pH 3 and 4. The catalysts, calcined at 550 °C, were amorphous, but during the thermal process different crystalline compounds were detected, indicating intimate interaction between boron and aluminum bonds, yielding compounds such as Al3BO6, identified at 350 °C. All crystalline phases were melted and formed an amorphous structure. SEM analysis showed a spongy morphology in both catalysts, but the sample synthesized at pH 4 exhibited more whisker-like nanostructures, about 5 nm in diameter with lengths varying from a few nanometers to over 20 nm, providing homogeneity in the morphological structure of the catalyst. Both materials were mesoporous, and the porous structural properties promoted percolation and permeability of the chemical compounds. The boron–aluminum interaction was confirmed by FT-IR analysis, but the surface was influenced by pH, i.e., the concentration of hydronium ions, of the synthesis mixture.
Kinetic tests were completed for both aluminum–boron oxide catalysts and the commercial catalyst, Pt/alumina at 1 wt%, for thermocatalytic degradation of coniferyl aldehyde at different temperatures and concentrations under N2 current. The aluminum–boron oxide catalysts presented low values of , as one of thermodynamic properties of the adsorption constant of reaction rate for the Langmuir–Hinshelwood-type model of coniferyl aldehyde cracking, indicating high mobility of the adsorbed molecule on the catalytic surface. In contrast, the commercial catalyst, Pt/Al2O3, presented stronger adsorption of coniferyl aldehyde in the same model. The synthetic catalysts in this work produced a wider variety of organics products, including acrolein, the acrylic aldehyde functional group which forms part of the coniferyl aldehyde molecule; low weight aromatics; eugenol and isoeugenol isomers, with a high percentage of production; and aliphatic chains (10 to 14 carbons). Using the commercial catalyst, the variety of organic products was not as extensive, though a high production of isoeugenol was observed. A transformation scheme from coniferyl aldehyde to eugenol was proposed over the aluminum–boron oxide catalysts. Altogether, the synthetic aluminum–boron oxide catalyst at pH 4 is a good option for producing compounds with high commercial value.
Nomenclature
CA
Moles of coniferyl aldehyde
[ ]
Free active site
[CA]
CA adsorbed on active site
[

I

]
Active site occupied by an intermediate

P

Product formed

K

CA
Equilibrium constant for adsorption of coniferyl aldehyde, atm−1
𝜃CA
Fraction of site occupied by CA

P

CA
Partial pressure of CA, atm−1
𝜃

f

Free fraction on active site

r

CA
Reaction rate of coniferyl aldehyde, molCA/min⋅gcat

k

Kinetic constant of surface reaction, molCA/min⋅gcat

k

0
Pre-exponential factor in Arrhenius model

E

a

Activation energy, J/mol
Change in standard enthalpy of adsorption, J/mol
Change in standard entropy of adsorption, J/mol⋅K

Q

ads
Heat of adsorption; kJ/mol
Standard total entropy of adsorption, J/mol⋅K
Standard total entropy in the gas phase, J/mol⋅K