1. Introduction
A wide variety of diseases produces pathological deposits in tissues, including cancers, genetic disorders, infectious processes and environmental diseases. Such diversity explains the strong interest of the scientific and the medical community in these pathological deposits, as well as the difficulty of establishing a meaningful relationship between their physico-chemistry and the underlying pathology [1, 2, 3, 4, 5, 6].
In dermatology, the medical literature reveals the same complexity, and various skin diseases are associated with either endogenous (mineral or organic) or exogenous deposits [7, 8]. Mineral endogenous deposits are generally composed of calcium phosphate apatite deposits, and are often considered to be provoked by the skin disease itself [9], while exogenous deposits can present various chemical phases, and are often considered as potential disease causes [10].
Due to their submicrometer size as well as their chemical diversity, characterization of pathological deposits in the dermis cannot be performed with conventional techniques routinely used in hospital laboratories. Some standard staining procedures such as von Kossa, Yasu or alizarin red, can demonstrate the phospho-calcic nature of the deposits, but they do not provide further information on their chemical composition [11]. It is therefore necessary to develop physico-chemical techniques able to describe their structural characteristics at a micrometre, or even nanometer, scale, as well as their chemical composition [12, 13]. Such an approach has been applied successfully to various pathological calcifications in different organs, such as the kidney [14, 15], prostate [16, 17] or thyroid [18, 19].
Various techniques can be used, including Field Emission Scanning Electron Microscopy coupled with Energy Dispersive X-ray Spectroscopy (FE-SEM/EDX) [20, 21, 22], 𝜇X-ray fluorescence (XRF) [23, 24, 25], 𝜇X-ray scattering [26, 27, 28, 29], vibrational spectroscopies: 𝜇Fourier Transform Infra-Red (FTIR) and 𝜇Raman spectroscopies [30, 31, 32, 33, 34, 35] as well as techniques specific to synchrotron radiation [36, 37, 38, 39] such as X-ray absorption near edge structure (XANES) [40, 41, 42, 43, 44, 45]. These techniques allow the clinician a deeper understanding of the biophysical mechanisms related to the pathogenesis of an abnormal deposit [46], establish a medical diagnosis [47, 48, 49, 50] and have a better idea of the effects of drugs on pathological calcifications [51].
The aim of this paper is to present structural and chemical characterisations of both endogenous and exogenous deposits seen in various skin diseases and to discuss the advantages and the limitations of different physico-chemical techniques.
2. Generalities regarding skin calcifications
We will first review definitions related to skin calcification with reference to the literature, after which we will present some recent results using physico-chemical techniques on various skin disease.
2.1. Usual description of disease related to skin calcifications
Skin calcification, also known as calcinosis cutis, has been described for decades, and linked to inflammatory, metabolic, tumoral, genetic and infectious skin diseases [52].
Various authors have proposed classifications of these diseases based on the physiological process leading to the pathological skin calcifications. Four categories are generally recognized: metastatic, dystrophic, idiopathic and iatrogenic calcifications [53], mainly distinguished based on their formation mechanism. The most commonly encountered skin calcifications are metastatic and dystrophic [52].
Table 1.
Types of skin calcifications and related diseases with some of their mechanisms
Type of calcifications
Calcification mechanism
Related diseases
Metastatic
Systemic alteration of calcium phosphate metabolism
Chronic kidney disease Calciphylaxis
Hyperparathyroidism
Paraneoplastic syndrom
Sarcoidosis
Dystrophic
Inflammation/cell death or mineral deposition at sites of tissue damage or alteration of collagen and elastin fibres Serum calcium and phosphate levels are within normal ranges
Connective tissue diseases
   Scleroderma
   Lupus erythematosus
   Dermatomyositis
Cutaneous neoplasms
Infection
Trauma
Chronic venous insufficiency
Inherited disorders
   Werner Syndrome
   Pseudoxanthoma elasticum
   Ehlers–Danlos syndrome
   Familial tumoral calcinosis
Idiopathic
No underlying tissue damage or metabolic disorder
Subepidermal calcified nodules
Iatrogenic
Elevated tissue concentration of calcium and tissue damage at the site of extravasated calcium
Intravenous calcium or para-aminosalicylic acid
As Table 1 shows, skin calcifications are not always associated with abnormal calcium and phosphate serum levels. Dystrophic calcifications, for example, are induced by local tissue injury or abnormalities affecting collagen or elastic fibres specifically. Systemic sclerosis [54], lupus erythematosus [55], dermatomyositis [56], or mixed connective tissue diseases, are typical examples of skin pathologies that induce such tissue damage, leading to a calcification nidus. In contrast, metastatic calcifications result from skin calcifications that form on normal tissue adjacent to areas with abnormal calcium and/or phosphate metabolism [53].
Some diseases are not easily classified into these categories. Pseudoxanthoma elasticum, for example, is an inherited disease, associated with both a deficit in anti-mineralizing factor (pyrophosphate) and alterations of elastic fibres [57]. The initial phenomenon causing the disease is still disputed, making calcifications observed in pseudoxanthoma elasticum difficult to classify from dystrophic to metastatic calcifications.
Many skin structures can be calcified, especially in the dermis, including vessel walls and dermal interstitium. Figure 1 illustrates the radiological aspects of dystrophic calcifications in chronic venous insufficiency and leg ulcers. Presence of both vascular calcifications, shown by the linear aspect of the deposit, and dermal calcifications, illustrated by a more scattered aspect, are depicted.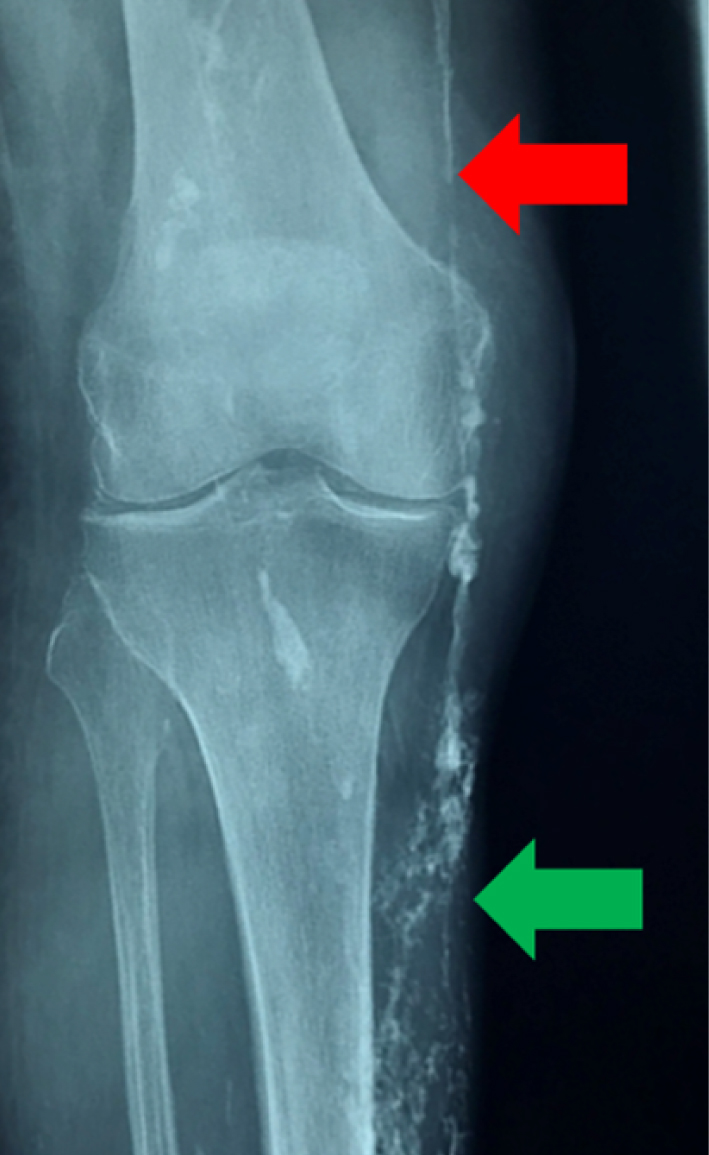 While in mammalian epidermis a characteristic calcium gradient exists between lower and upper layers of the epidermis, little data exists regarding the calcium gradient within the dermis [58, 59, 60]. A dermis calcium gradient and its disruption consequent on disease remodelling of skin structures may play a role in skin calcification. However, not all patients with disrupted calcium-phosphate metabolism, nor all patients with local tissue injury, develop skin calcifications. It is probably the consequence of a complex interaction between metabolic disorders and genetic predispositions.
2.2. Diversity of skin calcification localisation and morphology
Latest generation FE-SEM allows a submicrometer scale structural description of these calcified deposits [20, 21, 22]. While optical microscopy is limited to a magnification of ca. 1000 (ie. with a 100× objective and a 10× eyepiece), low voltage electrons can define skin surface topology at magnifications greater than 10,000, constituting a unique opportunity to describe micro calcifications undetected optically.
For our observations, we used a Zeiss SUPRA55-VP SEM, a field-emission "gun" microscope (FE-SEM) operating at 0.5–30 kV. High-resolution observations were obtained using an Everhart-Thornley SE detector. An in-lens SE detector is also available. All the measurements were taken at low voltage (between 0.5 and 2 kV) without the usual carbon deposits at the sample surface. Electron induced X-ray fluorescence experiments are also possible. Five micron tissue slices were deposited on low-e microscope slides (MirrIR, Kevley Technologies, Tienta Sciences, Indianapolis) to enable IR measurements to be performed on the very same sample [13]. Figure 2 shows five skin slices deposited on the low-e microscope slide and positioned in the FE-SEM.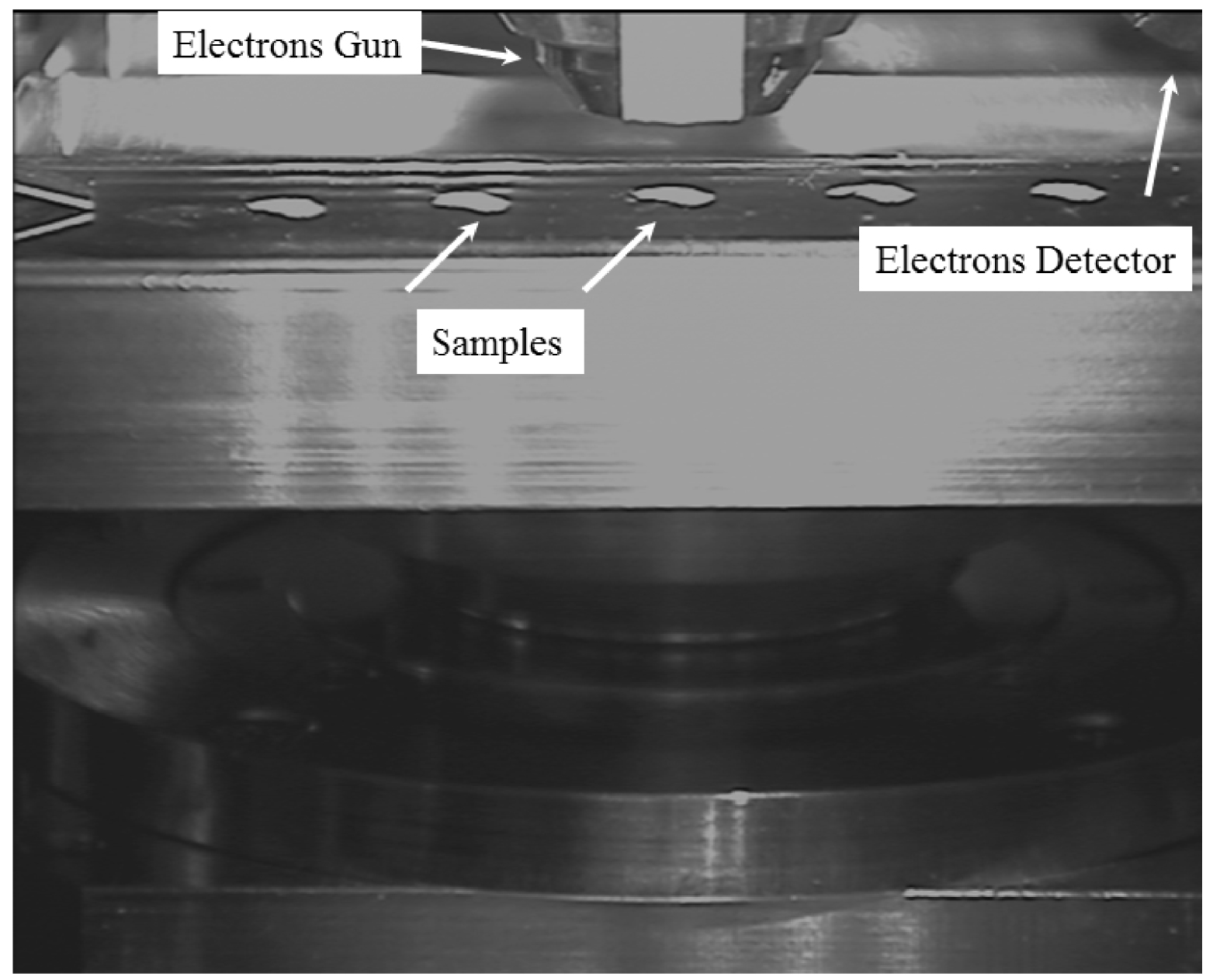 Based on such FE-SEM observations, we identified three different locations where skin calcifications are typically observed: hypodermis, vessel, and dermal fibres (Figure 3). These micrometer scale descriptions constitute a significantly complementary approach to the usual routine hospital radiologic observations shown in Figure 1. Indeed, the spatial resolution of radiological measurements is far inferior [61]; FE-SEM therefore provides unique information regarding the exact location of sub micrometer pathological skin deposits.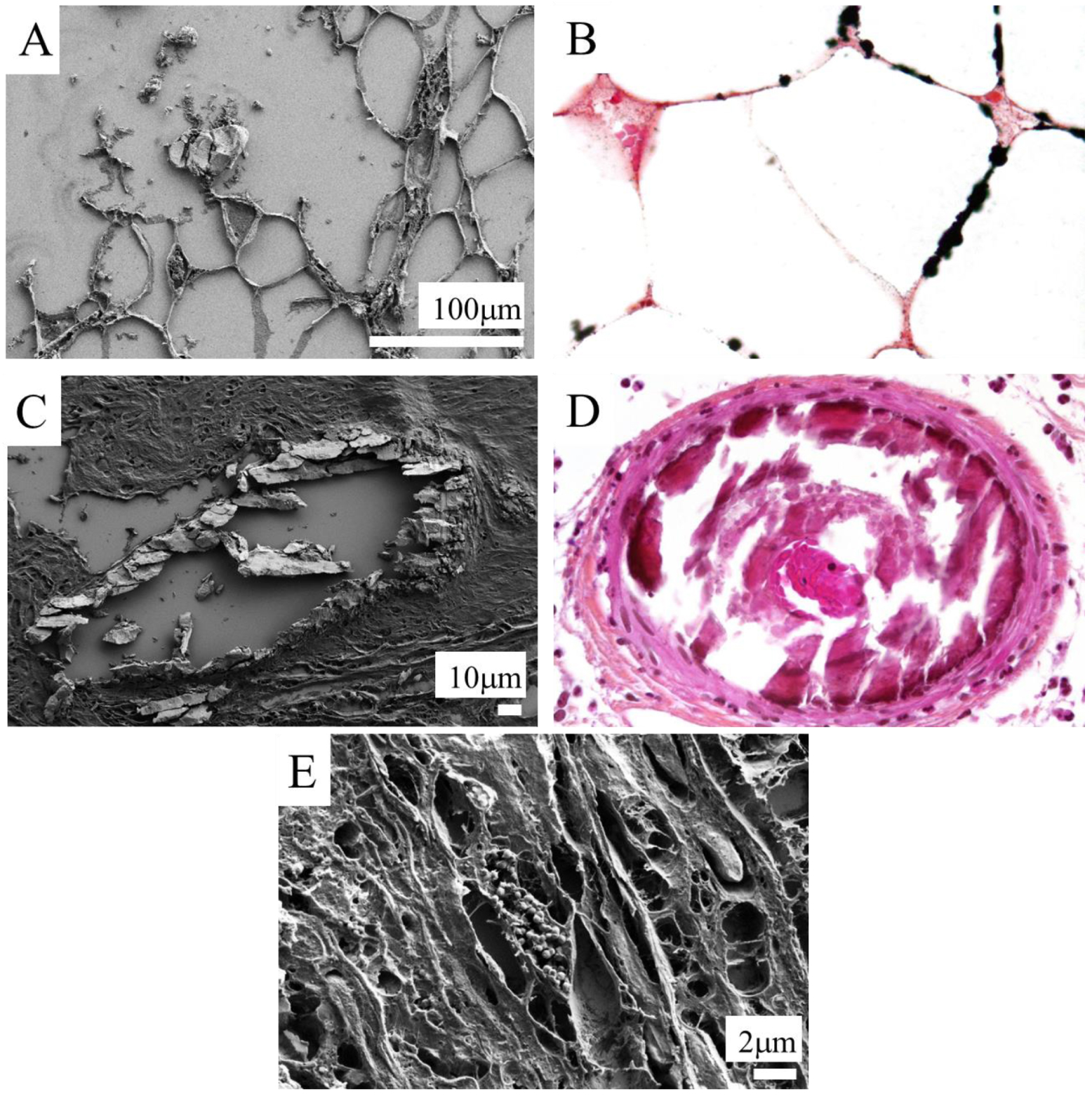 FE-SEM also provides information on the morphology of the pathological calcifications. Morphology of skin calcifications varies: in Figure 3A and B calcifications appear as voluminous plaques while on Figures 3C, 4 and 5, high magnification emphasizes sub-micrometre spherical entities.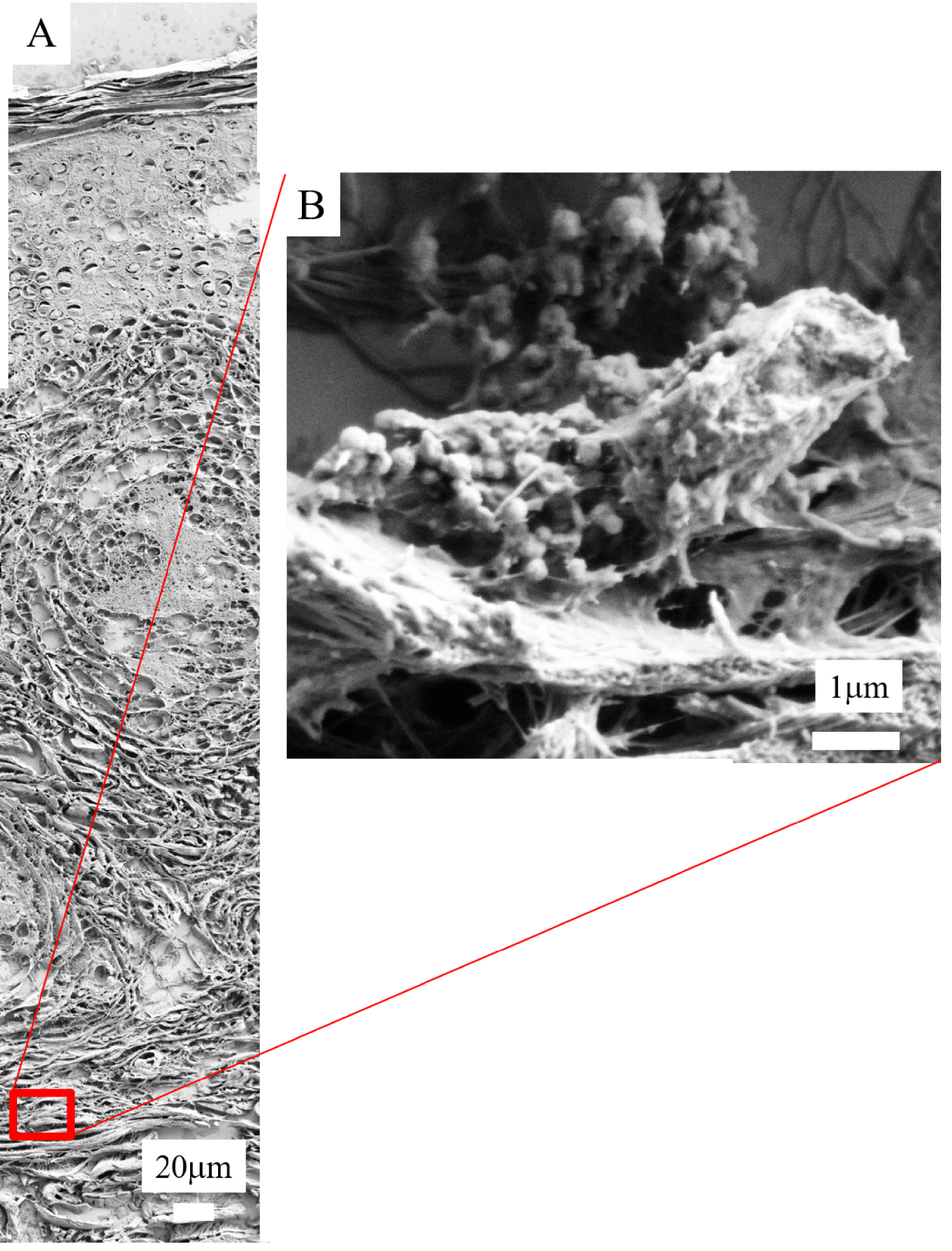 Calcification size is also very variable. Some are nanometric, making them difficult to identify. For example, in Figure 5 we can see that the calcification size is less than 1 μm.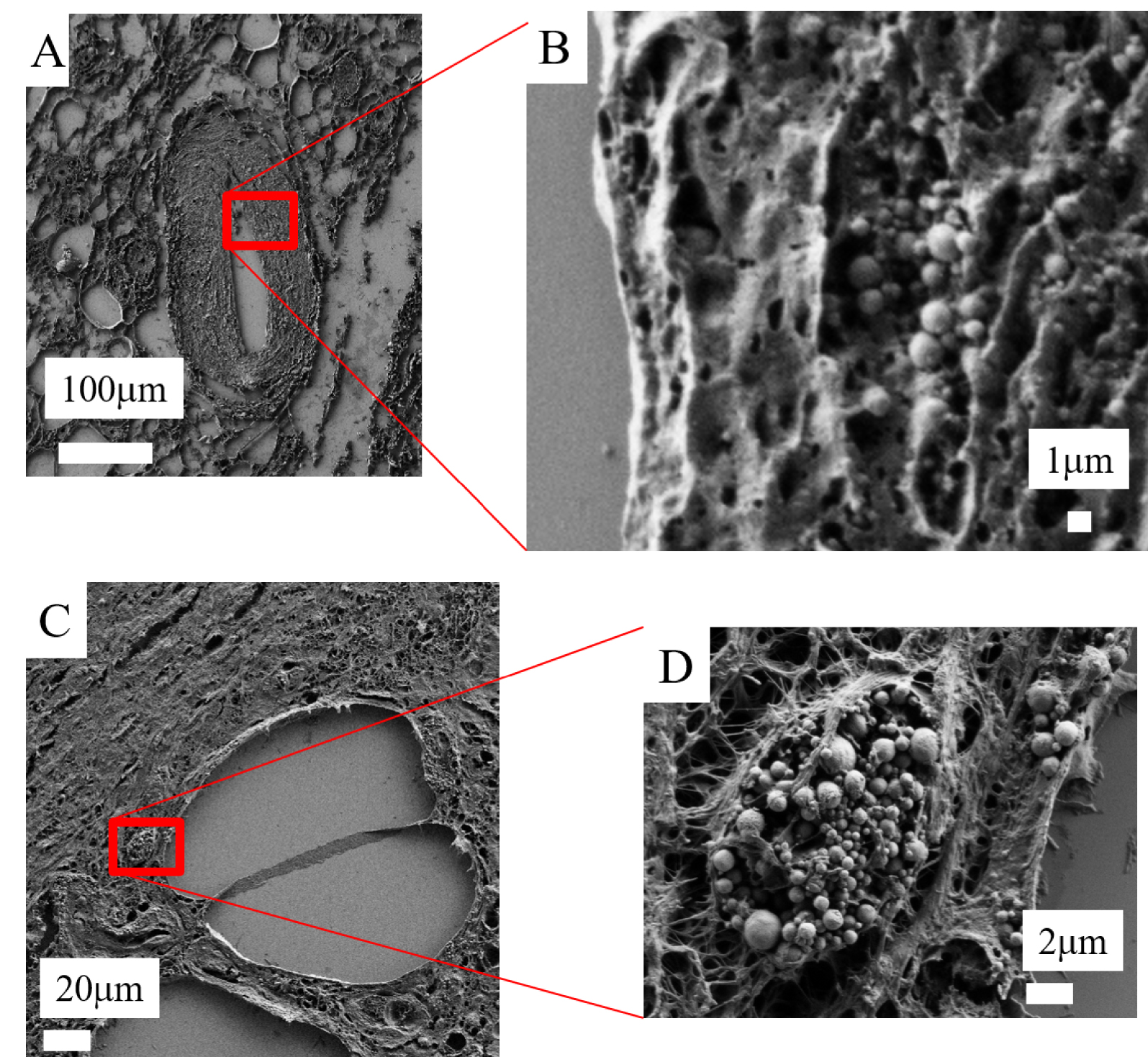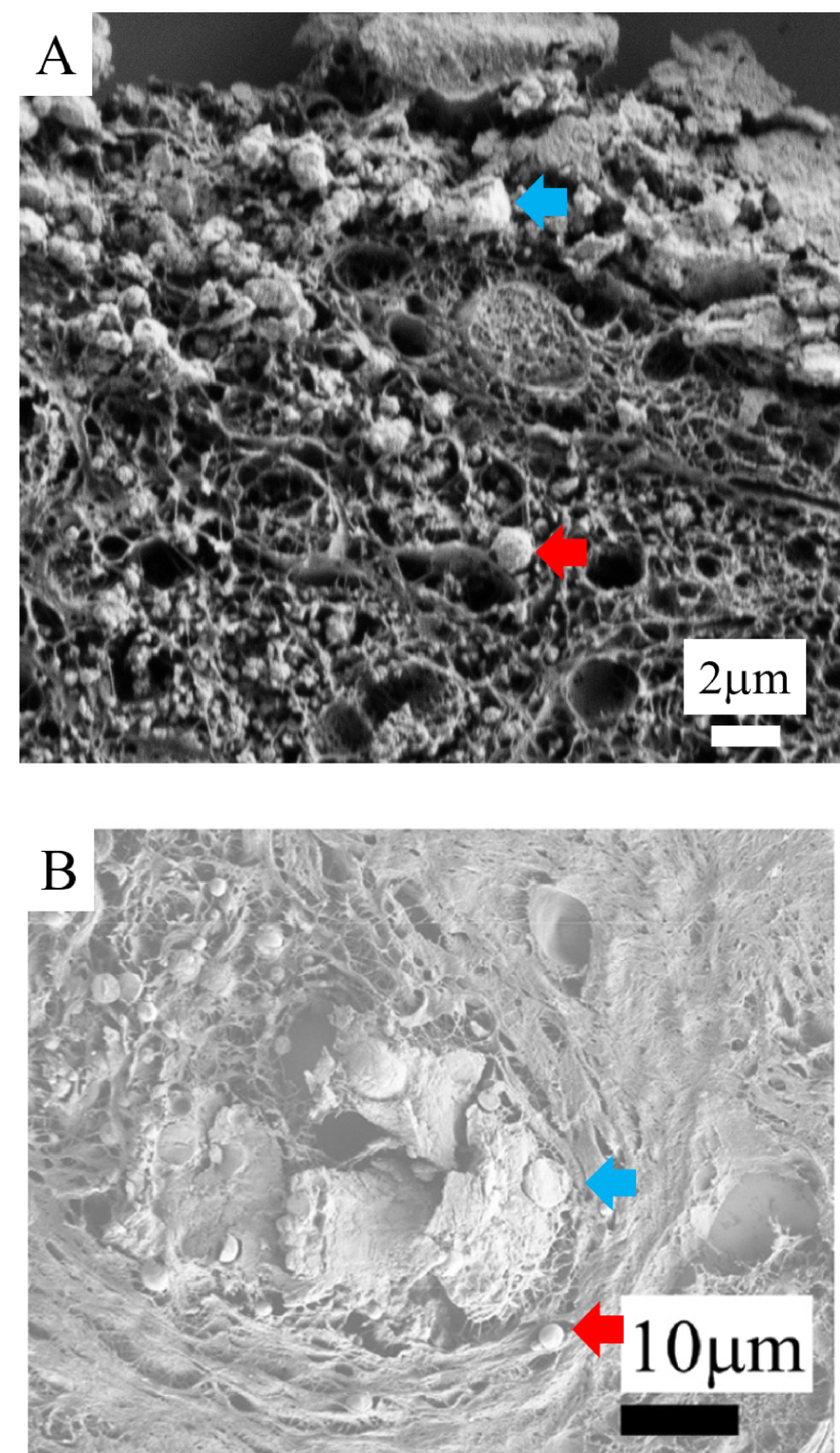 Regarding the formation mechanisms of the different morphologies of skin calcification, we can hypothesize that the agglomeration of small spherical bodies leads to the formation of a plaque (Figure 6A). A similar mechanism has been identified in ectopic breast calcifications [62] (Figure 6B). These similarities hightlight the fact that the pathogenesis of ectopic calcifications can be similar although the tissue and its function may be very different.
2.3. Chemical diversity of skin calcifications
Literature regarding the chemical composition of skin calcifications is scanty. What exists almost consistently reports carbapatite (calcium phosphate apatite) [63, 64, 65] as a unique chemical phase in the skin, which was usually the case in the samples we studied. However, our complete set of investigations reveals at least three chemical phases: namely calcite (one of the CaCO3 polymorphs [66]), amorphous carbonated calcium phosphate (ACCP) and carbapatite (Table 2). More precisely, in both calciphylaxis and arteriosclerosis, we identified carbapatite, while calcium deposits observed in sarcoidosis were composed of calcite. The variety of dermal fibre structural modification associated with different skin diseases may lead to different modifications of skin functions and therefore the formation of different chemical types of calcifications.
Very few studies discuss the chemical diversity of skin calcifications. Among these, a report by Reid and Andersen [67] mentioned the presence of dolomite (not really a true calcium carbonate as its stoichiometric formula is CaMg(CO3)2). Yet, this chemical diversity has been well described in other organs: different calcium carbonate polymorphs have been identified in pancreatic stones, gallstones, salivary stones, and in the liver [68, 69, 70, 71]. A better understanding of the chemical variety of skin calcifications would probably help in understanding the pathophysiology of these skin diseases, as well as the therapeutic options.
Carbapatite and its precursor ACCP represent compounds identified in pathological calcifications present in kidney, cartilage, thyroid, aortic valve, and breast [72, 73, 74, 75, 76]. At this point, it would be useful to summarize some relevant chemical characteristics of carbapatite. Biological apatites correspond to substituted calcium hydroxyapatite (HAP, Ca10(PO4)6(OH)) [77, 78, 79, 80, 81]. The fundamental structure can tolerate substitutions by other ions with the same or a different charge. Some cations which can replace Ca2+ are Pb2+, Sr2+, Co2+, Zn2+, Fe2+, Cu2+ or Mg2+. Investigations regarding a possible insertion of these cations in biological apatite have thus been performed [82, 83, 84]. Other substitutions involve replacement of the original PO and OH− anions which may have the same or a different electric charge (for example F− substituted for OH− or CO substituted for PO and/or OH−). This wide range of ion substitutions can modify the physico-chemical and biological properties of apatites.
Numerous studies have been devoted to apatites which are conventionally regarded as conforming to the A5(BO4)3X canonical chemical formula [85, 86]. The crystallographic structure (Figure 7) of apatite is well known, the space group is P63/m with a = b = 9.41844 Å, c = 6.88374 Å [87, 88].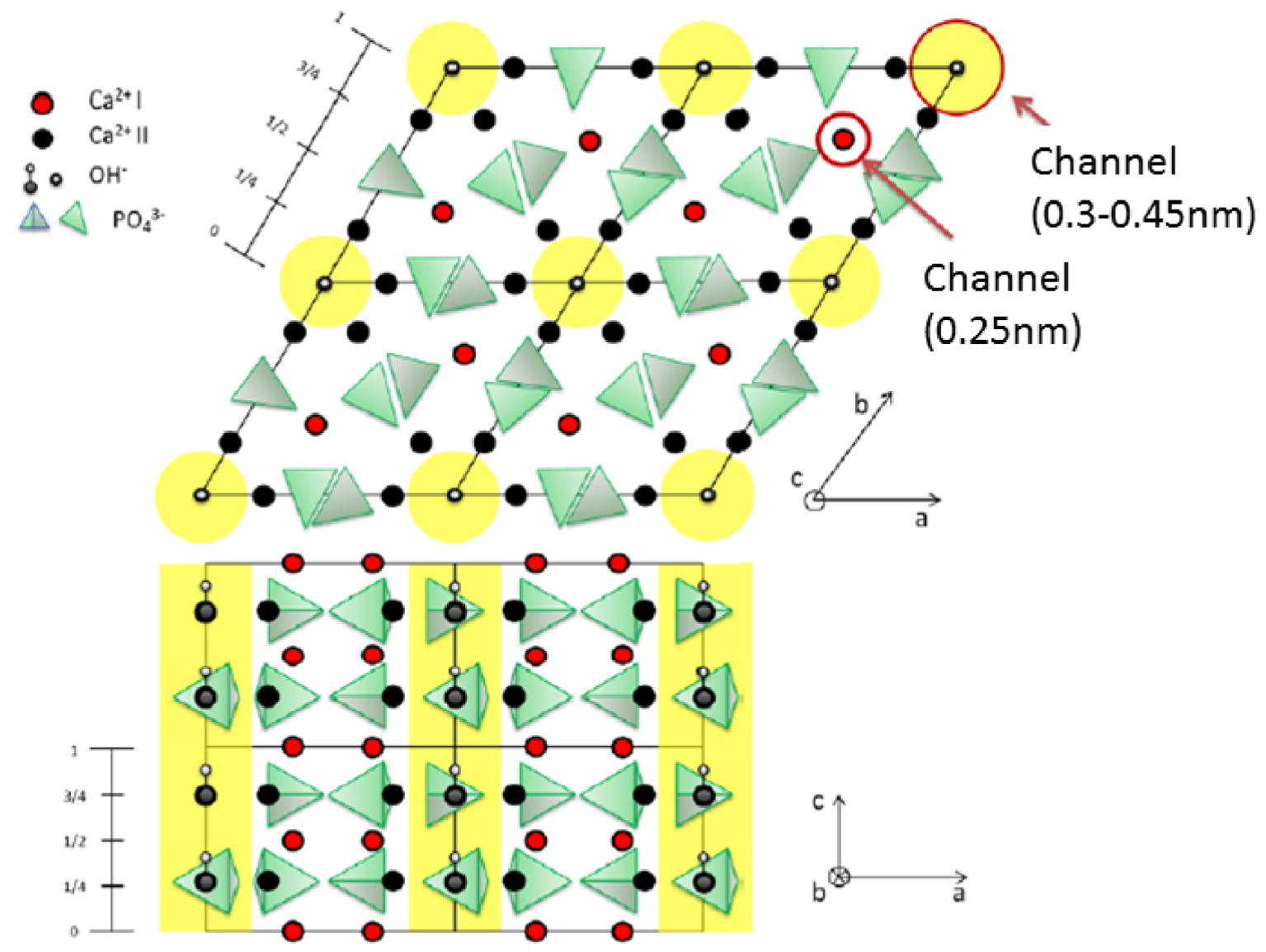 The framework of the stoichiometric calcium hydroxyapatite can be described as an assemblage of tetrahedral PO4 groups [89, 90]. An interesting aspect of this is the existence of two channels. The first has a diameter of 2.5 Å and is surrounded by Ca2+ cations while the second is wider (3–4.5 Å).
Finally, biological apatites display some specific features. One is the widely reported deficiency of OH− [91, 92, 93]. Another, established more recently, is the presence of hydrogen phosphate (HPO) ions in PO sites [94]. Thus, as proposed by Combes et al. [80], we report in Table 2 the general formulae for biological apatites.
Regarding physicochemical investigations of biological apatites, it is of major importance to underline that the physicochemical characteristics of calcium phosphate apatite may significantly influence medical diagnostic. For example, in kidney stones, a high carbonate level in calcium phosphate apatite, as well as the presence of amorphous calcium phosphate apatite, indicate an infectious process implying the need for antibiotics [48, 95]. The morphology of the kidney stones at the macroscopic scale as well as the morphology of calcium phosphate apatite crystallites at the micrometre scale may indicate an inherited distal renal tubular acidosis [49] or primary hyperoxaluria [47, 96]. Finally, its zinc content may indicate inflammatory processes [84, 97, 98].
Another interesting aspect is that calcification morphology at the micrometre scale is not predictive of its chemistry. Spherical calcifications, for example, could be composed of either calcite or carbapatite. The calcification localisation (vascular, dermal or hypodermal) within the skin tissue again does not correlate with chemical composition, suggesting a relatively modest contribution of the skin tissue environment to the calcifications chemistry.
3. Generalities regarding exogenous skin deposits
The exposome concept was conceived in 2005 to represent the environmental, i.e. non-genetic, drivers of health and disease [99]. The exposome concept takes into account exposure to particles present in food and air or directly in contact with the skin. Skin protects the body from the external environment and it is therefore directly impacted by the exposome.
Table 2.
Different calcium phosphate compounds with their stoichiometry and their Ca/P ratio
Skin diseases
Serum calcium and phosphate levels
Calcifications' localisation
Chemical phase
Stoichiometry
Calciphylaxis
Usually elevated
Vessels, dermis, hypodermis
Amorphous carbonated calcium phosphate (ACCP)
Ca9(PO4)6 nH2O
Calciphylaxis
Usually elevated
Vessels, dermis, hypodermis
Carbapatite
Ca10−

x

(PO4)6−

x

(HPO or CO)

x

(OH)2−

x

with 0⩽

x

⩽2
Sarcoidosis
Usually normal
Dermis (surrounding granulomas)
Calcite
CaCO3
Penetration of this exogenous material can occur after a trauma, an injection, or a tattoo puncture; they have also been shown to penetrate into the skin through follicular orifices, for example after cosmetic application [100].
There is an increasing interest in understanding the effects of exogenous materials, including nanoparticles, on living tissues, among them skin. Recent developments in nanotechnology have established a link between exogenous deposits and some inflammatory diseases, such as in sarcoidosis [101, 102], frontal fibrosing alopecia [103, 104] and tattoos [105, 106].
4. Physico-chemical characteristics of deposits in various skin diseases
5.
In vivo

characterization

In vivo characterization is a promising approach for the clinican. Among those physiocochemical characterization techniques able to collect data on skin in vivo are Raman spectroscopy [195, 200, 201, 202, 203], FTIR spectroscopy [204, 205], X-ray fluorescence [206, 207] and Optical Coherence Tomography (OCT). We have used two of these: OCT in sarcoidosis and FTIR spectroscopy on tattoos.

OCT is a technology based on low-coherence optical interferometry to image biological tissues with a micrometer-scale spatial resolution [208, 209]. It is commonly used in several medical fields [210], especially in ophthalmology to obtain images of the retina and the anterior segment of the eye [211]. Moreover, OCT has begun to be used in interventional cardiology [212], and in gastro-enterology for the detection and diagnosis of tumors [213, 214]. OCT can be a useful tool for non-invasive imaging of brain tissues [215, 216], and shows promise in dermatology to improve the diagnosis of skin lesions [217, 218].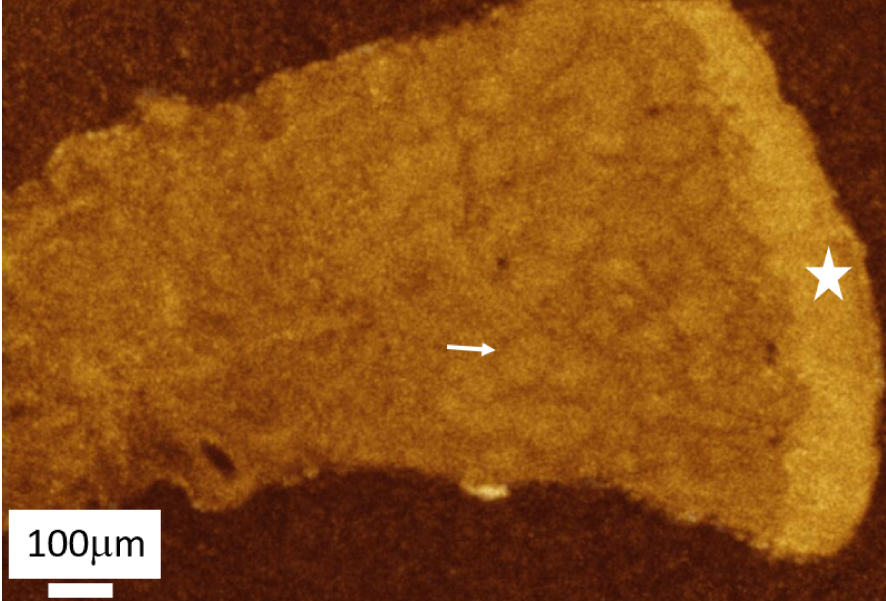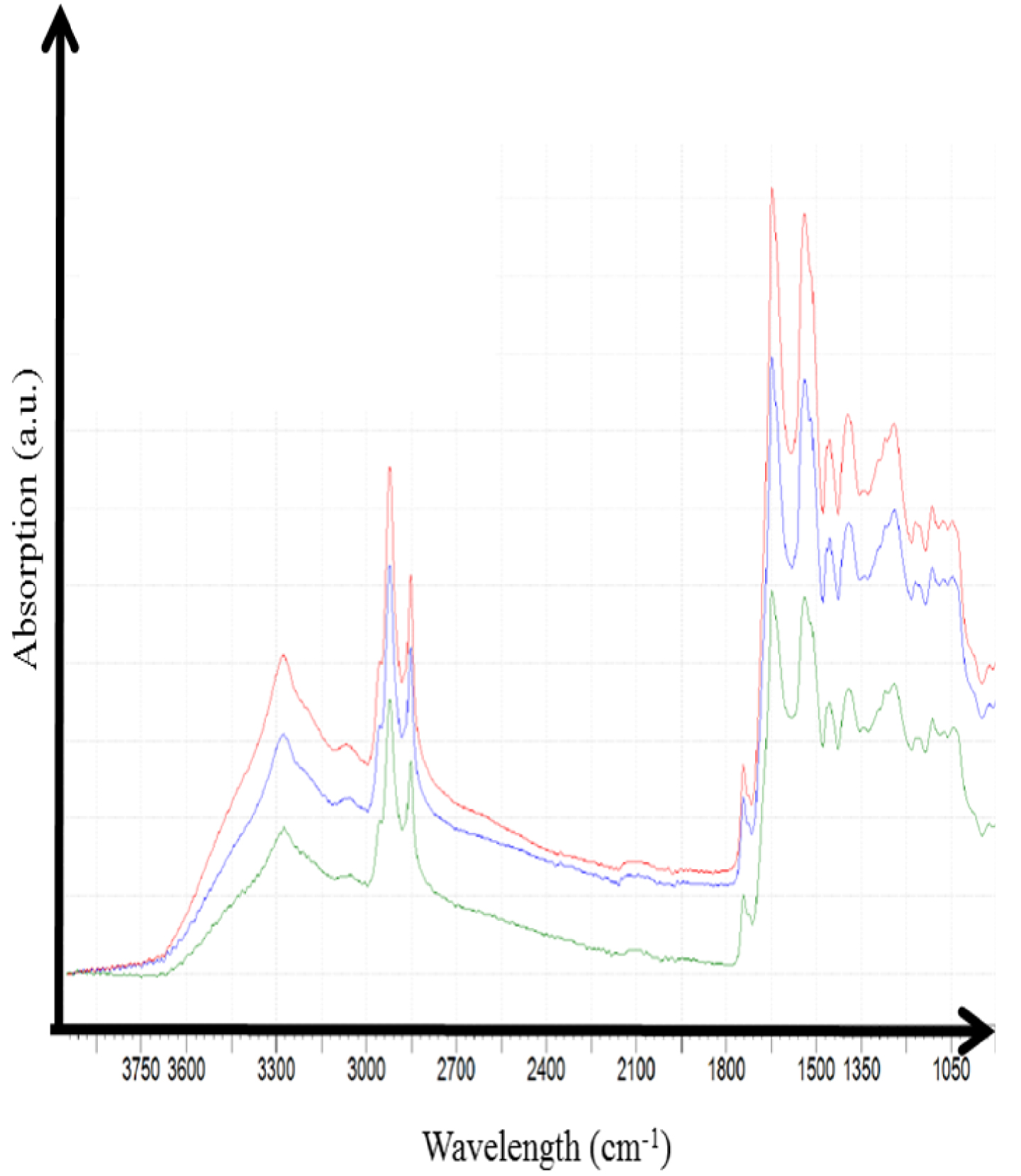 In this study, we used a commercially available swept-source OCT device (Thorlabs, OCS1300SS) operating in the near-infrared at a center wavelength of 1300 nm, producing images with a spatial resolution of 12 μm × 25 μm (axial × transverse). Figure 24 shows an example of an OCT image obtained from a biopsy of skin sarcoidosis embedded in paraffin. OCT is effective in identifying granulomas in the dermis, suggesting that this technique could also be used to diagnose cutaneous sarcoidosis in vivo, which would prevent the patient from having to undergo a biopsy.
Finally, we have recently tested the acquisition of in vivo FTIR spectra using an Agilent 4300 Handheld FTIR spectrometer. The experimental setup, routinely used for archeomaterials [219], allows the acquisition of infrared spectra in the range 5000–650 cm−1 with a spectral resolution of 4 cm−1. The detector is thermal and the signal is related to a change in temperature caused by the absorption of the infrared radiation. Experiments were performed in attenuated total reflection mode (with a 2 μm typical penetration depth) using a diamond interface window on a patient with a tattoo. A set of infrared spectra were collected (Figure 25): it is clear that the signal to noise is excellent and thus it seems possible to extract spectral information regarding the chemical composition of the tattoos. Following these preliminary experiments, we have started an investigation in order to analyse quantitatively these IR spectra.
6. Conclusion and perspectives

This contribution exemplifies different physico-chemical techniques, encompassing imaging at the submicrometer scale by FE-SEM, chemical identification by two vibrational spectroscopies namely FTIR and Raman, as well as techniques specific to synchrotron radiation such as XRF and XANES, have been used to describe both endogenous and exogenous skin deposits.
The complete set of results demonstrates clearly that, although carbapatite is usually identified in endogenous deposits, various other chemical compounds can be identified. Such chemical diversity in skin calcifications suggests different biochemical mechanisms. We have also demonstrated the variety of structures and locations adopted by such skin deposits.
Regarding exogenous skin deposits, we identified PAA and metal oxides in KA, which were strongly correlated with the position of the tumour, and identified TiO2 in FFA, which was closely located next to the area rich in stem cells of the hair follicle. This co-localization suggests a direct involvement of these compounds in these diseases.
In the near future, we would like to apply other tools in various skin diseases. Nowadays, it is possible to perform a description of the pathological calcifications at the nanometer scale. Transmission electron microscopy (TEM) has already been used and such description has led to different scientific breakthroughs [220, 221, 222]. Combining TEM and electron energy loss experiments tells the clinician the morphology and the elemental composition of abnormal tissue deposits at the nanometre scale [223, 224]. There is also now the possibility of identifying chemical composition by the acquisition of NanoInfrared spectra [225, 226, 227, 228].
Other tools, such as UV spectroscopy [229, 230, 231] or Second Harmonic Generation (SHG) [232, 233, 234] are also very interesting for the exploration of skin diseases. We have obtained promising preliminary results at the Disco beamline, Synchrotron Soleil, and we will proceed with more analyses in the future. Figure 26 shows as an example of spontaneous fluorescence within sweat glands (red arrow).
Synchrotron radiation provides other opportunities for nanometer scale definition. For example, scanning transmission X-ray microscopy performed at the carbon K-edge and at the Ca L2,3-edges can accurately assess the pathogenesis of calcifications inside bacteria [235].
Finally, all these nanometer scale experimental data have to be considered via a "bottom-up" approach based on DFT model chemistry [236, 237, 238]. Such a theoretical approach can model different kinds of apatite/biomolecule [239, 240, 241] and metal or metal oxide/small molecule interactions [242, 243, 244] which can have a major influence in the case of tattoos.
Further collaborations and studies are therefore projected, including multiphoton microscopy analyses, in order to provide a better understanding of skin diseases associated with endogenous and exogenous deposits, and hopefully improve their treatment.
Conflicts of interest
Authors have no conflict of interest to declare.
Acknowledgments
We acknowledge SOLEIL for providing access to their Synchrotron radiation facilities (proposals 20170374 and 2018362) and we would like to thank the DiffAbs, Nanoscopium and Disco beamlines teams for their assistance during experiments. We would like to thank the clusters of excellence MiChem and Matisse (ANR-11-IDEX-0004-02) led by Sorbonne Université. We would like to thank the "Fondation pour la Recherche Médicale" for their financial support of these studies.