1. Introduction
Le développement de la pandémie de COVID-19 est exploré dans une myriade d'articles. Malgré cette abondance, et en raison de notre anthropocentrisme, il est exceptionnel que les études publiées se placent du point de vue du virus. Bien sûr, de nombreux travaux se penchent sur le détail de la composition et de la structure du génome du virus SARS-CoV-2, des protéines qu'il code et de sa parentèle. Pourtant, les études portant sur la façon dont le virus exploite le métabolisme de son hôte cellulaire sont très rares. C'est que l'urgence de trouver le moyen de contrôler la maladie conduit à mettre l'accent sur la vaccination ou plus généralement sur le système immunitaire de l'hôte. On sait bien, hélas, que s'il a été parfois relativement facile de trouver un vaccin à la fois efficace et inoffensif contre une maladie répandue, le contraire est vrai aussi. Il existe encore des maladies très graves et très communes pour lesquelles il n'existe pas de vaccination possible pour l'instant. Vacciner efficacement suppose, en particulier, que la descendance d'un agent pathogène reste suffisamment longtemps la même pour ne pas conduire aisément à l'évitement de la réponse immune déclenchée par le vaccin. Les coronavirus sont des virus formés d'un génome long et d'une enveloppe. La longueur du génome aurait pu conduire à un taux de mutation très élevé, mais ces virus, évitant ainsi la contrainte universelle du cliquet de Muller — voir Encadré, p. 1 — ont recruté une fonction spécifique de correction des erreurs de réplication [1]. Cela fait que, s'ils ont tendance en effet à voir apparaître des variants génétiques au cours du temps, le nombre de ces variants reste assez faible. Ce taux de mutation peut paraître très limité, mais le nombre des particules virales engendrées au cours d'une infection est énorme, alors que la population humaine actuellement reconnue comme infectée va bientôt atteindre vingt millions de personnes. Il s'en suit que le taux de substitution par nucléotide – bien sûr très hétérogène en raison de la pression de sélection sur certaines positions — est de l'ordre de 8 × 10−4 changement par site et par an [2].
Ici, nous avons mis cette situation en regard du théorème fondamental de la sélection naturelle proposé par Fisher, qui relie l'évolution de l'adéquation à l'environnement (« fitness ») et la variance génétique [3]. Nous nous sommes efforcés d'utiliser les traces de l'évolution de la fitness du virus — constatées sous la forme de séquences génomiques — en présence des contraintes biochimiques qui biaisent les choix disponibles. Nous avons dû prendre en compte, cependant, le fait que les termes du problème ne sont pas aussi explicites qu'on aurait pu le souhaiter : la fitness n'est pas connue, pas plus que l'étiquette temporelle (estimée sur des arbres phylogénétiques ou tout simplement prise comme le temps physique), et la fréquence de certaines souches dans les arbres phylogénétiques peut être moins due à la sélection naturelle qu'à l'hétérogénéité de l'intensité d'échantillonnage et de séquençage. Cela a motivé notre utilisation de procédures robustes par rapport à ces incertitudes. Néanmoins l'avantage d'un telle analyse est de nous permettre de proposer des projections sur l'évolution du virus. Il s'agit donc là d'un moyen explicite permettant d'alimenter des modèles épidémiologiques ou cliniques.
Dans ce contexte, il nous a semblé d'un grand intérêt d'explorer le détail des mutations du virus SARS-CoV-2 au fil du temps, dans les différents endroits où COVID-19 s'est répandue, en mettant en évidence les lignées pertinentes en relation avec le métabolisme de l'hôte. Cela devrait nous permettre d'anticiper en partie l'avenir de la descendance du virus, avec des conséquences importantes pour le contrôle de la maladie. L'analyse des contraintes qui régissent l'accès au métabolisme des nucléotides qui composent le génome du virus nous a montré que le contenu en cytosine (C) de son génome est soumis à une forte pression négative, conduisant à une déplétion systématique, au fil du temps, de la cytosine monophosphate [4]. Une analyse rudimentaire a pu faire croire en un effet causal majeur de l'« édition » du contenu en C du génome par des désaminases de la famille APOBEC [5, 6], mais nous savons aujourd'hui que c'est l'organisation du métabolisme des pyrimidines, et plus particulièrement de la cytosine triphosphate [7], qui a l'effet critique sur l'évolution correspondant (Figure 1).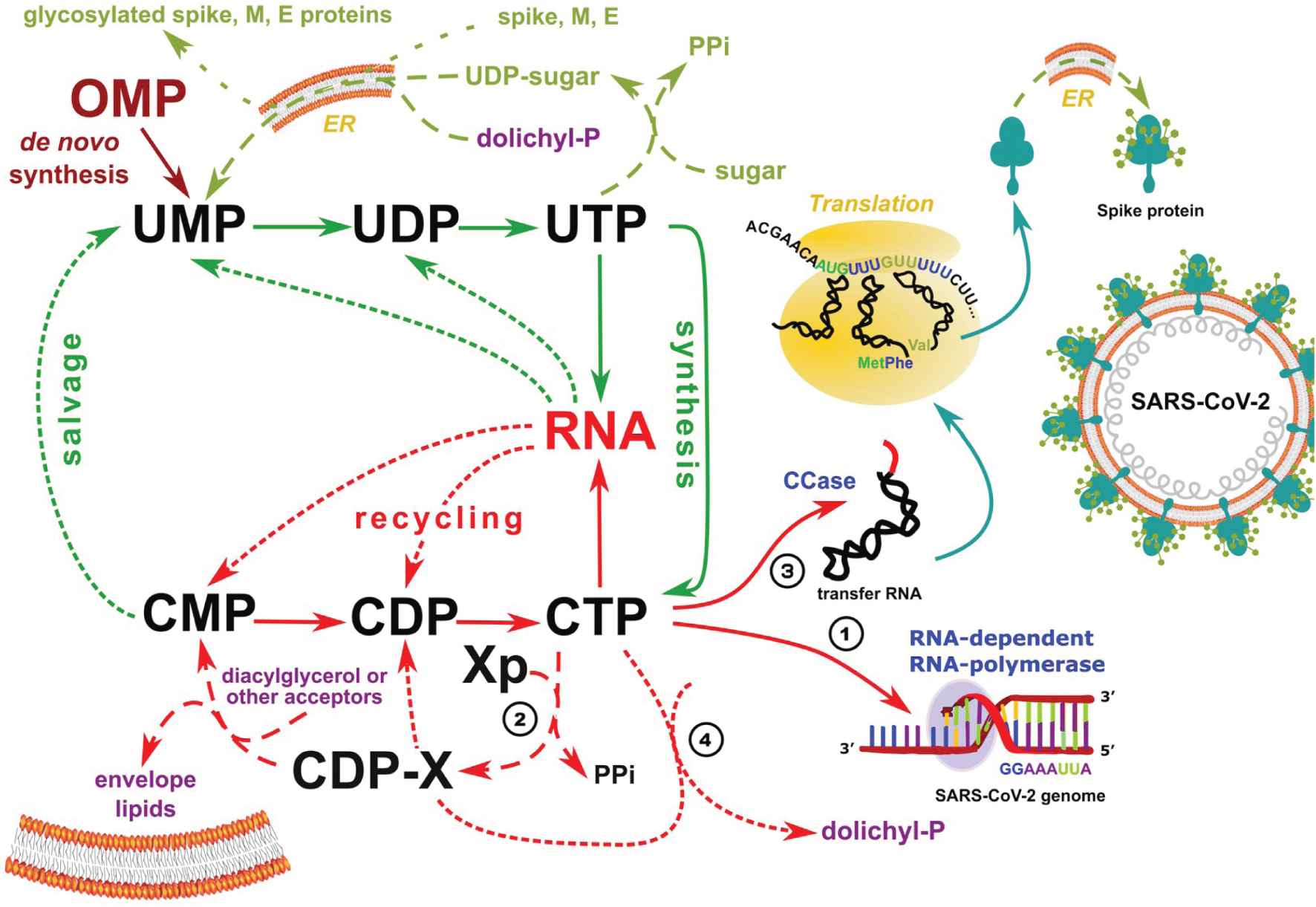 En effet, en raison de l'extrême dissymétrie de la réplication du virus — qui recopie de 50 à 100 fois sa matrice complémentaire [8] — un effet de l'édition du génome par ces enzymes très dépendantes du contexte ne serait important que lors de la modification d'un C en U sur l'ARN négatif, ce qui conduirait à un enrichissement majeur en A du génome viral, ou encore de transitions U → C dues à l'action d'une désaminase d'une classe différente et qui agit sur l'ARN double brin, nommée ADAR, et qui désamine l'adénine en inosine [9]. APOBEC et ADAR sont des enzymes très spécifiques et cela ne cadre guère avec les transitions C → U très répandues que nous continuons à observer au fur et à mesure de l'évolution du virus. Ici, nous nous sommes concentrés sur la dynamique de la perte de C dans le génome, et nous avons cherché les lieux et les causes des changements dans cette dynamique. Dans un premier paragraphe nous résumons les raisons métaboliques de ce phénomène remarquable. Ensuite, dans le corps de l'article nous montrons que la contrainte sur le contenu en C du génome entraîne des filiations spécifiques qui révèlent l'existence de fonctions importantes du virus ainsi que le rôle de la réponse de l'hôte.
2. Une exigence métabolique universelle, qui règle la synthèse du triphosphate de cytidine (CTP), oriente l'évolution du virus
Que savons-nous de la synthèse des composants qui permettent la genèse d'une particule virale (un virion) ? Lors d'une infection virale les cellules arrêtent généralement de se multiplier. Toutes leurs ressources sont rapidement détournées au profit de la multiplication du virus. Or, la croissance est une propriété universelle de la vie. Cela signifie que, presque toujours — les neurones différenciés sont une exception — le métabolisme cellulaire est organisé de façon à permettre la croissance cellulaire dès que l'occasion de se multiplier se présente. Au moment où il infecte une cellule — à nouveau, à l'exception de celles qui ne se multiplient pas — tout virus aura donc à gérer la pression métabolique qui organise la disponibilité des composants nécessaires à sa construction. Dans notre espace physique habituel (tridimensionnel), croître introduit une contrainte inévitable. La cellule doit mettre ensemble la croissance de son cytoplasme (à trois dimensions par conséquent), celle de la membrane qui l'entoure (deux dimensions) et celle de son génome (à une dimension, car les acides nucléiques sont des polymères linéaires). Or c'est un métabolisme commun, déployé pour l'essentiel dans le cytoplasme, qui produit les matériaux de construction de ces trois compartiments majeurs. Nous avons donc là une question semblable à celle que se posent les économistes lorsqu'ils évoquent la question de la croissance « non-homothétique » [10]. Mais la vie s'est développée en plusieurs étapes durant plus de 3,5 milliards d'années à partir d'un métabolisme primitif et on aurait pu craindre que chaque organisme ait trouvé une solution idiosyncratique à cette contrainte. De façon inattendue il semble bien qu'un métabolite unique, le nucléotide cytidine triphosphate (CTP) a été utilisé à cette fin [4, 7].
Le rôle unique du CTP apparaît en quatre endroits essentiels dans le métabolisme cellulaire, et ces lieux sont essentiels pour la formation de nouveaux virions. (1) Il s'agit du précurseur immédiat d'un des quatre nucléotides formant le génome du virus ; (2) le CTP est requis pour la synthèse des précurseurs liponucléotidiques de l'enveloppe virale ; (3) les ARN de transfert humains sont synthétisés à partir de 415 gènes ne codant pas leur extrémité CCA 3′OH-terminale — cette séquence est synthétisée par une nucléotidyltransférase à partir de CTP [11] ; et pour finir (4) la « décoration » des protéines par des glycosylations compliquées se fait en parallèle avec la traduction dans le réticulum endoplasmique via l'ancrage de substrats par le dolichyl-phosphate, produit par une kinase qui utilise le CTP, et non l'ATP, comme donneur de phosphate [12]. Par ailleurs, le métabolisme intermédiaire repose sur une organisation originale du métabolisme des pyrimidines, qui utilise systématiquement l'uridine triphosphate (UTP) ce qui limite considérablement l'accès au CTP (Figure 1). Il s'en suit que les erreurs de réplication accidentelles vont tendre à remplacer la cytosine par l'uracile dans le génome.
3. Évolution générale du virus SARS-CoV-2
En utilisant les données de séquence rassemblées dans la base de données SARS-CoV-2 GISAID (https://www.gisaid.org) nous avons, comme d'autres [13, 14], reconstitué un arbre phylogénétique de l'évolution du virus. Comme les séquences du génome viral ainsi que la date d'identification de ces séquences sont connues avec une assez grande précision, cet arbre permet d'explorer la filiation ordonnée des mutations qui apparaissent au cours du temps. En particulier, sauf si l'on peut soupçonner un événement de recombinaison due à l'infection d'un même patient par deux virus ou plus, lorsque deux mutations identiques apparaissent dans des branches distinctes de l'arbre, on peut faire l'hypothèse qu'il s'agit de convergence évolutive [15]. Les raisons de cette convergence sont discutées à l'occasion de l'analyse de telle ou telle mutation. Une deuxième observation, qui nécessite d'être mise en perspective (voir plus loin) est que la forme de l'arbre n'est pas du tout homogène. On remarque en effet la présence d'« efflorescences » où, à un nœud particulier de l'arbre, un grand nombre de branches apparaissent, démontrant une apparition « explosive » de nouvelles mutations (Figure 2). Nous avons mis au point une approche statistique nous permettant de les caractériser de façon explicite.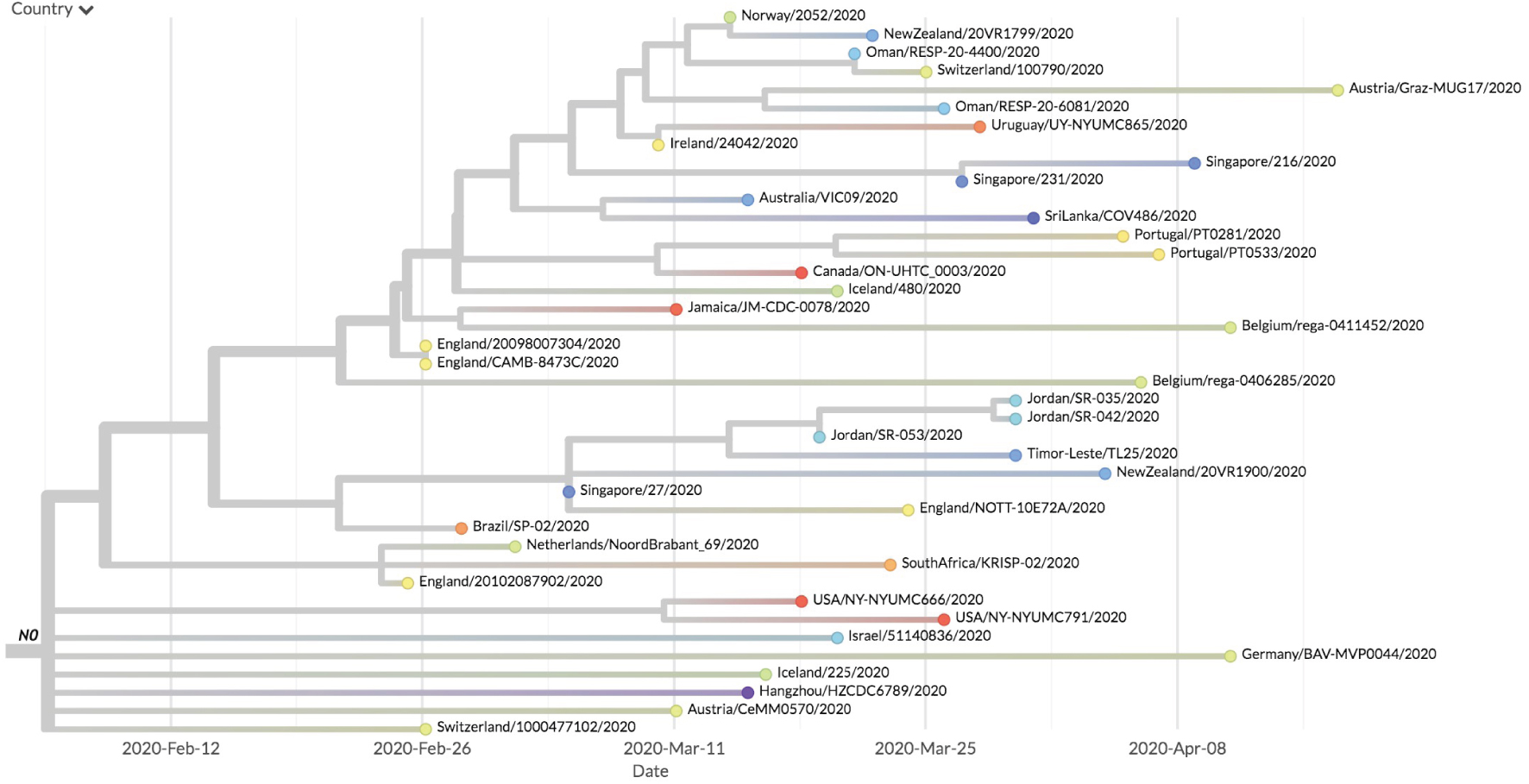 Les causes de ces efflorescences sont multiples, mais l'altération de fonctions virales importantes peut en être l'origine, et nous avons retenu quelques cas de ce genre pour plus ample discussion (voir Matériels et Méthodes, pour une description statistique de ce que sont les efflorescences).
4. Description et analyse de l'évolution du contenu en C du génome
D'une façon générale, le génome des coronavirus tend à évoluer en adaptant son contenu en C à son hôte. Plus spécifiquement SARS-CoV-2 évolue vers des formes moins riches en C au fur et à mesure que l'épidémie se développe [7]. Cependant cette évolution n'est pas homogène.
Dans les deux jeux de données étudiés, les transitions entre pyrimidines sont représentées à 77% par des transitions de cytosine vers uracile. Ces transitions représentent 48% de l'ensemble des substitutions recensées dans le premier jeu (respectivement 49% dans le second). Un important déséquilibre peut également être relevé au niveau des transversions, sachant que plus de 73% d'entre-elles concernent une substitution de purine en pyrimidine sur le premier jeu (respectivement 74%). Cependant, seulement 20% de ces 73% mènent à l'apparition d'une cytosine (respectivement 17%), dénotant une nouvelle fois une tendance à favoriser la génération d'uracile, démontrant par là que la contrainte majeure du processus mutagène est la disponibilité de la cellule en chacun des nucléoside triphosphates. Cette inhomogénéité se remarque encore au niveau de l'arbre. Au niveau de la branche B4 (20% des échantillons), la tendance est fortement marquée à perdre peu de C par rapport au reste de l'arbre (Figure 3).
De façon intéressante, c'est aussi la branche contenant en moyenne les souches avec le moins de divergence par rapport à la souche d'origine du virus. À l'inverse, sur la branche B1, la perte de C paraît plus importante. Le processus de mutation du virus semble aussi s'y accélérer, avec un taux de transversions 20% plus important que le reste de l'arbre (et des taux de transitions également plus élevés, mais dans des proportions plus anecdotiques). Enfin, en ce qui concerne la branche B3, siège principal des efflorescences, une diminution de 29% du taux de transition des pyrimidines et de 30% du taux des purines comparativement au reste de l'arbre est à souligner.
Cette inhomogénéité peut être la conséquence de nombreuses contraintes :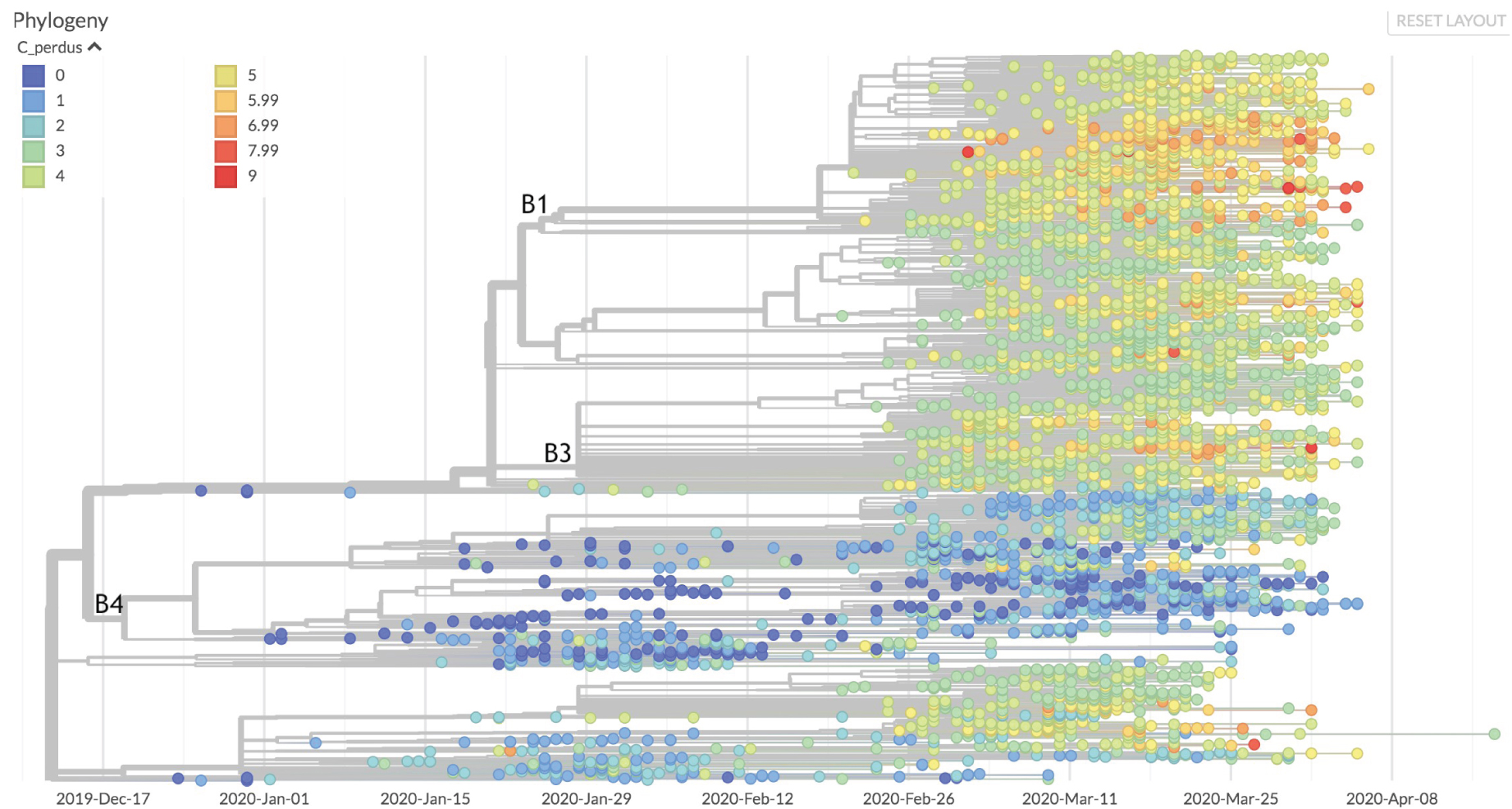 (1) La structure même du génome, qui doit se replier dans une enveloppe-capside compacte impose à certaines régions de conserver une séquence riche en C. C'est le cas des régions qui contrôlent le démarrage de la réplication [8] ou la transcription, AACGAAC par exemple [16]. Dans le cas des régions traduites, la pression sur la présence de C varie en fonction de sa position dans les trinucléotides du codon. Lorsque C est situé à la première position d'un codon, il est utilisé pour introduire l'arginine, la glutamine, l'histidine, la leucine ou la proline dans les protéines. L'histidine et la glutamine sont codées dans des familles à deux codons, discutées plus bas. Pour l'arginine, la pression de sélection est plus faible car les codons CGN peuvent être remplacés par des codons AGR — nous utilisons ici les conventions décidées par l'IUPAC pour l'étiquetage des nucléotides ou des acides aminés, par exemple N pour aNy, R pour puRine, etc. (https://www.bioinformatics.org/sms/iupac.html). La pression de sélection sur la teneur en leucine est à nouveau plus faible, car en plus des codons CUN, cet acide aminé peut être introduit à l'aide des codons UUR. Dans la deuxième position du codon, C est à nouveau utilisé pour coder la proline, mais aussi la thréonine (ACN), l'alanine (GCN) et la sérine (UCN). Là encore, ce dernier acide aminé échappe à une grande partie de la contrainte imposée par la disponibilité en C car il peut aussi utiliser les codons AGY. Enfin, la troisième position des codons est beaucoup moins contraignante car elle peut être remplacée par U mais aussi par A ou G dans les familles à quatre codons (alanine, proline, thréonine, valine). Les familles à deux codons UGY, AGY et NAY sont discriminées selon un axe pyrimidine / purine. Une pyrimidine est utilisée pour maintenir la même nature du résidu codé, car le codon utilise un U ou un C à l'extrémité 3′ (aspartate, asparagine, cystéine, histidine et tyrosine). Enfin, l'isoleucine est codée par trois codons (AUH), et la terminaison U ou C est prise en compte par les ARNt appropriés [17] ;
(2) La fonction de certaines protéines du virus peut imposer la présence de certains acides aminés dans leur séquence. Par exemple, le résidu proline codé par les codons CCN n'est pas strictement un acide aminé, mais est essentiel pour le repliement des domaines clés de protéines virales [18] ;
(3) Mettant mieux encore en relief l'importance du CTP, l'immunité innée antivirale a recruté au cours de l'évolution l'activité d'une enzyme, la vipérine, qui modifie le CTP en une forme toxique pour le développement du virus, le 3′-désoxy-3′,4′-didéshydro-CTP (ddhCTP) [19]. Une conséquence intéressante de cette conversion métabolique est que la diminution de la teneur en C du génome va permettre au processus de réplication du virus d'être moins sensible à la présence de cette nucléobase. Il s'ensuit que, lors du passage d'un virus relativement riche en C d'un hôte animal à l'homme, l'évolution vers la perte de C peut être transitoirement concomitante d'une augmentation de sa pathogénicité. À long terme, cependant, la perte de C restreint fortement le paysage évolutif du virus et tendra très probablement à son atténuation [20].
5. Quelques exemples de corrélations permettant de proposer une fonction pour les protéines virales
Des milliers de mutations ont été identifiées à ce jour. Il est possible de suivre leur émergence le long de l'arbre de l'évolution phylogénétique du virus et de mettre ensuite en évidence quelques caractéristiques intéressantes qui pourraient nous permettre d'anticiper son futur.
6. Conclusions et perspectives
L'épidémie de COVID-19 est une expérience grandeur nature sur l'évolution des virus. Il est remarquable que nous ne connaissions pas la véritable origine du virus [45], ni où il nous mènera. Cela explique pourquoi la grande majorité des études sur le virus SARS-CoV-2 et son évolution sont essentiellement descriptives. Ici, nous avons essayé d'utiliser l'évolution continue du virus pour étudier certaines de ses contraintes connexes en utilisant une approche de modélisation probabiliste de l'évolution moléculaire du virus basée sur l'hypothèse que le virus est assujetti à son hôte. En nous fondant sur la structure métabolique des cellules hôtes, qui agit comme cadre matériel obligatoire pour la multiplication des particules virales, nous avons mis en évidence des changements spécifiques dans le schéma d'évolution de la descendance du virus, dont témoignent les modifications de la composition du génome viral au fil du temps. En utilisant comme ligne de base le changement de C vers U largement répandu dans la composition de ce génome, nous avons identifié des nœuds où le changement est déplacé de cette direction à une autre, favorisant les transversions plutôt que les transitions, inversant la tendance de l'enrichissement pour aller de U vers C, ou faisant naître des efflorescences avec l'apparition soudaine de branches multiples dans l'arbre d'évolution. Cela nous a permis de mettre en évidence une série de fonctions qui évoluent vers une propagation plus efficace du virus (par exemple, la mutation Asp214Gly de la protéine de la spicule virale précédemment identifiée, mais aussi la mutation Gln57His du canal potassique Orf3a). Nous avons encore remarqué que l'Orf8 est le site probable d'une compétition permanente pour l'expression de deux protéines chevauchantes Orf8a et Orf8b formées aux dépens du décalage du cadre de lecture au cours de la traduction. De même la région instable de l'Orf7 pourrait favoriser la synthèse de la très petite protéine membranaire Orf7b, dont la fonction reste inconnue à ce jour. Enfin, l'inversion de la tendance à favoriser U par rapport à C indique que la protéine N pourrait être impliquée dans le contrôle de la synthèse de CTP chez l'hôte, ce qui suggère une cible intéressante pour le contrôle futur du développement du virus. Nous espérons que cette combinaison de connaissances mathématiques et biochimiques nous aidera à concevoir d'autres entreprises contre les conséquences désastreuses de COVID-19. Nous avons remarqué que l'un des moyens possibles pour le virus d'échapper au contrôle dépendant du CTP dans les cellules serait d'infecter des cellules qui ne sont pas censées se multiplier, comme les neurones. Cela pourrait expliquer les sites de développement viral inattendus observés dans l'épidémie actuelle.
Remerciements
AL remercie le Centre Interdisciplinaire de Recherche en Biologie (CIRB, Collège de France) pour son financement, ainsi que les membres de l'équipe SMILE (Stochastic Models for the Inference of Life Evolution) du CIRB pour de nombreuses discussions fructueuses au sujet de la modélisation de l'épidémie de COVID-19. AD remercie Stellate Therapeutics pour le soutien de son laboratoire.
1. Introduction
The development of the COVID-19 pandemic is being explored in a myriad of articles. Despite this abundance, and because of our anthropocentrism, it is exceptional that these studies focus on the virus' standpoint. Of course, much work is looking into the details of the composition and structure of the SARS-CoV-2 virus genome, the proteins it codes for and its animal-infecting relatives. However, there are very few major studies on how the virus exploits the metabolism of its host's cells. The urgent necessity to contain the disease led investigators to emphasize vaccination or, more generally, the involvement of the host's immune system. It is well known, alas, that while it has sometimes been relatively easy to generate a vaccine that is both effective and harmless against a widespread disease, the opposite is also true. There are still very serious and very common diseases for which there is no vaccination. Vaccinating effectively assumes, in particular, that the progeny of a pathogen remains the same long enough to prevent escape of the immune response triggered by the vaccine. Coronaviruses are viruses made up of a long genome and an envelope. The length of the genome could have led to a very high mutation rate, but these viruses, thus avoiding the universal constraint of Muller's ratchet—see Box, p. 2—have recruited a specific function that proofreads and corrects replication errors [1]. This means that, while coronaviruses do indeed tend to produce genetic variants over time, the number of these variants remains quite low. This mutation rate may appear very limited, but the sheer number of viral particles generated during an infection is enormous, while the human population currently recognized as infected exceeds twenty million people. It follows that the mutation rate per nucleotide—of course very heterogeneous due to the selection pressure on certain locations in the genome—is around 8 × 10−4 changes per site per year [2].
Here, this situation was placed in the perspective of the fundamental theorem of natural selection proposed by Fisher, which links the evolution of environmental fitness and genetic variance [3]. We wished to use the marks left by the evolution of the virus' fitness—observed in the form of genomic sequences—in the presence of the biochemical constraints that bias the choices available for evolution. We had to take into account, however, that the terms of the problem are not as explicit as one might have wished: fitness is not known, nor are the time markers (estimated from phylogenetic trees or simply taken as physical time) and the frequency of certain strains in the phylogenetic trees may be less due to natural selection than to heterogeneity in sampling and sequencing depth. This motivated our use of procedures that are robust enough to cope with these uncertainties. Nevertheless, the advantage of such an analysis is that it allowed us to propose anticipations for the evolution of the virus. It is therefore an explicit means of feeding epidemiological or clinical models with relevant observations.
In this context, it seemed to us of great interest to explore the details of how SARS-CoV-2 mutated over time, in the various places where COVID-19 has spread, highlighting relevant descents in relation with the host metabolism. This should allow us to anticipate some of the future of the virus' progeny, with important consequences for control of the disease. The analysis of the constraints that govern access to the metabolism of the nucleotides that make up the virus genome has shown us that the content of cytosine (C) in its genome is subjected to strong negative pressure, leading to systematic depletion, over time, in cytosine monophosphate [4]. This bias has long been believed to result from a major causal effect of the "editing" of the C content of the genome by the family of APOBEC deaminating enzymes [5, 6]. We now know that it is the organization of the metabolism of pyrimidines in animal cells, and more particularly of cytosine triphosphate [7], which drives the corresponding pressure on evolution (Figure 1).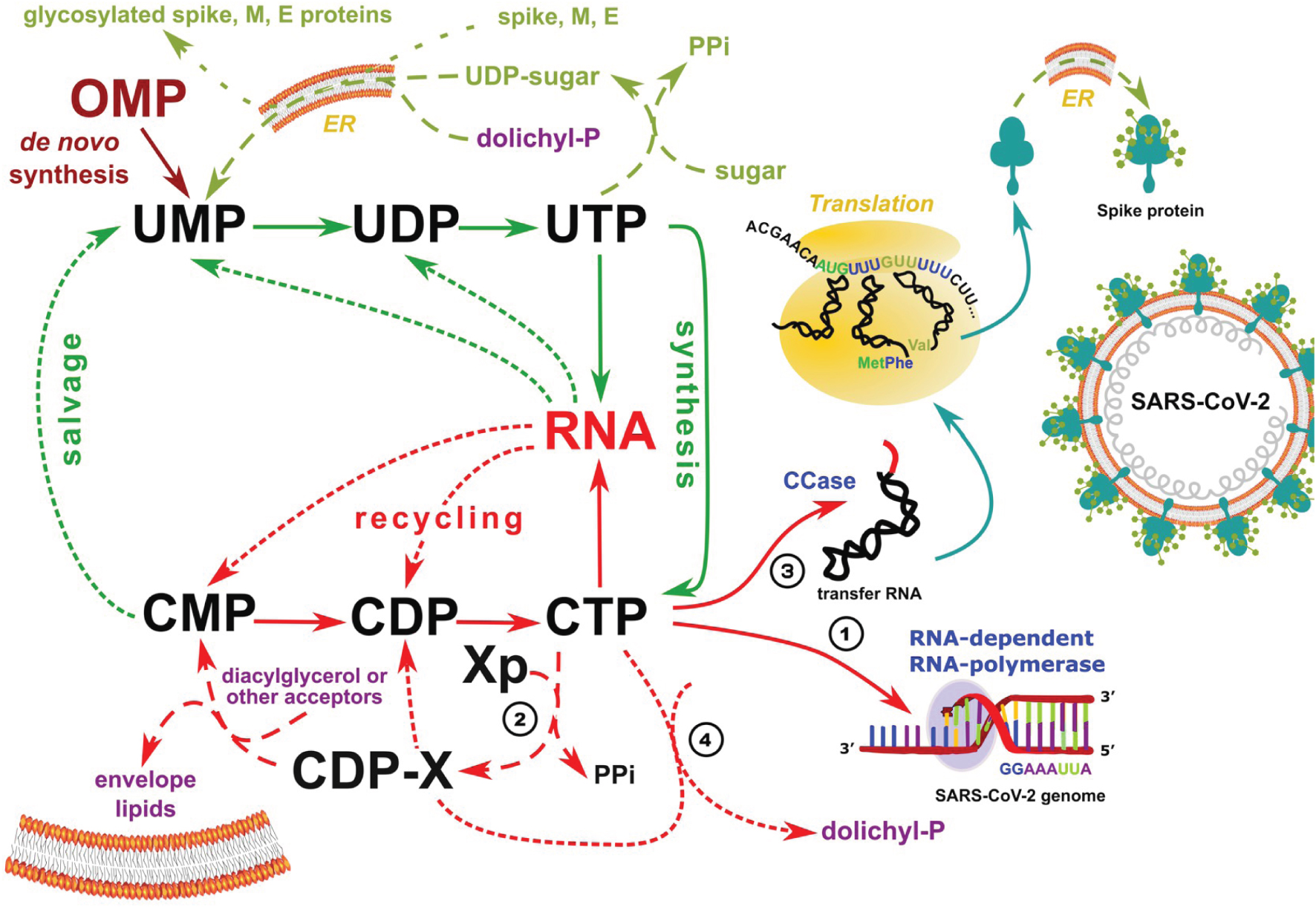 Indeed, due to the extreme asymmetry of the replication of the virus—which replicates 50 to 100 times from its complementary template [8]—a genome editing effect of these highly context-dependent enzymes would only be significant when a C into U is modified on the negative RNA template, which would lead to a major enrichment in A of the viral genome, or possibly from a U → C transition due to another class of deaminating enzymes acting on double stranded RNA, ADAR, that deaminates adenine into inosine [9]. Furthermore, both APOBEC and ADAR are highly specific enzymes and this hardly fits with the widespread C → U transitions that we keep observing as the virus evolves. Here, we have focused on the dynamics of the loss of C in the genome, and sought for the locations and the causes of changes in this driving force. In the first paragraph, we summarized the metabolic reasons accounting for this remarkable phenomenon. Subsequently, in the body of the article, we showed that the constraint on the C content of the genome leads to specific descents which can be used to reveal the existence of important functions of the virus as well as the role of the host's response.
2. A universal metabolic requisite, the biosynthesis of cytidine triphosphate (CTP), guides the evolution of the virus
What do we know about the synthesis of the building blocks that allow the generation of a viral particle (a virion)? During a viral infection cells usually stop multiplying. All their resources are quickly diverted in favour of the multiplication of the virus. Yet, growth is a universal property of life. This means that, almost always—differentiated neurons are an exception—the cell's metabolism that the virus faces is organized to allow cell growth as soon as the opportunity to multiply arises. The moment it infects a cell—again, with the exception of those that do not multiply—any virus will therefore have to manage the metabolic pressure that organizes the availability of the building blocks necessary for its construction. In our usual physical space (three-dimensional), growing introduces an inevitable constraint. The cell must put together the growth of its cytoplasm (three-dimensional, therefore), that of the membrane that encloses it (two-dimensional) and that of its genome (one-dimensional, because nucleic acids are linear polymers). However, it is a common metabolism, developed mainly in the cytoplasm, which produces the building materials needed to build up these three major compartments. So, here we have a question similar to the one asked by economists when they raise the question of "non-homothetic" growth [10]. Unfortunately, because life developed from a primitive metabolism in several stages over 3.5 billion years, we might fear that many organisms had found an idiosyncratic solution to this constraint, as often witnessed in the huge diversity of life forms. Unexpectedly, it appears that the solution to this quandary is universal: a single metabolite, the nucleotide cytidine triphosphate (CTP), has been recruited to this purpose [4, 7].
The key role of CTP appears in four essential places in cellular metabolism, and these places are essential for the formation of new virions. (1) It is the immediate precursor of one of the four nucleotides forming the genome of the virus; (2) CTP is required for the synthesis of liponucleotide precursors of the viral envelope; (3) human transfer RNAs are synthesized from 415 genes which do not encode their 3′OH-CCA terminal end—this sequence is synthesized from CTP by a specific nucleotidyltransferase [11]; and finally (4) the "decoration" of proteins by complex glycosylations is performed in parallel with their translation in the endoplasmic reticulum (ER) via the anchoring of substrates by dolichyl-phosphate, produced by a kinase which uses CTP, not ATP, as its phosphate donor [12]. In addition, intermediate metabolism is based on an original organization of the metabolism of pyrimidines, which systematically recycles and salvages them via uridine triphosphate (UTP) which makes CTP a pivot metabolite and limits considerably its availability (Figure 1). As a result, accidental replication errors will tend to replace cytosine with uracil in the genome.
3. General evolution of the SARS-CoV-2 virus
Using the available sequence data gathered in the SARS-CoV-2 GISAID database (https://www.gisaid.org) we have, like others [13, 14], reconstituted a phylogenetic tree of the evolution of the virus. As the sequences of each viral genome, as well as the date of identification of these sequences are known with fairly great precision, this tree makes it possible to explore the orderly lineage of the mutations which appear over time. In particular, unless we can suspect a recombination event due to the infection of the same patient by two or more viruses, when two identical mutations appear in separate branches of the tree, we can assume that this is the result of evolutionary convergence [15]. The reasons for this convergence are discussed on a case by case basis when analysing each relevant mutation. A second observation, which needs to be put in perspective (see below), is that the shape of the tree is not at all homogeneous. We noticed indeed the presence of "blooms" where, at a particular node of the tree, a large number of branches appear, demonstrating an "explosive" appearance of new mutations (Figure 2). We have therefore devised a statistical approach that allowed us to characterize them explicitly.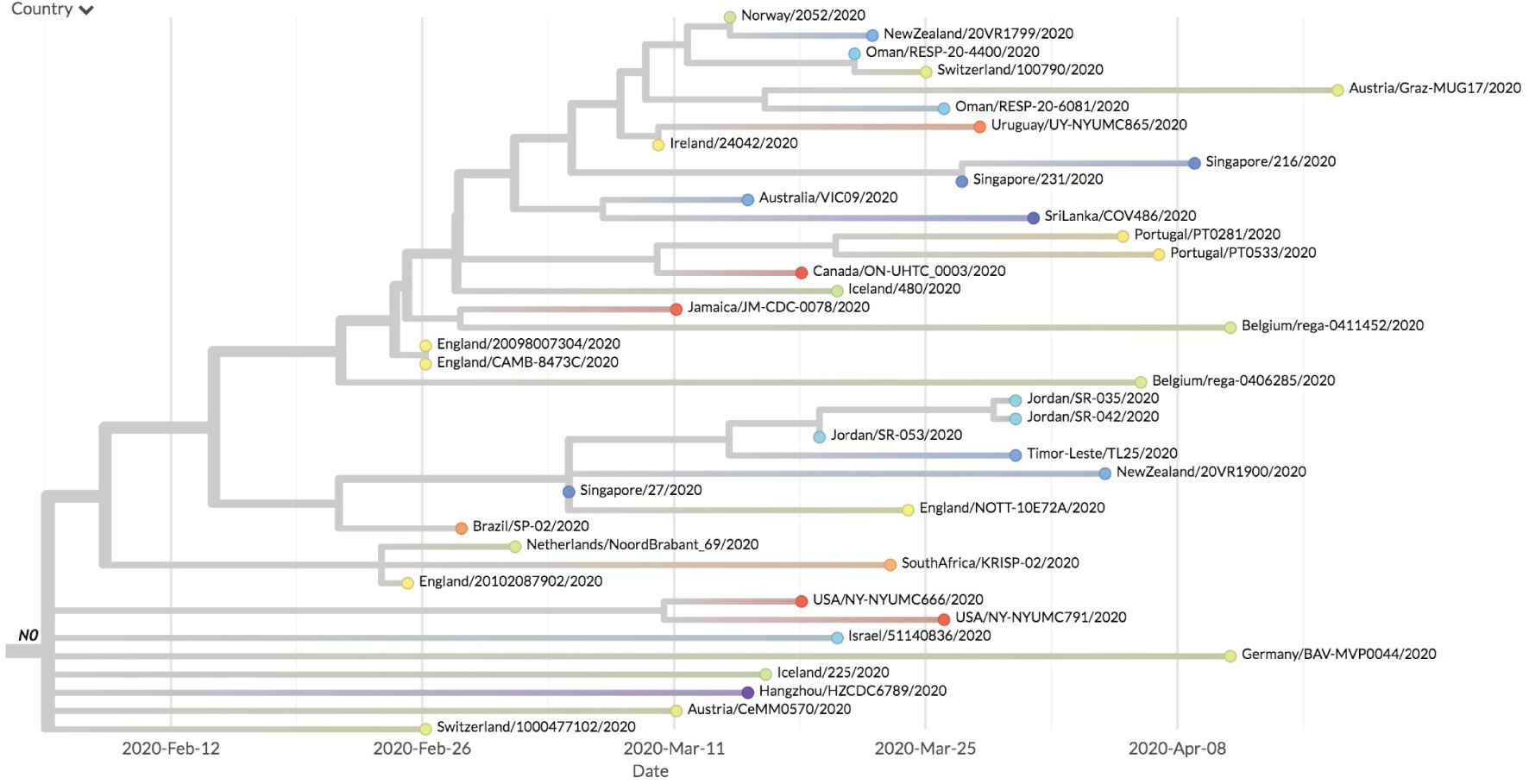 The causes of these blooms are multiple, but the adaptation of important viral functions can be at their origin, and we retained a few cases of this kind for further discussion (see Materials and Methods for the statistical definition of blooms).
4. Description and analysis of the evolution of the C content of the genome
Generally speaking, the coronavirus genome tends to evolve by adapting its C content to the metabolism of its host. More specifically SARS-CoV-2 evolves towards forms less rich in C as the epidemic develops [7]. However, this development is not homogeneous.
In the two data sets of interest, 77% of the transitions between pyrimidines are represented by transitions from cytosine to uracil. These transitions represent 48% of all substitutions identified in the first set (respectively, 49% in the second). An important imbalance can also be noted at the level of the transversions, knowing that more than 73% of those pertain to a substitution from purine to pyrimidine in the first set (respectively, 74%). However, only 20% of these 73% lead to the occurrnce of cytosine (respectively, 17%), indicating once again a tendency to favour the generation of uracil, thus demonstrating that the major constraint of the mutagenic process is the availability of each one of the nucleoside triphosphates in the cell. This inhomogeneity is also salient at the tree level. At the level of branch B4 (20% of the samples), the tendency is strongly marked to lose less C as compared to the rest of the tree (Figure 3).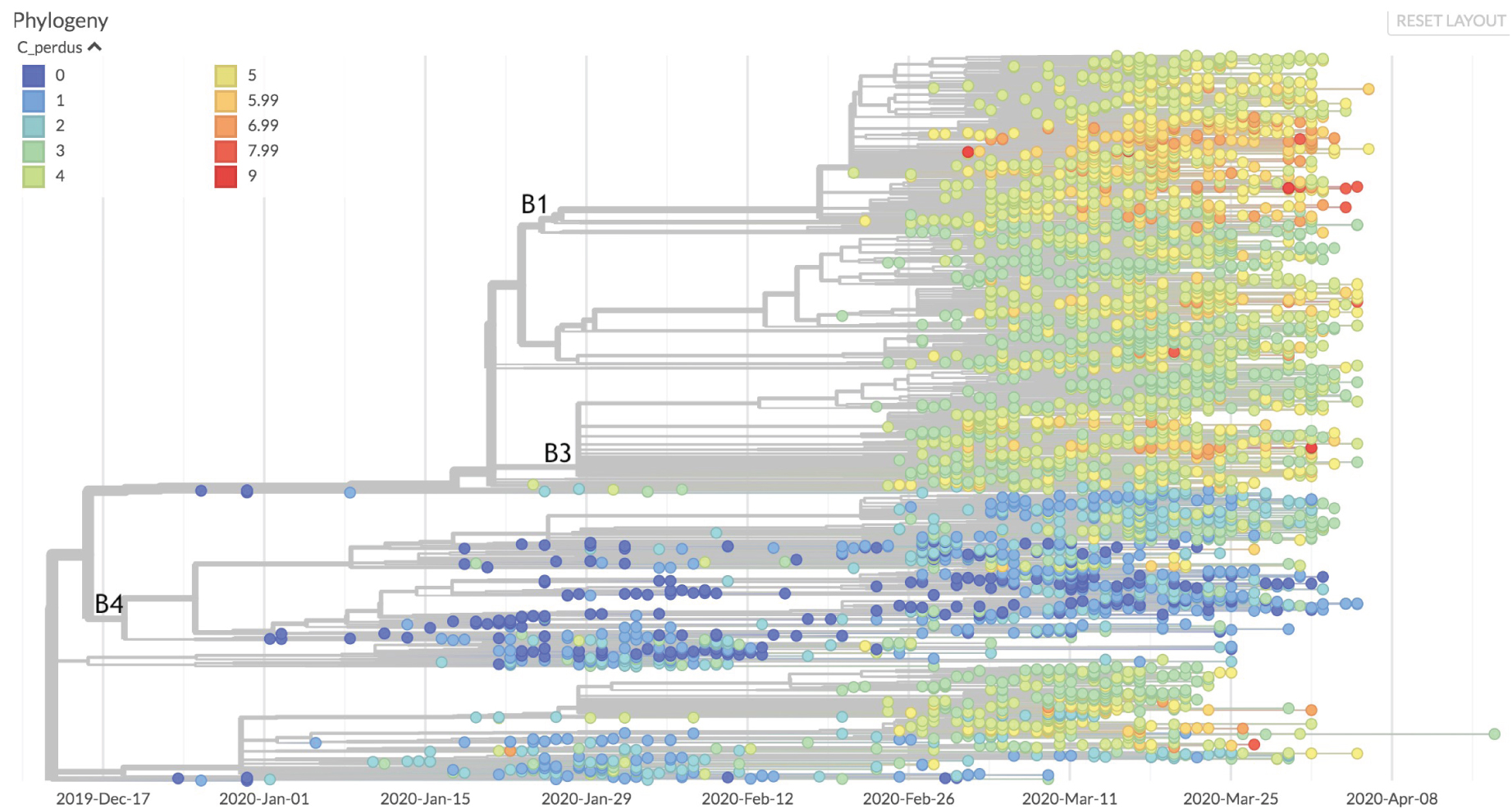 Interestingly, this branch is also the one that comprises on average the strains with the least divergence from the original strain of the virus. By contrast, in branch B1, the loss of C looks larger. The rate of virus mutation also seems to be accelerating in this branch, with a rate of transversions 20% higher than the rest of the tree (and also higher transition rates, but in more anecdotal proportions). Finally, for branch B3, the main site of blooms, a 29% decrease in the transition rate of pyrimidines and a 30% decrease in the rate of purines compared to the rest of the tree is noteworthy.
This inhomogeneity can be the consequence of many constraints:
(1) The very structure of the genome, which must fold into a compact capsid envelope requires certain regions to maintain the presence of specific C residues. This is the case of the regions which control the origin of replication [8] or transcription, AACGAAC, for example [16]. In the case of the translated regions, the pressure on the presence of C varies depending on its position in the codon trinucleotides. When C is located at the first position of a codon, it is used to input arginine, glutamine, histidine, leucine or proline into proteins. Histidine and glutamine are coded in two codon families, discussed below. For arginine, the selection pressure is lower because the CGN codons can be replaced by AGR codons—we used here the IUPAC convention for labelling nucleotides or aminoacids, e.g. N is for aNy, R for puRine, etc. (https://www.bioinformatics.org/sms/iupac.html). The selection pressure on the leucine content is also lower, since in addition to the CUN codons, this amino acid can be input using the UUR codons. In the second codon position, C is again used to code for proline, but also threonine (ACN), alanine (GCN) and serine (UCN). Again, the latter amino acid escapes a large part of the constraint imposed by the availability of C because it can also use the AGY codons. Finally, the third position of the codons is much less constrained because it can be replaced by U but also by A or G in the families with four codons (alanine, proline, threonine, valine). The two codon families UGY, AGY and NAY are discriminated along a pyrimidine / purine axis. A pyrimidine is used to maintain the same nature of the coded residue, as the codon uses a U or C as the 3′ end (aspartate, asparagine, cysteine, histidine and tyrosine). Finally, isoleucine is coded by three codons (AUH), and ending in U or C is taken into account by relevant tRNAs [17];
(2) The function of the virus proteins can impose the presence of certain amino acids in their sequence. For example, the proline residue encoded by the CCN codons is not strictly an amino acid, but is essential for the folding of key domains of viral proteins [18];
(3) Further stressing the importance of CTP, during evolution, innate antiviral immunity recruited the activity of an enzyme, viperin, which modifies CTP into a form toxic to the development of the virus, 3-deoxy-3,4 didehydro-CTP (ddhCTP) [19]. An interesting consequence of this pathway is that decreasing the C content of the genome will allow the virus replication process to be less sensitive to the presence of this nucleobase. It follows that, during the transfer of a virus relatively rich in C from an animal host to human beings, the evolution towards the loss of C may be transiently concomitant with an increase in its pathogenicity. In the long term, however, the loss of C severely restricts the evolutionary landscape of the virus and most likely will tend to its attenuation [20].
5. Examples of correlations allowing us to propose a function for viral proteins
Thousands of mutations have been identified at this date. It is possible to follow their emergence along the tree of its phylogenetic evolution of the virus and then highlight some interesting features that may allow us to anticipate some of its future.
6. Conclusions and perspectives
The COVID-19 epidemic is a life-size experiment in virus evolution. Remarkably, we neither know the real origin of the virus [45], nor where it will lead us. This explains why the vast majority of studies of the SARS-CoV-2 virus and its evolution are essentially descriptive. Here, we tried to make use of the ongoing evolution of the virus to investigate some of its related constraints using a hypothesis-driven probabilistic modelling approach to the molecular evolution of the virus. Based on the assumption that the virus'metabolism is ruled by its host. Based on the metabolic set up of the host cells, acting as a compulsory material framework for the multiplication of viral particles, we pointed out specific changes in the evolution pattern of the virus descent, witnessed by changes in the virus genome composition as time passes. Using the widely spread C to U change in this genome's composition as a base line, we identified nodes where the change is shifted from this direction to another one, favouring transversions rather than transitions, reversing the C to U trend towards U to C enrichment or generating blooms with sudden appearance of multiple branches in the evolution tree. This allowed us to point out a series of functions that are evolving towards a more efficient spread of the virus (e.g. the previously identified Asp214Gly mutation of the spike protein, but also the Gln57His mutation of the Orf3a potassium channel). We also noticed that Orf8 is the likely site of an ongoing competition for expression of two frameshift-dependent overlapping proteins Orf8a and Orf8b. Similarly, the unstable region of Orf7 could promote the synthesis of the very small membrane protein Orf7b, whose function remains unknown to date. Finally, the reversion of the tendency to favour U over C indicates that nucleocapsid protein N may be involved in the control of CTP synthesis in the host, suggesting an interesting target for future control of the virus development. We hope that this combination of mathematical and biochemical knowledge will help us devise further enterprises against the dire consequences of COVID-19. We noticed that among the possible way for the virus to escape CTP-dependent control in cells would be to infect cells that are not expected to grow, such as neurons. This may account for unexpected body sites of viral development observed in the present epidemic.