1. Introduction
The gut is a unique environment that is continuously exposed to food antigens but also to a rich community of micro-organisms. Its function, essential to the body, relies on the efficient absorption of nutrients and electrolytes, which is one reason why the intestinal barrier is relatively thin. However, this can become problematic for the host if toxic substances from the lumen reach the bloodstream [1]. A disruption of the intestinal barrier can therefore lead to pathological situations, ranging from nutrient deprivation [2], to inflammatory bowel disease [3], or sepsis [4], to multi-organ failure [1].
Depending on the region of the intestine, the epithelial barrier faces different challenges. The colon, in particular, the epithelium is exposed to the extreme osmotic pressure, that can reach 10 atm and is required to absorb water and solidify the feaces [5], but at the same time, distal colon hosts enriched microbial communities, consisting of bacteria, fungi, archaea and viruses [6]. Fungi, which are particularly abundant in the distal colon [7], can produce metabolites that trigger apoptosis of intestinal epithelial cells [8], thereby potentially compromising the integrity of the intestinal barrier. This is one of the reasons why the intestinal barrier is the main target of many fungal toxins, such as gliotoxin, aflatoxin [9], trichothecenes or candidalysin.
The colonic mucosa therefore tightly regulates fluid absorption while limiting the entry of toxic fungal metabolites into the epithelial cells or even into the bloodstream. Currently, the regulatory mechanisms responsible for this balance remain unknown.
Under homeostatic conditions, macrophages are the most abundant immune population in the gut. They mainly differentiate from monocytes in response to local signals. Intestinal macrophages reside in the lamina propria, or in the muscular part of the intestinal wall where they participate in various biological processes such as the degradation of microorganisms [10], the silent elimination of apoptotic bodies [11], tissue repair [12] and gastrointestinal motility [13]. In addition, intestinal macrophages limit inflammation [14], facilitating food tolerance [15]. Their function is closely linked to the presence of microbiota [16] and explains why they are found in greater numbers in the colon than in the small intestine [17].
Interestingly, in the colon, macrophages are found in close association with epithelial cells [18] and their mislocalization of is involved in the loss of intestinal barrier integrity, which is observed in inflammatory bowel diseases such as ulcerative colitis and Crohn disease [19]. Macrophages are therefore ideally positioned to orchestrate the interactions between epithelial cells and the microbiota, and thus maintain colonic homeostasis.
The main question of our work was to identify the role of colonic macrophages in the integrity and function of the intestinal epithelial barrier in homeostasis [20].
In summary, we have described a mechanism by which the innate immune system allows rapid and effective control of the quality of absorbed fluids to avoid colonocyte intoxication [20]. This mechanism relies on a population of macrophages in the distal colon equipped with "balloon" like protrusions (BLPs) inserted into the epithelium to sample absorbed fluids. In the absence of macrophages or BLPs, epithelial cells continue to take up fluids containing fungal products, resulting in their death and subsequent loss of epithelial barrier integrity.
These results [20] revealed for the first time an unexpected and essential role for macrophages in maintaining interactions between the colonic epithelial barrier and the microbiota, playing a key role in the maintenance of intestinal homeostasis.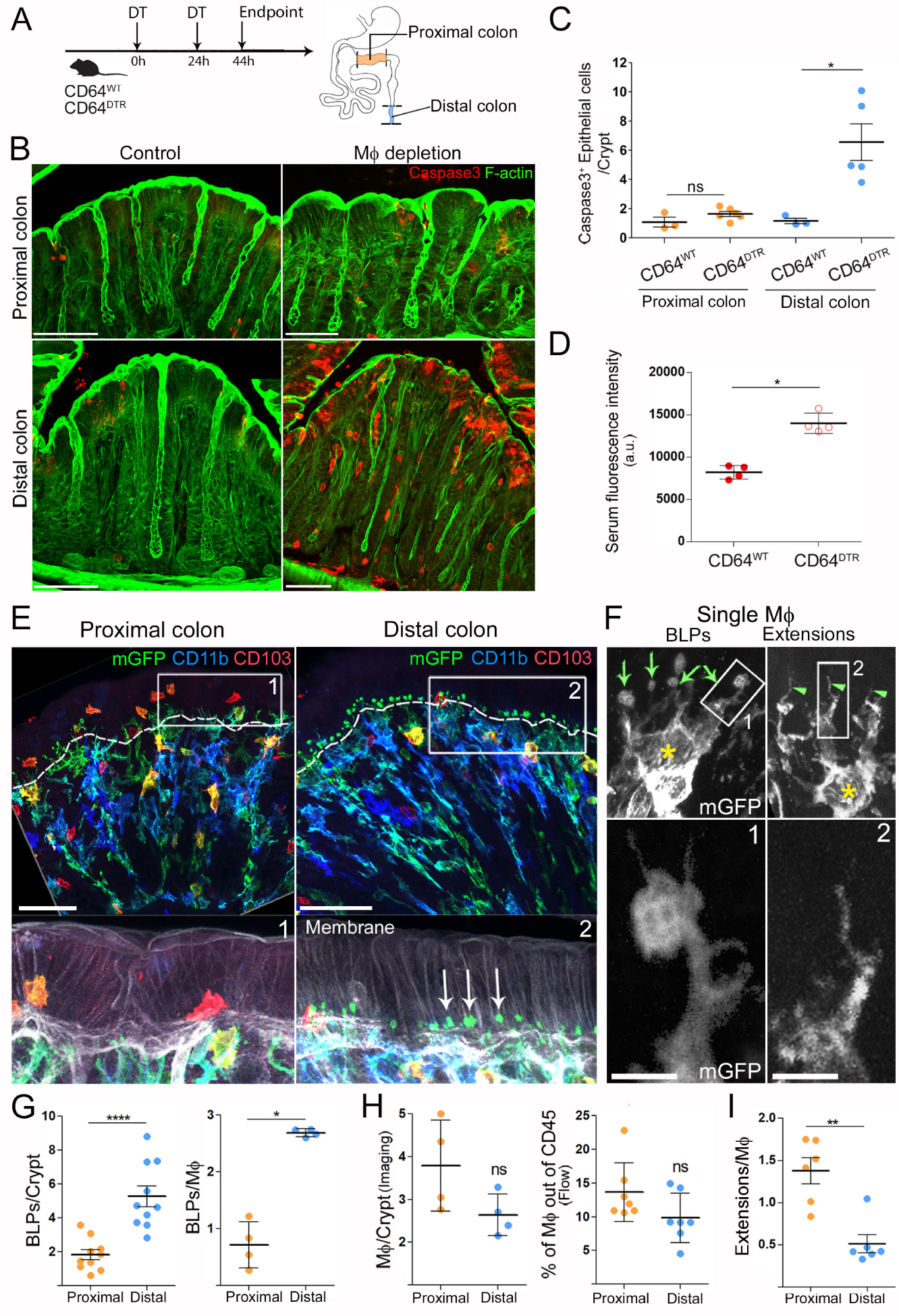 3. Discussion
The intestinal barrier separates the intestinal lumen from the internal environment. It acts as a selectively permeable filter that allows the absorption of nutrients, electrolytes and water, which can then reach the systemic circulation. On the other hand, as the intestinal lumen also contains many toxic substances produced by the microbiota, absorption must be tightly regulated to avoid intoxication and host disease. Indeed, disregulation of intestinal barrier permeability is a major cause of sepsis-related mortality in critically ill patients and in inflammatory bowel disease. While the mechanisms of intestinal permeability regulation have been extensively studied in the small intestine, little is known about the colon, where the main physiological function is to absorb fluids but which also contains a very high load of microorganisms.
We have described a mechanism where a particular population of subepithelial macrophages, which rapidly control the quality of absorbed fluids, maintains the integrity of the intestinal barrier.
To do this, the Mϕs use BLPs inserted at the base of the epithelium, which sample the fluids absorbed by colonocytes. If the fluids are overloaded with fungal metabolites/toxins, the Mϕs instruct the epithelial cells to stop the uptake, preventing epithelial cell poisoning and death. This could, for example, occur through the secretion of prostaglandin 2 (PGE2) by Mϕs, which decreases the alical localization of aquaporin of epithelial cells in vitro [30]. In the absence of Mϕs or BLPs, epithelial cells absorb fluids irrespectively of their fungal toxin/metabolite load and undergo apoptosis, thus compromising barrier integrity.
These results suggest that in homeostasis, intestinal barrier permeability is differentially regulated depending on the local physiological roles of the specific gut segment and its microbial content. Mϕs thus emerge as key players in orchestrating such regulation. In the small intestine, Mϕs form transient transepithelial dendrites visible by live imaging. In response to microbial signals, these projections extend between epithelial cells and reach the intestinal lumen where they capture bacteria or food antigens. They express tight junction proteins to form adhesions with epithelial cells when crossing the barrier, thus maintaining the integrity of the epithelium. They therefore appear to be different from the colonic BLPs described here. Although BLPs also penetrate the basement membrane and occupy the intercellular space of the epithelium, they do not directly contact the colonic lumen. These differences are consistent with the distinct properties of the epithelia in the small and large intestine. While paracellular permeability is high in the small intestine epithelium, reflecting its physiological role in nutrient absorption and the establishment of food tolerance, the colonic epithelium has limited paracellular permeability. This helps the colonic epithelium to withstand the local mechanical stresses imposed by high osmotic pressure and stool solidification, preventing loss of barrier integrity. Mϕs could therefore have developed an alternative sampling strategy in the context of such tightly sealed colonic epithelium. They form BLPs, which sample absorbed fluids through or between epithelial cells, rather than directly engulfing the contents of the colonic lumen, which contains a large number of microorganisms. Although the paracellular pathway allows sampling of absorbed fluid across the epithelium, a process necessary for stool formation, the transcellular pathway could detect transient barrier leakage events resulting from mechanical stress by stretching and shearing. These results suggest that the sampling mechanisms by the peripheral immune system are adapted to both local signals and physiological functions of the intestinal segment. Unexpectedly, we found that BLP+ Mϕs in the distal colon respond to fungal products. Similar results were observed with two different antifungal agents, fluconazole and amphotericin B, which target distinct fungal species by different mechanisms [34]. These results are consistent with fungi being particularly enriched in this intestinal segment [7]. We obtained no evidence that bacterial compounds stimulate BLPs formation. However, we cannot exclude the possibility that bacteria insensitive to the antibiotics used or absent from the ASF flora may still stimulate BLP formation. How do subepithelial Mϕs BLP+ detect fungal products?
The distal colon contains a thick layer of mucus that physically separates the microbiota from the epithelial cells; the inner part of the mucus is sterile [35]. Therefore, in homeostasis, there is no contact between the subepithelial Mϕs and the colonic lumen, and Mϕs use BLPs to sample the fluids taken up by the epithelial cells, which carry the full spectrum of fungal metabolites, providing a complete picture of the local composition of the mycobiota. Whether BLP+ Mϕs directly detect fungal products absorbed by the epithelium or detect stress compounds released from poisoned epithelial cells requires further investigation. This is in sticking contrast to what happens in response to barrier disruption or in the presence of invasive fungal species: in this case, Mϕs physically come into contact with fungi and use Dectin-1 to mount effective anti-fungal immune responses [7, 36]. Similar results were obtained using three different fungal toxins: gliotoxin, which is produced by both pathobionts and commensals, Candidalysin, from the pathobiont Candida albicans, and T-2 toxin, from commensals of Fusarium sporotrichoioides. In all cases, the number of BLPs increased upon toxin inoculation in fungus-free mice, indicating that BLP+Mϕs recognise all three fungal metabolites. These results suggest that BLPs respond not only to fungal compounds produced by pathogenic species, but to a wide variety of fungal metabolites. The BLPs response may therefore be critical not only for detecting potentially dangerous fungal species, but also for detecting the overgrowth of commensal fungi, whose metabolites could compromise the survival of epithelial cells if they are too abundant. As a result, we found that commensal fungi are indeed responsible for the apoptosis of epithelial cells in Mϕs-depleted mice. Defining the precise nature of the commensal fungi involved will require further investigation. An interesting candidate is the commensal species Fusarium sporotrichoioides, as it is targeted by both fluconazole and amphotericin B and produces T-2 toxin. How do BLP+ Mϕs resist the toxins remains an open question; it could be envisaged that BLPs keep the toxins away from the cell body of these cells. In conclusion, we describe here a previously unknown homeostatic function of CD11chigh subepithelial Mϕs in the distal colon: they help the epithelium to maintain its integrity in an environment subjected to high physical and chemical stresses resulting from osmotic pressure, faecal solidification and a high microbial load. How do BLP+ Mϕs instruct epithelial cells to take up or not take up fluids in homeostasis and whether alterations in these mechanisms lead to pathologies such as inflammatory bowel disease and cancer shall next be addressed.
Conflicts of interest
Authors have no conflict of interest to declare.
1. Introduction
L'intestin est un environnement unique qui est continuellement exposé à des antigènes alimentaires mais aussi largement exposé à une flore intestinale riche en micro-organismes. Sa fonction, essentielle à notre corps, repose sur l'absorption efficace de nutriment et d'électrolytes, c'est notamment la raison pour laquelle la barrière intestinale est relativement mince, favorisant ainsi les échanges. Néanmoins, ceci peut devenir problématique pour l'hôte si des substances toxiques se trouvant dans la cavité luminale parviennent à atteindre la circulation sanguine [1]. Une perturbation de la barrière intestinale peut donc aboutir à des situations pathologiques plus ou moins graves allant de la privation de nutriments [2], à des maladies intestinales inflammatoires [3], ou la septicémie [4] ou encore des défaillances au niveau de plusieurs organes [1].
Selon la région de l'intestin, la barrière épithéliale du côlon distal est confrontée à des défis importants. D'une part, l'épithélium du côlon distal est exposé à l'extrême pression osmotique de 10 atm nécessaire pour absorber l'eau et solidifier les selles [5] mais d'autre part aussi car le microbiote, constitué de bactéries, de champignons, d'archées et de virus, est très dense dans cette région de l'intestin [6]. Or, les champignons, particulièrement abondants dans le côlon distal [7], peuvent produire des métabolites qui déclenchent l'apoptose des cellules épithéliales intestinales [8], compromettant ainsi l'intégrité de la barrière intestinale. C'est une des raisons pour lesquelles la barrière intestinale est la principale cible de nombreuses toxines fongiques, telles que la gliotoxine, l'aflatoxine [9], les trichothécènes ou la candidalysine.
La muqueuse du côlon régule donc étroitement l'absorption des fluides tout en limitant l'entrée de métabolites fongiques toxiques dans les cellules épithéliales ou même au niveau de la circulation sanguine. Malheureusement, les mécanismes régulateurs responsables de cet équilibre restent à ce jour inconnus.
Dans des conditions homéostatiques, les macrophages représentent la population immunitaire la plus abondante de l'intestin. Ils se différencient principalement depuis des monocytes en réponse à des signaux locaux. Les macrophages intestinaux peuvent résider dans la lamina propria, ou dans la partie musculaire de la paroi intestinale où ils participent à divers processus biologiques tels que la dégradation des micro-organismes [10], l'élimination silencieuse des corps apoptotiques [11], la réparation des tissus [12] et la motilité gastro-intestinale [13]. Par ailleurs, les macrophages intestinaux limitent également l'inflammation [14], en facilitant la tolérance à la nourriture [15]. Leur fonction qui est étroitement liée à la présence du microbiote [16] explique qu'ils sont retrouvés en plus grand nombre dans le côlon par rapport à l'intestin grêle [17].
Il est intéressant de noter que dans le côlon, les macrophages peuvent être étroitement associés aux cellules épithéliales [18] et c'est ainsi qu'une relocalisation des macrophages en zone sous-épithéliale participe à la perte de l'intégrité de la barrière intestinale, qui peut être observée dans les maladies inflammatoires de l'intestin telles que la colite ulcéreuse et la maladie de Crohn [19]. Les macrophages occupent donc une localisation idéale pour orchestrer les interactions entre les cellules épithéliales et le microbiote, et maintenir ainsi l'homéostasie du côlon.
La principale question de notre travail était d'identifier le rôle des macrophages du côlon dans l'intégrité et la fonction de la barrière épithéliale intestinale dans l'homéostasie [20].
En résumé, nous avons décrit un mécanisme par lequel le système immunitaire inné permet un contrôle rapide et efficace de la qualité des fluides absorbés afin d'éviter l'intoxication des colonocytes [20]. Ce mécanisme repose sur une population de macrophages du côlon distal équipés de protubérances en forme de « ballons » (BLP) insérées dans l'épithélium pour prélever les fluides absorbés. En l'absence de macrophages ou de BLP, les cellules épithéliales continuent d'absorber des fluides contenant des produits fongiques, ce qui entraîne leur mort et la perte ultérieure de l'intégrité de la barrière épithéliale.
Ces résultats [20] ont révélé pour la première fois un rôle inattendu et essentiel des macrophages dans le maintien des interactions entre la barrière épithéliale du côlon et le microbiote, jouant un rôle clé dans le maintien de l'homéostasie intestinale.
3. Discussion
La barrière intestinale sépare la lumière intestinale du milieu interne. Elle agit comme un filtre sélectivement perméable qui permet l'absorption des nutriments, des électrolytes et de l'eau, qui peuvent ensuite atteindre la circulation sanguine pour l'irrigation des organes. Par ailleurs, comme la lumière intestinale contient également de nombreuses substances toxiques produites par le microbiote, l'absorption doit être étroitement régulée pour éviter l'intoxication et la maladie de l'hôte. En effet, la dérégulation de la perméabilité de la barrière intestinale est une cause majeure de mortalité liée à la septicémie chez les patients gravement malades et dans les maladies inflammatoires de l'intestin. Alors que les mécanismes de régulation de la perméabilité intestinale ont été largement étudiés dans l'intestin grêle, on sait peu de choses sur la façon dont le côlon, dont la fonction physiologique principale est l'absorption de liquide mais qui contient aussi une charge de micro-organismes très élevée, se protège des produits microbiens toxiques.
On a décrit un mécanisme entraîné par une population particulière de macrophages sous-épithéliaux, qui assurent un contrôle rapide de la qualité des fluides absorbés afin de maintenir l'intégrité de la barrière.
Pour cela, les Mϕ utilisent des BLP insérés à la base de l'épithélium, qui échantillonnent les fluides absorbés par les cellules épithéliales. Si les fluides sont surchargés de métabolites / toxines fongiques, les Mϕ ordonnent aux cellules épithéliales d'arrêter l'absorption, empêchant l'empoisonnement des cellules épithéliales et leur mort. Cela pourrait par exemple se produire par la sécrétion de prostaglandine 2 (PGE2) par les Mϕs, ce qui diminue la localisation de l'aquaporine au niveau de la membrane apicale des cellules épithéliales in vitro[30]. En l'absence de Mϕ ou de BLP, les cellules épithéliales absorbent les fluides indépendamment de leur charge fongique de toxine / métabolite et subissent une apoptose, compromettant l'intégrité de la barrière.
Ces résultats suggèrent qu'en homéostasie, la perméabilité de la barrière intestinale est régulée différentiellement en fonction de la fonction physiologique locale du segment spécifique de l'intestin et de son contenu microbien. Les Mϕs émergent ainsi comme des acteurs clés dans l'orchestration d'une telle régulation. Dans l'intestin grêle, les Mϕ forment des dendrites transépithéliales transitoires visibles par imagerie en direct. En réponse aux signaux microbiens, ces saillies s'étendent entre les cellules épithéliales et atteignent la lumière intestinale où elles capturent des bactéries ou des antigènes alimentaires. Ils expriment des protéines à jonction serrée pour former des adhérences avec les cellules épithéliales lors du franchissement de la barrière, ce qui assure le maintien de l'intégrité de l'épithélium. Ils apparaissent donc comme différents des BLP coliques décrits ici. Bien que les BLP pénètrent également dans la membrane basale et occupent l'espace intercellulaire de l'épithélium, ils n'entrent pas directement en contact avec la lumière du côlon. Ces différences sont en accord avec les propriétés distinctes des épithéliums dans le petit et le gros intestin. Alors que la perméabilité paracellulaire est élevée dans l'épithélium de l'intestin grêle, reflétant son rôle physiologique dans l'absorption des nutriments et l'établissement de la tolérance alimentaire, l'épithélium du côlon présente une perméabilité paracellulaire limitée. Cela aide l'épithélium du côlon à résister aux contraintes mécaniques locales imposées par une pression osmotique élevée et la solidification des selles, empêchant la perte d'intégrité de la barrière. Les Mϕs auraient donc pu développer une stratégie d'échantillonnage alternative dans le contexte d'un tel épithélium colique étroitement scellé. Ils forment des BLP, qui échantillonnent les fluides absorbés à travers ou entre les cellules épithéliales, plutôt que d'engloutir directement le contenu de la lumière du côlon, qui contient un grand nombre de micro-organismes. Bien que la voie paracellulaire permette l'échantillonnage du fluide absorbé à travers l'épithélium, un processus nécessaire à la formation des selles, la voie transcellulaire pourrait détecter des événements transitoires de fuite de barrière résultant d'une agression mécanique par étirement et cisaillement. Ces résultats suggèrent que les mécanismes d'échantillonnage par le système immunitaire périphérique sont adaptés à la fois aux signaux locaux et aux fonctions physiologiques du segment intestinal. Nous avons découvert de manière inattendue que les Mϕ BLP+ du côlon distal répondent à la présence de produits fongiques. Des résultats similaires ont été observés avec deux agents antifongiques différents, le fluconazole et l'amphotéricine B, qui ciblent des espèces fongiques distinctes par différents mécanismes [34]. Ces résultats sont cohérents avec des champignons particulièrement enrichis dans le côlon distal [7]. Nous n'avons obtenu aucune preuve que les composés bactériens stimulent la formation de BLP. Cependant, nous ne pouvons pas exclure la possibilité que des bactéries insensibles aux antibiotiques utilisés ou absentes de la flore de la PPA puissent encore stimuler la formation de BLP. Comment les Mϕ BLP+ sous-épithéliaux détectent-ils les produits fongiques?
Le côlon distal contient une épaisse couche de mucus qui sépare physiquement le microbiote des cellules épithéliales; les parties internes de ce mucus sont stériles [35]. Par conséquent, en homéostasie, il n'y a pas de contact entre les Mϕ sous-épithéliales et la lumière du côlon, et Mϕs utilise des BLP pour échantillonner les fluides absorbés par les cellules épithéliales, qui transportent tout le spectre des métabolites fongiques, fournissant une image complète de la composition locale du mycobiote. Le fait que les BLP+ Mϕ détectent directement les produits fongiques absorbés par l'épithélium ou détectent les composés de stress libérés par les cellules épithéliales empoisonnées nécessite des recherches supplémentaires. Ceci est en contraste frappant avec ce qui se passe en réponse à la rupture de la barrière ou en présence d'espèces fongiques envahissantes: dans ce cas, les Mϕs entrent physiquement en contact avec des champignons et utilisent la Dectine-1 pour monter des réponses immunitaires anti-fongiques efficaces [7, 36]. Des résultats similaires ont été obtenus en utilisant trois toxines fongiques différentes: la gliotoxine, qui est produite à la fois par les pathobiontes et les commensaux, la Candidalysine, à partir du pathobionte Candida albicans, et la toxine T-2, à partir des commensaux de Fusarium sporotrichoioides. Dans tous les cas, le nombre de BLP a augmenté lors de l'inoculation de la toxine chez les souris dépourvues de champignons, indiquant que les BLP+ Mϕs reconnaissent les trois métabolites de champignons. Ce résultat suggère que les BLP ne répondent pas seulement aux composés fongiques produits par des espèces pathogènes, mais à une grande variété de métabolites fongiques. La réponse BLP peut donc être critique non seulement pour détecter les espèces de champignons potentiellement dangereuses, mais aussi pour détecter la sur-croissance des champignons commensaux, dont les métabolites pourraient compromettre la survie des cellules épithéliales si elles sont trop abondantes. En conséquence, nous avons constaté que les champignons commensaux sont en effet responsables de l'apoptose des cellules épithéliales chez les souris appauvries en Mϕs. La définition de la nature précise des champignons commensaux impliqués nécessitera des investigations supplémentaires. Un candidat intéressant est l'espèce commensale Fusarium sporotrichoioides, car elle est ciblée à la fois par le fluconazole et l'amphotéricine B et produire la toxine T-2. La question de savoir comment les Mϕ BLP+ résistent aux toxines reste une question ouverte; on pourrait envisager que les BLP maintiennent les toxines à l'écart du corps cellulaire de ces cellules. En conclusion, nous soulignons ici une fonction homéostatique jusqu'ici inconnue de Mϕ sous-épithéliale CD11chigh dans le côlon distal : ils aident l'épithélium à maintenir son intégrité dans un environnement soumis à des agressions physiques et chimiques élevées résultant de la pression osmotique, de la solidification des matières fécales et d'une charge microbienne importante. Comment les Mϕs BLP+ ordonnent aux cellules épithéliales d'absorber ou non les fluides dans l'homéostasie et si des altérations de ces mécanismes conduisent à des pathologies telles que les maladies inflammatoires de l'intestin et le cancer fera l'objet de futures études.
Conflit d'intérêt
Les auteurs n'ont aucun conflit d'intérêt à déclarer.