1. Introduction
In addition to the precise theoretical and experimental description of X-ray fluorescence (XRF) spectroscopy previously made [1, 2, 3, 4, 5, 6, 7], the present review is nonetheless important in order to show the clinician the kind of sample that can be investigated using XRF, the kind of information that can be derived from these analyses and how it competes with other analytical tools [8, 9, 10, 11, 12, 13].
Table 1.
Methods for trace element analysis
Analytical methods
Destructive analysis
AAS (atomic absorption spectroscopy)
ICP-AES (inductively coupled plasma-atomic emission spectroscopy)
ICP-MS (inductively coupled plasma-mass spectroscopy)
Semi-destructive
LA-ICP-MS (laser abrasion-ICP-MS)
SIMS (secondary ion mass spectroscopy)
Non-destructive
EDS (energy dispersive X-ray spectroscopy) or WDS (wavelength dispersive X-ray spectroscopy)
XRF
NAA (neutron activation analysis)
PIXE (particle induced X-ray emission spectroscopy)
For example, while vibrational spectroscopies such as Infrared spectroscopy used routinely at the hospital [14, 15, 16] give accurate determination of the chemical composition of kidney stones, these vibrational techniques are unable to assess the presence of trace elements in these concretions [17, 18, 19] or to determine the presence of a compound for which the crystallographic structure has not been established [20, 21, 22]. It is for example the case of calcium tartrate tetrahydrate [23, 24].
Highlighting the presence or the absence of some elements in biological tissues may be of great interest in medicine in the sense that it can help in diagnosis [25, 26, 27, 28, 29, 30, 31, 32]. Indeed, the presence of lead may indicate a diagnosis of saturnism [33] while accumulation of copper may be related to Wilson's disease [34]. Finally, the role of magnesium, zinc, copper, and manganese ions on the kinetics of crystal growth of calcium oxalate has been discussed [17, 35]. Some elements may play some role in the very first steps of the pathogenesis of calcification [36, 37, 38].
The appeal of X-ray based analysis for pathological calcification lies in several major advantages such as precious samples or which exist in very low quantity. First of all, it is a non-invasive technique, to the best of our knowledge material changes are not observed (no phase transition) during the experiment, even when using synchrotron radiation as a source. In most cases, the biological samples can be investigated directly, no preparation is required, with little or no pre-treatment. The sensitivity of XRF is excellent (some times less than μg/g) because in most cases, the aim is to detect heavy elements in a matrix which contains mainly light elements such as C, N and O: this configuration is quite positive with regard to this technique as shown in the following scientific cases. In addition, the acquisition time is quite short, and evaluation times vary from few seconds up to few minutes depending on the classical laboratory instrument used, down to few milliseconds when using brilliant synchrotron source. All these benefits imply that the presence or absence of numerous potential elements can be validated in a few minutes in the most basic form of the technique, including measurement and data processing.
First, the present contribution describes briefly the complementary techniques, which are able to detect trace elements (in addition to XRF), and this description includes their advantages and drawbacks. Then, some key points regarding XRF spectroscopy will be underlined. Finally, while the previous review paper focused on the contribution of XRF to pathological calcification studies [39], the present one highlights recent results obtained on various kinds of biological samples.
2. Some notions regarding different techniques for the detection of trace elements
In a recent review, Uo et al. [40] have defined three families namely destructive, semi-destructive and non-destructive, for the techniques dedicated to the detection of trace elements (Table 1).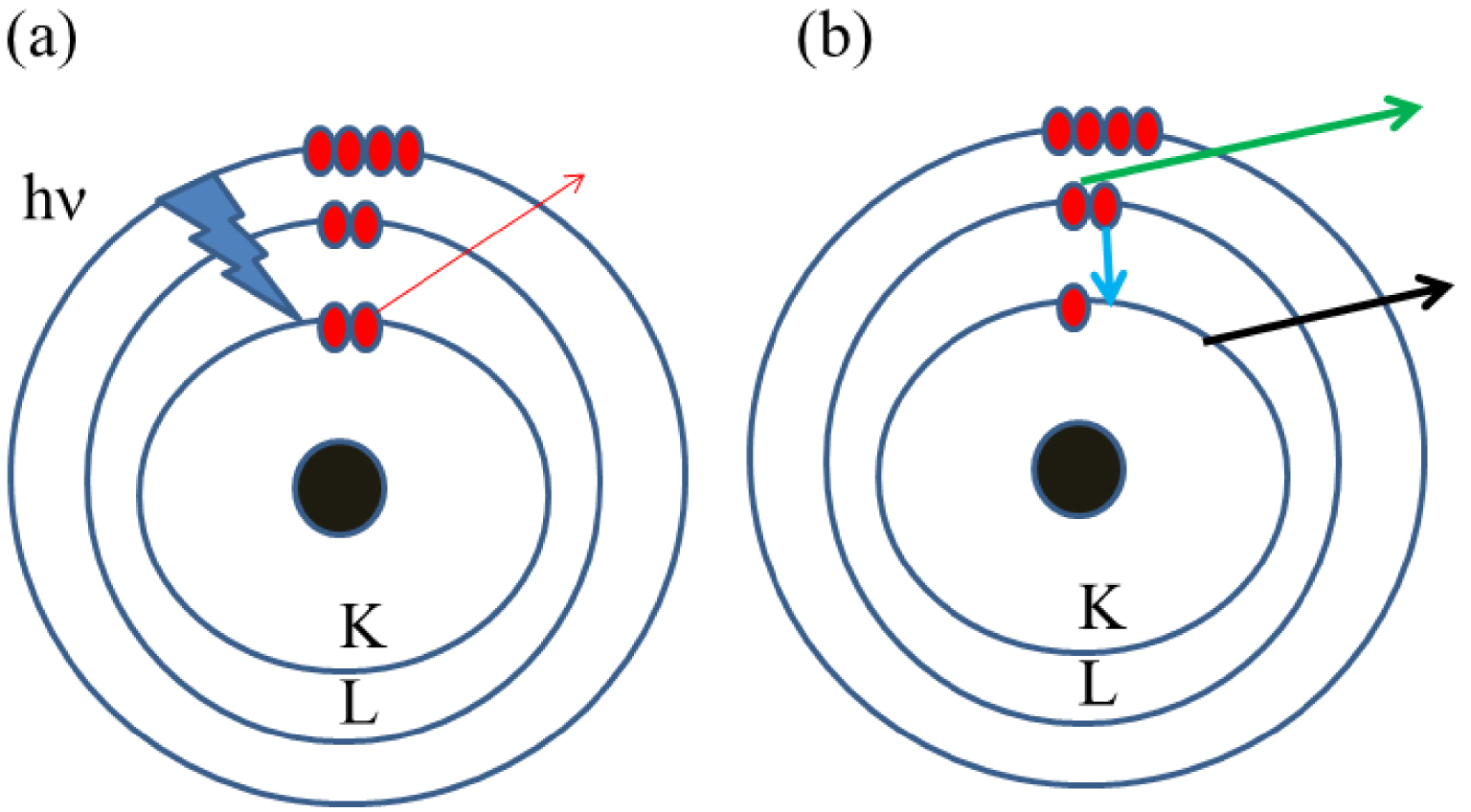 As noticed by the authors, the first three ones, namely AAS, ICP-AES and ICP-MS are quite popular for trace element analysis. In the case of AAS [41], the number of elements detected is quite low even if some recent experimental developments allow the measurements for a significant number of elements. For example, Rello et al. [42] measured Mo and Ti levels in a dried urine spot using solid sampling high resolution continuum source graphite furnace AAS. Unfortunately, the destructive nature of these methods is a strong inconvenience in the case of kidney biopsy. For such biological samples, it is of major importance to localize the calcification: is it present in the glomerulus or in the proximal or distal tubule?
When considering non-destructive techniques, their availability must also be considered. Indeed, regarding PIXE analysis, a source of protons is needed and to date there are only two experimental setups existing in France [43]. Furthermore, the set of non-destructive techniques (Table 2) displays very different sensitivities [40]. Clearly, the limit of detection of SEM–EDS seems to be quite high. Nevertheless, because the dimension of the probe is very small, the presence of trace elements in submicrometer particles can be underlined. The localization of trace elements versus an alteration of the tissue such a tumor can be important to establish a medical diagnosis. One efficient way to be able to decipher the role of trace elements is to detect them with a non-destructive technique which has a great sensitivity and then be able to localize the abnormal deposit accurately in the biological tissue. Such an approach calls for classical XRF spectroscopy and in a second step, to perform such experiments using the synchrotron radiation as a source. In the latter case, the spatial resolution may be optimized at different scales from millimeters through micrometers down to nanometers.
3. Some basic features regarding XRF
XRF relies on the emission of characteristic secondary X-rays emitted from specific atoms after irradiation of the materials by high energy X-ray beam [44, 45, 46, 47]. The first commercial XRF spectrometer was developed in the 1950s [48]. Since then, XRF has attracted increasing consideration in numerous research areas [49].
Table 2.
Methods for trace element analysis
Technique
Excitation source
Sample preparation
Measurements conditions
Limit of detection (ppm)
Spatial resolution (μm)
PIXE
Protons
Dehydrated
High vacuum
1–10
1–3
EDS
Electrons
Dehydrated
High vacuum
≈5000
≈0.1
XRF
In lab X-rays
None
Ambient pressure
≈50
30–50
XRF
Synchrotron radiation
None
Ambient pressure
≈1
≈0.01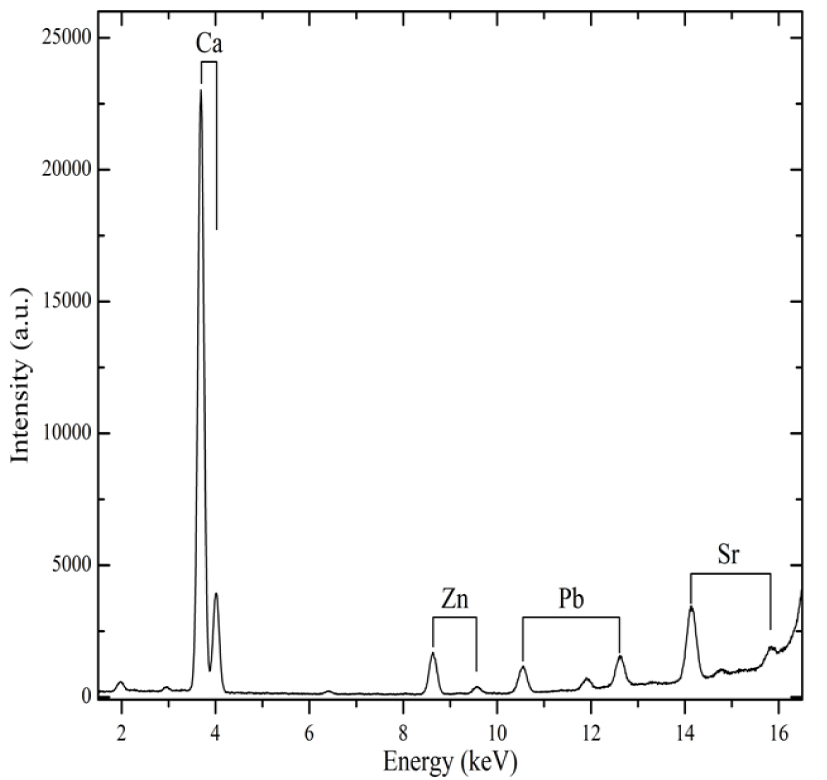 The physical principle of the XRF is illustrated in Figure 1. The excitation of core electrons (present on the K or L shell) of the sample by an X-ray photon leads at the atomic scale to the ejection of an electron called photoelectron (Figure 1a). The formation of a core hole leads to electronic transition which induces the emission of a photon or an Auger electron (Figure 1b). One of the key points of XRF relies on the fact that the energy of the emitted photon is specific to the photo-excited atom [50, 51, 52] (Figure 2, Table 3).
4. Data analysis process procedures
4.1. Experimental facility setup
Nowadays, laboratory XRF setups benefit from up-to-date instrumental developments enabling the detection of trace elements with the highest efficiency (Figure 3). Typical XRF setup includes (i) an X-ray generator with a Cu or Mo anticathode, for example, producing high energy radiation (8.04 keV for Cu anticathode and 17.48 keV for Mo anticathode) allowing the detection of most of the elements of the periodic table, (ii) a multilayer mirror optics focusing a monochromatic beam onto the sample and (iii) a SDD (Silicon Drift Detector) energy dispersive detector (see Figure 3). Further, measurements may also be carried out at a micrometric scale by using microbeams with size down to 20 μm in diameter [53]. The XRF setup, using a sealed tube X-ray source, represents a highly compact instrument which can easily be transported in a hospital.
Table 3.
Characteristic X-ray emission (keV) for selected elements identified in biological samples
Atomic number
Element
Characteristic X-ray emission line (keV)

K

α1

K

α2

K

β

L

α1
3
Li
0.05
6
C
0.27
7
N
0.39
8
O
0.52
9
F
0.67
11
Na
1.04
1.04
1.07
12
Mg
1.25
1.25
1.30
15
P
2.013
2.01
2.14
16
S
2.30
2.30
2.46
17
Cl
2.62
2.62
2.81
18
Ar
2.95
2.95
3.19
19
K
3.31
3.31
3.58
20
Ca
3.69
3.68
4.01
22
Ti
4.51
5.50
4.93
24
Cr
5.41
5.40
5.94
25
Mn
5.90
5.89
6.49
26
Fe
6.40
6.39
7.05
29
Cu
8.04
8.02
8.90
30
Zn
8.63
8.61
9.57
33
As
10.54
10.50
11.72
78
Pt
9.44
82
Pb
10.55
83
Bi
10.83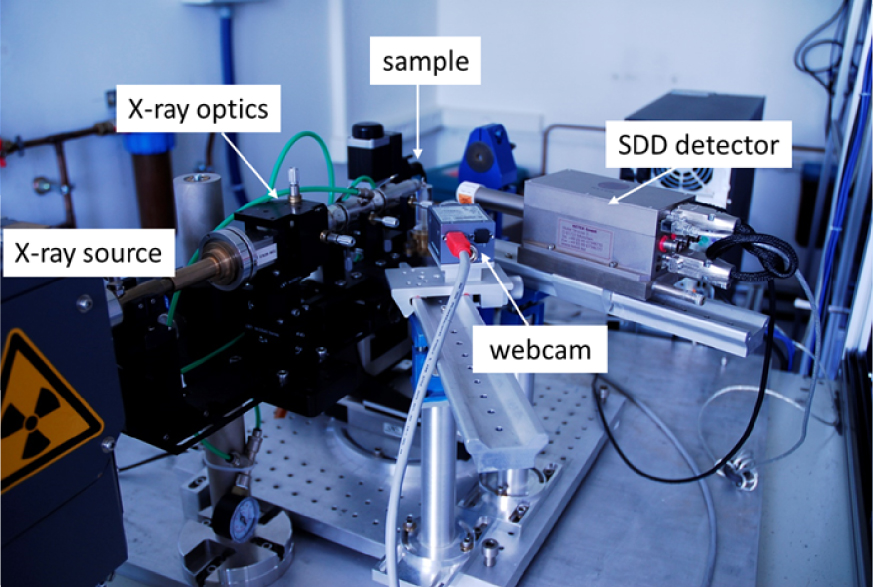 Over the past several years, commercial XRF devices have been developed (see for example the review by Bosco Ref. [54]) and used essentially to detect health problems in people working in the mining and construction industry [55]. Even if their sensitivity is less than thta of the laboratory experimental setup, commercial XRF devices offer the opportunity to gather information "at home" regarding the presence of different heavy elements such as Pb in bone [56], Zn in human toenail clipping [57] and human nail [58], Cr [59] and Fe [60] in skin, Zr in dental restorative resin materials [61], tooth abnormalities (pulp stones) [62, 63, 64], the determination of Fe in blood [65] or the presence of Pu (Plutonium) for workers decommissioning the Fukushima Daiichi nuclear power plant [66].
Practically a portable XRF setup (Figure 4) can be used for solid metals and alloys, ores and soils [67]. Using a gold anode X-Ray generator, under 50 kV high voltage excitation, it offers a powerful source and highly sensitive measurements. Thus the detection limit is lowered for high Z elements and investigation of low Z elements such as Mg, Al, Si and P can be achieved via He purge between the detector and the sample (Figure 4). The spot size is also tuneable from a larger spot of 8 mm diameter to a smaller spot of 3 mm diameter. Furthermore, thanks to a CCD camera, the visualization and location of the areas of interest on the sample is possible. Finally, by connecting the portable XRF with a simple USB cable to a computer, all the data and spectra are fetched from the instrument using a dedicated software for advanced analysis of the results.
Also noteworthy is the recent development of portable XRF devices that allow assessing the presence of Pu in biological fluids [68, 69, 70]. As underlined by Izumoto et al. [68], fast on-site detection of Pu is usually performed by analysis of α-particles emitted from the adhesive tape peeled off the wound. These authors have developed a new strategy based on XRF where blood is deposited on filter paper. With that experimental procedure using lead as a model for Pu, the XRF signal is proportional to the Pb concentration in blood. With a measurement time of 30 s, these authors estimate the minimum detection limit of Pb in blood collected by filter paper to be 2.4 ppm.
4.2. In vivo investigations based on XRF measurements
At the hospital, in vivo XRF on human tissue can be also considered. Among the early in vivo XRF experiments, the publication of Pavoni et al. [71] discussed the feasibility of in vivo XRF study of the thyroid following stable I (iodine) administration. In vivo XRF analysis of Hg (mercury) in kidney, liver, thyroid, blood and urine has been recently investigated [72, 73]. The mean kidney Hg concentration was 24 μg/g in the exposed workers, and 1 μg/g in the controls. A statistically significant correlation between Hg in the kidney and in urine was found. Also, the Hg levels in liver and thyroid in the exposed workers were below the detection limit.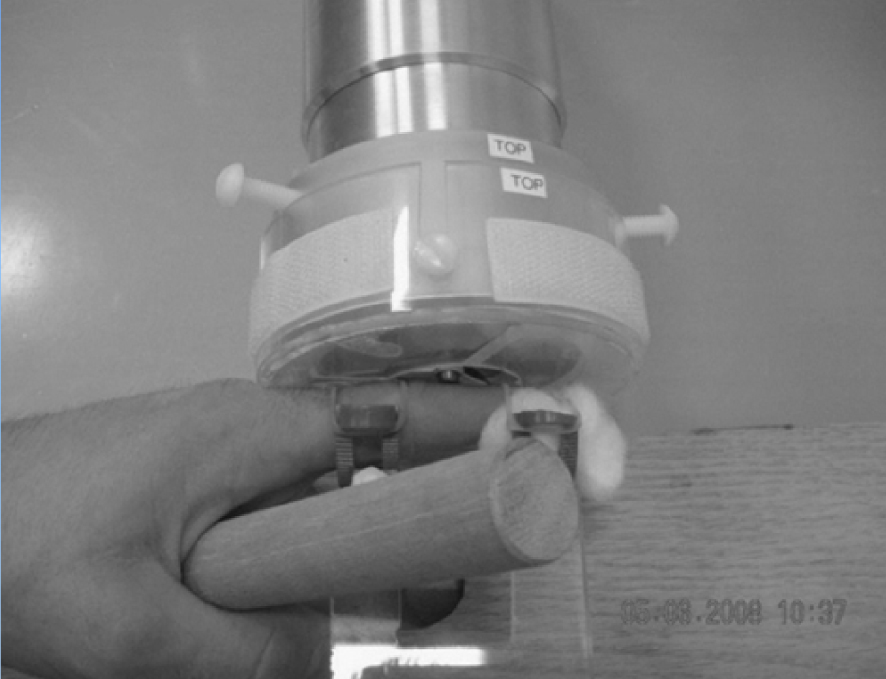 In the case of the work of Moise et al. [74], XRF spectra were collected on the finger and on the ankle bone sites, representing primarily cortical and trabecular bone, respectively (Figure 5). The acquisition time being 30 min, these publications underline the possibility of monitoring and measuring bone Sr (strontium) levels over time.
4.3. XRF using Synchrotron Radiation as a source
The major advantages of using synchrotron sources to do XRF measurements are now discussed [39, 75, 76, 77, 78]. While the brightness of a conventional X-ray tube is around 1010 photons/s⋅mrad2⋅mm2, the corresponding value of synchrotron radiation sources is between 1015 and 1020. The sensitivity of XRF is thus much better when the experiments (Figure 6) are performed on such a large scale instrument [79]. In addition, in the case of synchrotron radiation sources the beam can be focused down to the micrometer or even nanometer scale allowing local analyses [80, 81].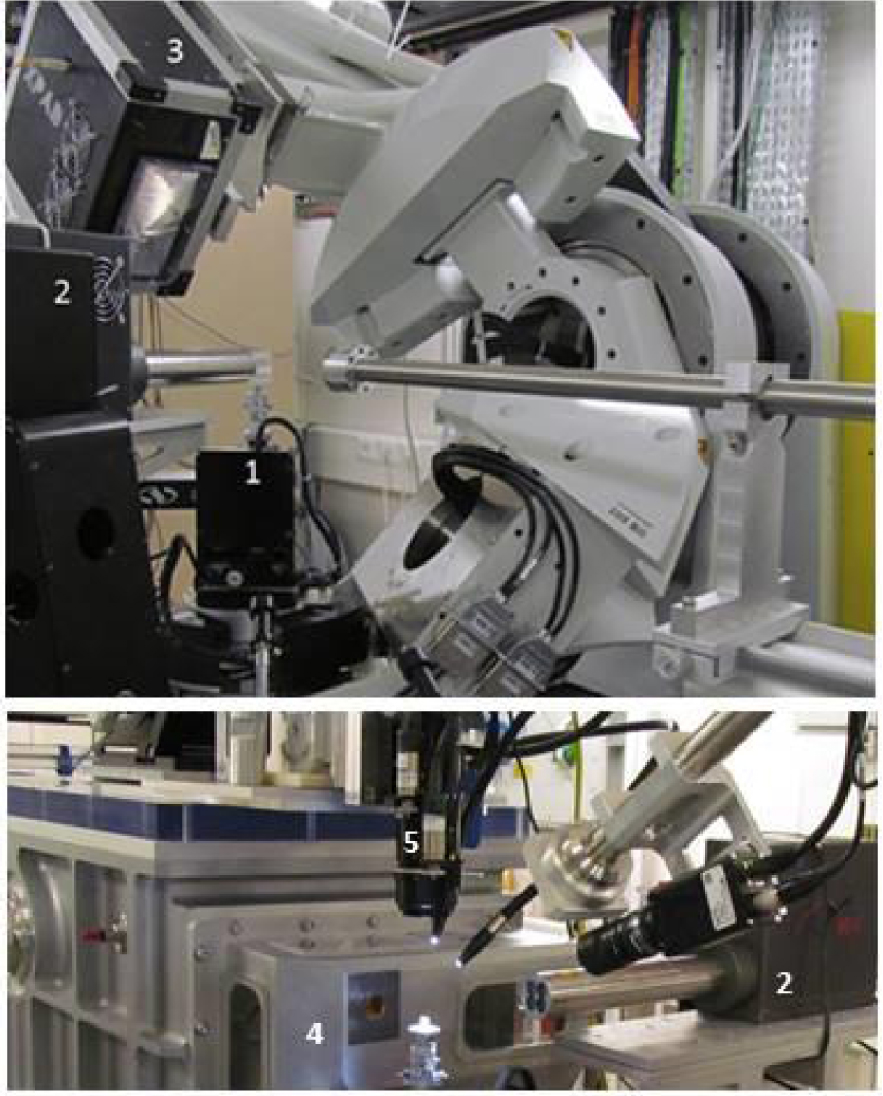 Numerous works have been published on the basis of the subcellular beam size. Among them, a study established the concentration profiles of Fe, Cu, Zn, Br, Sr and Pb in different parts of a tooth in order to discuss the possible influence of diet [82]. It is also possible to acquire 2D maps [83]. In a recent review, Gherase and Fleming [84] present numerous investigations using spatial resolution several micrometers to reveal the distribution of trace elements (<​a few μg/g). As underlined by these authors, current research effort is aimed not only at measuring the abnormal elemental distributions associated with various diseases, but also at indicating or discovering possible biological mechanisms that could explain such observations.
Nowadays, there is the possibility to gather information on the spatial distribution of trace elements inside cells [85]. For example, Ortega et al. [86] have developed an original experimental setup which allows aquisition of XRF images with a 90 nm spatial resolution. Such an experimental device leads to important medical results like the accumulation of iron in dopamine neurovesicles. Several major breakthroughs have been achieved using such nanometer spatial resolution [87, 88, 89]. Note that such unique characteristics lead to the conception and the realization of beamline dedicated to medicine (see for example Refs. [90, 91, 92, 93, 94]).
4.4. Data processing and analysis
After the energy calibration of the XRF detector, the very first step of the data processing, which leads to the determination of the spatial distribution of the different elements is given by a fitting procedure of the fluorescence lines for each XRF spectrum. This allows to identify and evaluate the contribution of each element semi-quantitatively. In some cases, the contribution to the measured signal of two elements can be quite close and/or (partially) superimposed and a deconvolution process has to be performed, like in the case of the energy related to Au Lα and Zn Kβ fluorescence emission (Figure 7, from Ref. [95]).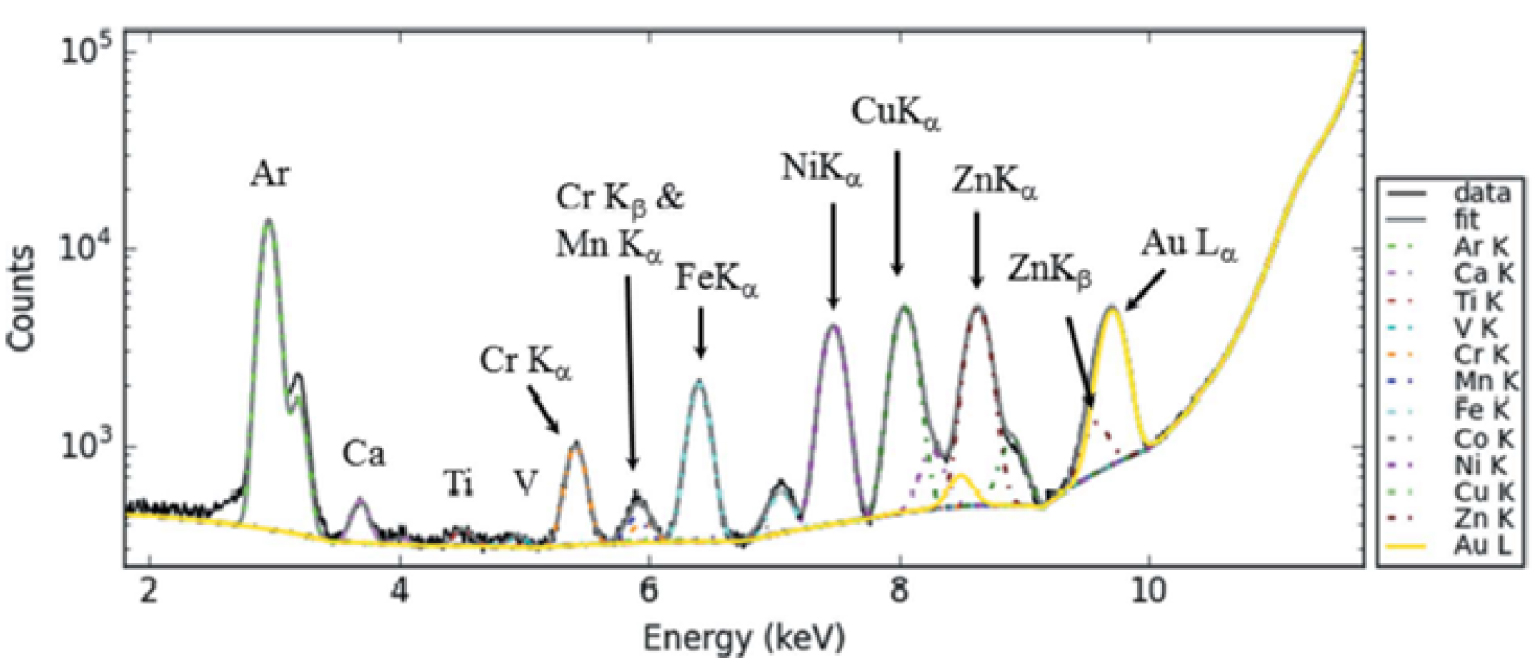 If mapping with XRF contrasts are realized (see e.g., Section 5), visual correlations between the chemical species and their presence in particular regions of the sample can be sometimes noted, but they can also be the result of a subjective view. A more thorough quantitative and statistical analysis is thus expected to support (or not) the visual impression, but also to give more precise information regarding the chemical species identified in the XRF spectra, and to quantify as well the degree of correlation (i.e. any statistical pattern or relationships or even dependence between the datasets). Correlations are useful quantities to be examined, since they can potentially indicate a predictive relationship to be exploited.
Nevertheless, one has to be particularly cautious in drawing conclusions, and several issues have to be carefully considered:
the smaller the size of the available dataset, the more likely is it to observe a correlation that might not be real and not observable if the same set can be extended. Thus, with small datasets (or small parts of them), correlations can be unreliable.
presence of single unusual points in the datasets (outlier) can make the computed correlation coefficients highly misleading.
a correlation between two variables is not a sufficient condition to establish such a causal relationship relating these variables, in either direction.
As previously shown [95, 96, 97, 98], the XRF contrasted maps can be analyzed using Intensity Correlation Analysis methods in order to highlight possible correlations related to the presence of the different chemical elements in a sample. Other correlation coefficients can be used as well, but they will not be discussed here. The reader can also refer to the detailed work of Dunn et al. [98] and references therein.
Let us briefly describe some correlation approaches [99, 100, 101, 102, 103, 104], considering the case of two XRF contrasted images (labeled in the following as image 1 and image 2) of the same lateral size and resolution (same number of points), obtained on the very same sample region, but showing the distribution of two different chemical elements. Xi,j and Yi,j are the intensity of the pixel of coordinates (i,j) for the two images, respectively.
In a first step, scatter plots can be used. If one expects that the dataset of image 2 (

Y

i

,

j

) is somehow dependent of the one in image 1 (

X

i

,

j

), plotting them as a scatter plot (using

Y

and

X

axis respectively) allows drawing some conclusions: (i) a positive correlation between

X

and

Y

variables is found if the obtained pattern exhibits a positive slope (from lower left to upper right of the graph, i.e. the

Y

variable tends to increase when the

X

variable is increasing); (ii) a negative correlation is found if the above mentioned trend is opposite; (iii) no correlation generally translates into no trends noticed in the scattered plots. Possibly, the result can be fitted (but no "universal" model exists) and the degree of correlation can thus be quantified by the parameters of the fit and their comparison between similar datasets.
The Pearson colocalization coefficient for two variables is defined as the ratio of the covariance of the two variables by the product of their standard deviation: with the summations being performed over the entire considered dataset/image, i.e., all the pixels of coordinates , and

X

ave and

Y

ave denoting the average intensity for the two images, respectively.

The interpretation of the results based only on the Pearson coefficient might give rise to controversy: the results are rather sensitive to noise and are reliable only for high correlation (which is not always the case in experiments).

In order to push this analysis further, other coefficients and correlation maps can be calculated. Pearson correlation coefficient is a symmetric quantity, which can be a limitation in the interpretation of the results. To overcome this issue, the Manders' (colocalization) coefficients M12 and M21 allow to know, for M12, how well the intense pixels in image 1, which are above a certain intensity threshold, colocalizes with intense pixels in image 2 (i.e. the probability to find bright pixels, above a certain threshold value, in image 2 only at the positions of intense pixels in image 1) and vice versa for M21. When using this approach, a threshold for the XRF signal needs to be used to calculate M12 and M21 [84]; for each image, it was set to half of the average signal, average calculated over the whole image.

Denoting the threshold values of X and Y images by 𝜏x and 𝜏y respectively (their values can be 0 as well), this can be written as:
The last two approaches mentioned above (Pearson and Manders coefficients) are not equivalent, and give complementary information. Also, note that the Manders coefficients are not necessarily symmetric. For example, it might be that a great part (or all) of the intense pixels of image 1 corresponds to intense pixels in image 2 (M12 ∼ 1), but the opposite might not be true: regions of the bright signal in the second image might not have any correspondence to image 1 (M21 ≪ 1). An example is shown in Section 6.6.
All the correlation/colocalization approaches might have advantages and drawbacks—none of them should a priori be considered better than the other. A careful examination is always needed and the choice of one approach over the other largely depends on the particular sample, datasets available and the question(s) to be addressed. A tentative workflow to guide the researcher in identifying and applying the proper (or better) technique can be found in [98].
5. Sample preparation
The characterization of trace elements present in biological samples is not easy. Some problems may come from washing process which may change significantly the location of diffusible trace elements. Forty years ago, Stika et al. [105] underlined the necessity of low temperature preparative procedures for diffusible ion localization using the ion microscope. Using conventional fixation procedures, these authors have observed significant ion loss and redistribution which exceeded the 1 μm lateral resolution. More recently, Porcaro et al. [106] distinguished two major bias that can be encountered under X-rays. First is the modification of the native chemical species during sample processing, and second the alteration of chemical species during XAS analysis, due to beam irradiation damage. Following the publication of Bacquart et al. [107] the use of cryogenic conditions for sampling followed by the storage in an inert atmosphere all along the analytical process is highly advocated to preserve the initial chemical species. Keeping the sample at low temperature also during the analysis offers the supplementary advantage to limit the irradiation damage and to reduce the element loss that is induced by intense beam irradiation, especially when a focused beam is used. For our experiments, biological tissue were embedded in paraffin, three to five microns slices were deposited on low-e microscope slides (MirrIR, Kevley Technologies, Tienta Sciences, Indianapolis). The paraffin was then chemically removed (xylene 100% for 30 min to 4 h) in order to improve the crystal detection under the microscope. Note that as underlined by Pushie et al. [4], the possibility for altered chemical speciation, elemental redistribution, leaching, or contamination from the long list of reagents or preparation steps used in paraffin and methacrylate embedding processes should always be considered.
7. Synergy with other physicochemical techniques
While XRF and other techniques (see part 2: AAS, ICP-AES, ICP-MS…) reveal the nature and concentration of the heavy elements present in biological samples, it can be interesting to the clinician to know in which chemical phases these heavy elements reside.
To attain this goal, different complementary techniques can be selected. The first ones are classic in-lab techniques. Among them, Raman plays a key role. For example, in the case where Ti is revealed in skin tattoos, it allows to distinguish between two Ti oxide polymorphs namely rutile and anatase [198, 199]. The Raman spectra clearly pointed out the presence of the rutile polymorph for a patient who presented a keratoacanthoma (Skin cancer) [187]. Such complementary information can be obtained with Raman spectroscopy for other elements such Zn [200] or Fe [201]. It is worthwhile to underline that in the case of Fe, Mossbauer spectroscopy constitutes a powerful technique to discriminate between all the different Fe oxides [202, 203] and that spectroscopy may be associated with a spatial resolution of ∼10–20 μm [204].
Complementary structural information is available through X-ray Absorption Near Edge Structure (XANES) spectroscopy to determine the structure around elements previously detected by XRF [190, 191, 205]. When Cr is detected, it is of primary importance to know the oxidation state of this element. While Cr(III) serves as a nutritional supplement, and may play a role in glucose and lipid metabolism, Cr(VI) is very toxic inducing a wide variety of injuries in cells, such as DNA damage [206]. Through XANES spectroscopy, Ortega et al. [207] have shown that soluble Cr(VI) compounds are fully reduced to Cr(III) in cells. XANES spectroscopy can bring complementary valuable information also in the case of nanometer scale metallic particles [208, 209, 210, 211], a nanomaterial which have numerous applications in medicine [212, 213, 214].
X-ray diffraction (XRD) can also be used to reveal the long range structure of compounds [215, 216, 217, 218, 219, 220, 221]. Among the different investigations which are based on the association between XRD and XRF spectroscopy [222, 223, 224, 225, 226], we can quote the determination of the chemical composition of microcalcification, present in cartilage, which was obtained using XRD on selected points corresponding to high concentration of Ca as defined by XRF spectroscopy [227].
8. Conclusion
The scientific cases presented above, regarding the opportunities of XRF in medicine, show clearly that XRF now plays a key role in establishing a diagnosis or in understanding deeply the interaction between heavy elements and human tissues at the subcellular level. Even if the sensitivity of such a technique is higher when synchrotron radiation is used as a source [228], this technique can be used in hospitals, using portable instrument or laboratory setup, giving almost in real time the nature and the concentration of the different elements present, even at trace levels.
Acknowledgments
This work was supported by the Physics and Chemistry Institutes of CNRS and by contracts ANR-09-BLAN-0120-02, ANR-12-BS08-0022, ANR13JSV10010-01, convergence UPMC CVG1205, Labex Matisse, Labex Michem and CORDDIM-2013-COD130042. The authors are grateful to the SOLEIL Synchrotron Facility and ESRF for beam time allocation and would like to very much thank the support groups and beamline teams of SOLEIL and ESRF for their help during experiments.