1. Introduction
First described in 1928 by Raman and Krishnan [1] from which it gets its name and predicted theoretically by Smekal in 1923 [2], Raman spectroscopy is an optical spectroscopy which allows the vibrational signatures of probed compounds to be extracted from the scattered light upon illumination of a sample with a monochromatic excitation source (ultraviolet, visible or infrared laser Raman probe) [3, 4]. Raman spectroscopy constitutes a powerful non-destructive and label-free technique widely used for chemical analysis (solid, liquid, gas) that when combined with optical microscopy can provide chemical information at the sub-micrometer scale [5, 6].
As diagnostic tool in medicine, Raman spectroscopy was first applied to stone analysis in the early eighties [7, 8]. Then, it has been applied to complex biological samples, such as fluids [9, 10], cells [11, 12], minerals as physiological [13, 14, 15] and pathological calcifications [16, 17, 18] and tissues [19]. Such versatility explains the numerous applications of Raman spectroscopy in different specialties of medicine [20, 21, 22], among which are nephrology [23, 24, 25, 26, 27, 28, 29, 30], rheumatology [31, 32, 33], hematology [34, 35, 36], gastroenterology [37, 38] or endocrinology [39, 40]. Note that in vivo Raman experiments are also envisaged and proofs of concepts have already been demonstrated in a few domains of applications [41, 42, 43, 44].
The aim of this publication is to gather and present striking results related to pathological calcifications [16, 17, 45, 46, 47, 48, 49, 50, 51] and to introduce the most recent developments of Raman spectroscopy, opening new opportunities in this field of research. After a brief presentation of the underlying theoretical concepts associated with Raman spectroscopy and Raman instrumentation, the performance of the technique will be discussed relatively to the ones of mid-infrared vibrational spectroscopy also largely used in medicine. Then, a literature review focusing on pathological calcifications and featuring the most recent works will be presented.
2. Some important aspects regarding Raman spectroscopy
2.1. Notion of Raman shift
A Raman spectrum depicts the optical transitions between the various rotational–vibrational energy states of molecules, or crystallites and therefore gives access to the precise characterization of a material chemical composition [52, 53]. Raman spectra represent on the x-axis either the wavelength (𝜆: nm) or the energy (𝜈: wavenumber in inverse centimeter cm−1) associated with the optical transitions and on the y-axis their probability of occurrence (number of counts associated with the number of Raman photons reaching the photosensitive detector). Note that as Raman spectroscopy does not rely on light absorption but on inelastic light scattering, which is of higher or lower energy than the incident laser light, the energy of the transition on the abscissa, displayed as Raman shift, is calculated from the difference between the energy of the Raman laser probe 𝜈0 and the energy of the scattered light 𝜈𝜄:
2.2. Vibration modes in Raman and IR spectroscopy
The "Raman active" energy transitions observed on Raman spectra originate from a change in the polarizability of a molecular entity, i.e. the distortion of its electron cloud upon interaction with the incident light (strong oscillating electromagnetic field in the UV, visible, infrared energy domain). These transitions differ from the ones observed in IR spectroscopy based on the variation of the dipolar moment of the molecular entity. Both can be predicted from the symmetry of the molecular entity using mathematical symmetry operations (group theory). From a microscopic point of view, the energy transitions correspond to specific molecular distortions or vibration modes ( rotation) of molecular bounds (as-symmetrical stretching: 𝜈, bending: 𝛿, rocking: 𝜌, wagging: 𝜋, 𝜔 and twisting: 𝜏) triggered upon interaction with photons. Molecules with multiple elements of symmetry can show vibrational modes active both in Raman and in IR spectroscopies. For instance vibration modes and therefore energy transitions associated with specific chemical functional groups like P–O stretching of phosphate PO, C–O stretching of carbonate CO, S–O stretching of sulfate SO groups in organic or inorganic compounds, C–H and C–C stretching or bending in carbohydrate compounds, can be observed both in Raman and IR spectra and around similar energy values. Note however that polarized bonds like C–O, O–H produce strong intensity IR bands (large net dipole moment due to charge motion) but are weaker Raman scatterers since bond length changes consequent on vibrational motion only result in small additional polarization effects. Conversely more neutral bonds (C–C, C =C) are strong Raman scatterers (large changes in polarizability upon atom motions) but produce weaker intensity IR bands (small variation of dipole moment).
2.3. Notion of "virtual" state
In the framework of quantum mechanics, a molecular entity can be described as a sum of discrete accessible energy states upon interaction with photons. Depending on the energy of the incoming radiofrequency perturbation (UV–Vis, infrared), the molecular entities in their initial state will be promoted (excited) to various higher energy states (new ro–vibrational state in the same or different electronic state). As Raman spectroscopy can use energetic probes (UV or Vis), molecular entities can be, under specific conditions, promoted to a superior electronic excited state (Resonance Raman processes,) or in most common cases to a so-called "virtual" state (associated with distorted electron clouds), of which the very existence or physical meaning is still under debate in the community.
2.4. Stokes vs anti-Stokes, right or left?
Upon relaxation from the excited state, the molecular entity is downgraded to a lower energy state while emitting a Raman photon scattered statistically in all possible directions of space [54, 55]. The emitted photon can originate from a relaxation to an energy state higher than the initial state and is therefore of lower energy than the incident photon ("Stokes" photons associated with energy loss) or can be associated with a relaxation to a lower energy state than the initial one ("anti-Stokes" photons associated with energy gain). A same vibration mode will therefore produce both Stokes and "anti-Stokes" photons as depicted in Figures 1a and b. The Raman shifts (𝜈0–𝜈Stokes) and (𝜈0–𝜈anti‐Stokes) are the same in magnitude but of opposite sign and therefore appear on Raman spectra on each side of the Raman probe energy used as the zero energy reference. Raman peaks (bands) associated with Stokes and anti-Stokes photons correspond respectively to positive and negative Raman shifts energy (right and left sides of the spectrum respectively). Note that depending on the nature of laser line rejection filters used (long pass: "edge" filters or stop band: "notch" filters), either only Stokes or both Stokes and anti-Stokes parts of the spectrum can be exploitable as illustrated in Figure 1b. Different energy ranges are covered by the spectrometer (CCD detector/grating) depending on the Raman probe used as also shown in Figure 1b.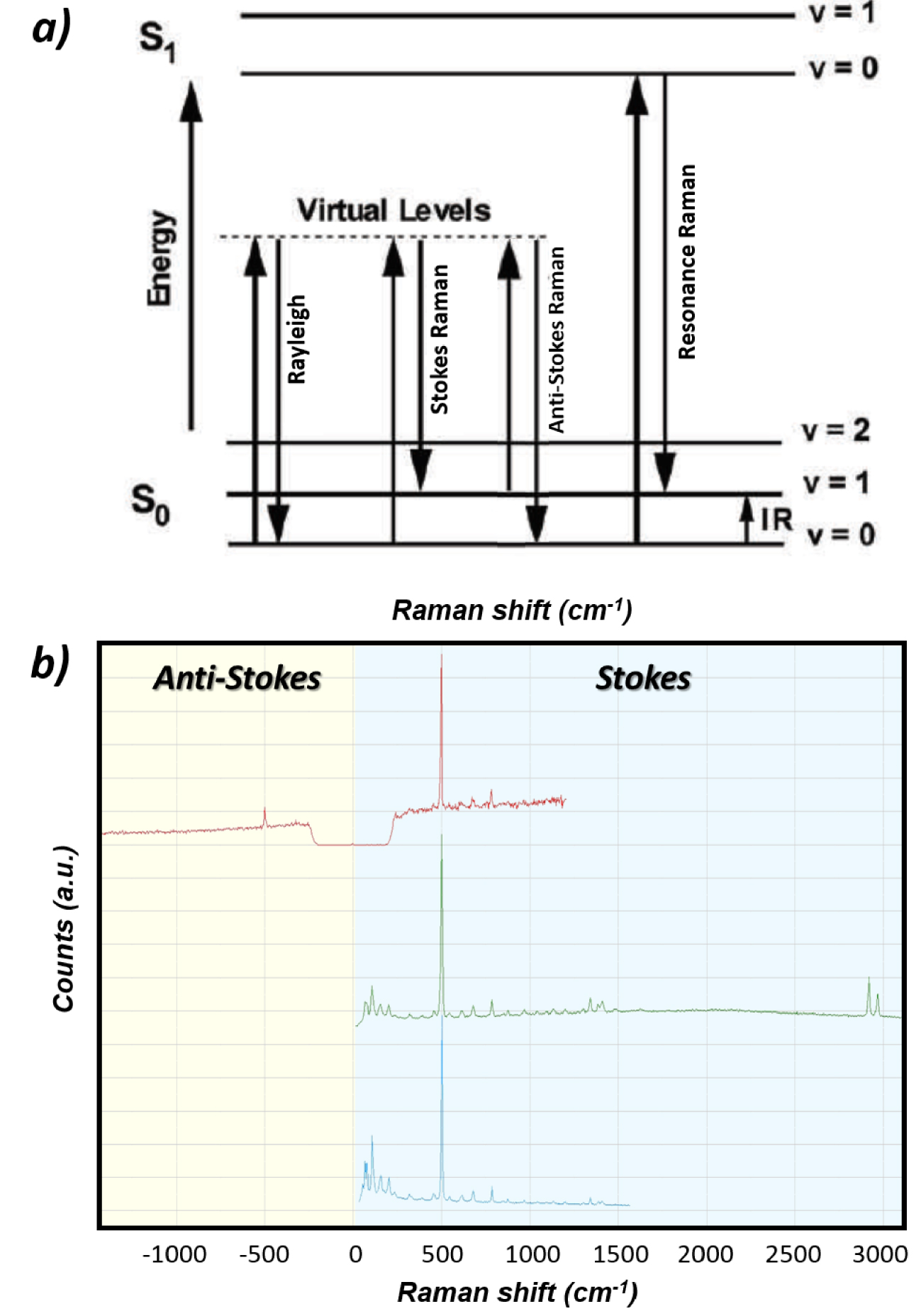 The intensity of the Raman bands associated with a specific vibration mode of the molecular entity is directly proportional to the probability of occurrence of the associated optical transition. This intensity will therefore increase with the number of irradiated entities (concentration in the volume of the sample irradiated) and with the number of incident photons (laser power per surface unit and time of exposure). Note that Raman bands have a characteristic Lorentzian shape (not Gaussian due to the vibrational population relaxation process) and can therefore be easily distinguished from artifacts on spectra (sharp peaks—"glitch"—due for instance to gamma rays hitting randomly the detector). As at room temperature, the population of molecular entities in energy states higher than the ground state is statistically low (Boltzmann distribution), anti-Stokes Raman bands are of lower intensity (zero at zero Kelvin) than the Stokes bands (see Figure 1b) and are therefore not exploited in most cases (except in Coherent anti-Stokes Raman Spectroscopy: CARS).
2.5. Raman efficiency
The Raman process giving rise to inelastically scattered photons (Stokes and anti-Stokes) is extremely inefficient (1 Raman photon 𝜈S or 𝜈A‐S for 107 incident/elastically scattered photon 𝜈0. This efficiency strongly depends on the nature of the compounds analyzed by Raman spectroscopy. Compounds with high "cross-section" for Raman scattering like carbonaceous materials have such high intensity Raman signature than even a single layer of carbon atoms (graphene) and can be easily detected. Most of the other compounds give weak intensity Raman signatures even under strong laser irradiation, which explains why IR spectroscopy was preferred for decades [56]. The cross-section for scattering (elastic and inelastic) depends on the excitation wavelength to the inverse fourth power [57]:

The Raman signal intensity of a sample illuminated at 248 nm is therefore of two orders of magnitude higher than when using a 785 nm laser line as seen in Figure 2.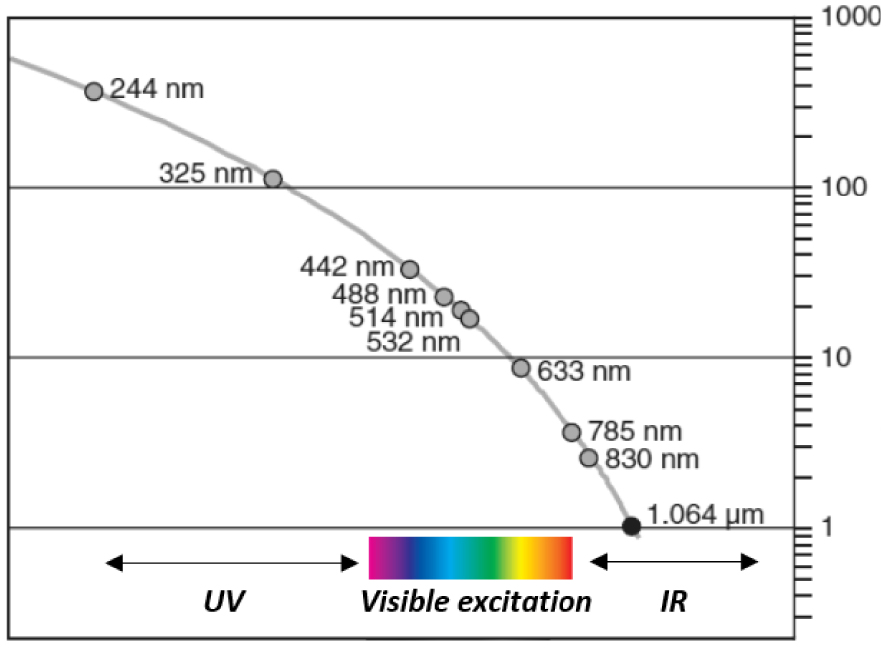 2.6. Some characteristics of Raman spectra
A typical Raman spectrum which covers the energy range 0–4000 cm (from metal oxides M–O vibrational modes at low wavenumbers to O–H stretching modes at high wavenumbers) corresponds to a short range of wavelength 𝜆 (nm), e.g. 30 nm apart from the laser line in deep UV (244 nm) vs ∼200 nm for a 633 nm laser line as illustrated on Figure 3. This has important implications on the lateral resolution of the analysis (see below). Moreover, because of the non-linearity between the wavelength associated with a specific transition and the calculated Raman shift, the characteristics of the excitation wavelength, of the spectrometer (diffraction grating, focal distance) and of the detector size affect considerably the achievable spectral range in cm−1 (decreases when 𝜆exc increases) and therefore the spectral resolutions (increases with 𝜆exc) as illustrated in Figure 1b.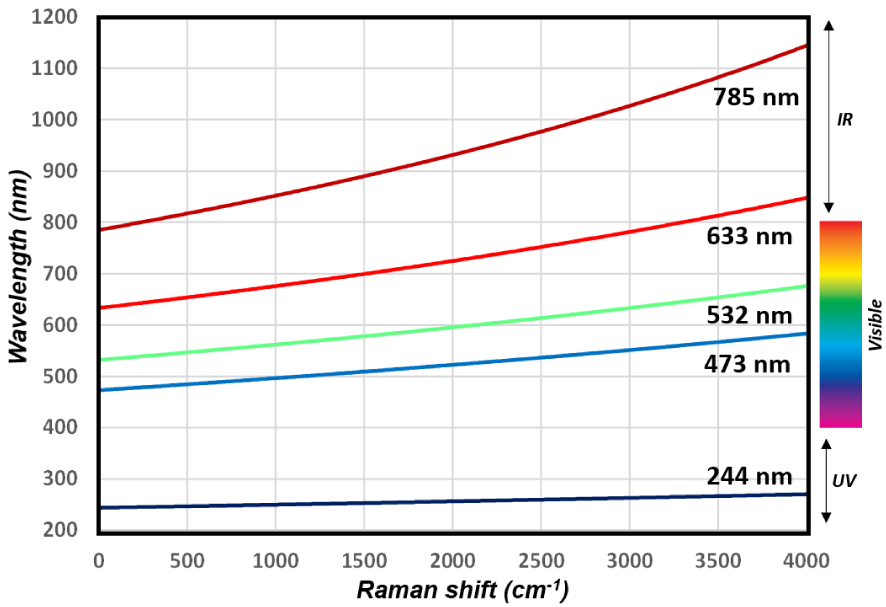 2.7. Confocal Raman microscopy
Raman spectroscopy can be coupled to optical microscopy and piezo stages offering high resolution compositional mapping capabilities (see setup in Figure 4). The lateral (in the XY sample plane) resolution achievable, i.e. the ability to distinguish two surface objects as separate entities, is diffraction limited (Abbe, 1873) and can be defined according to the Abbe, Rayleigh (1896) or Sparrow criteria as roughly half of the wavelength of illumination:

with NA the numerical aperture of the objective defined as with

n

the refractive index and 𝜃 the half-angle of collection. This lateral resolution in Raman microscopy is much lower than with IR microscopy, i.e. (sub) micrometric (1 μm at 785 nm, 0.336 μm at 248 nm excitation with a 0.90NA∕100

x

objective). Note that for Raman spectroscopy, the spatial resolution is nearly constant along the spectrum as a typical Raman spectrum (4000 cm−1) is contained within 30–200 nm depending on the excitation wavelength as mentioned earlier, this is not the case of IR spectroscopy using broadband sources like glowbars [58, 59]. The range of the mid-infrared domain is typically between 4000 cm−1 and 400 cm−1 or between 2.5 μm and 25 μm. The spatial resolution varies thus along the spectrum between around 1–10 μm.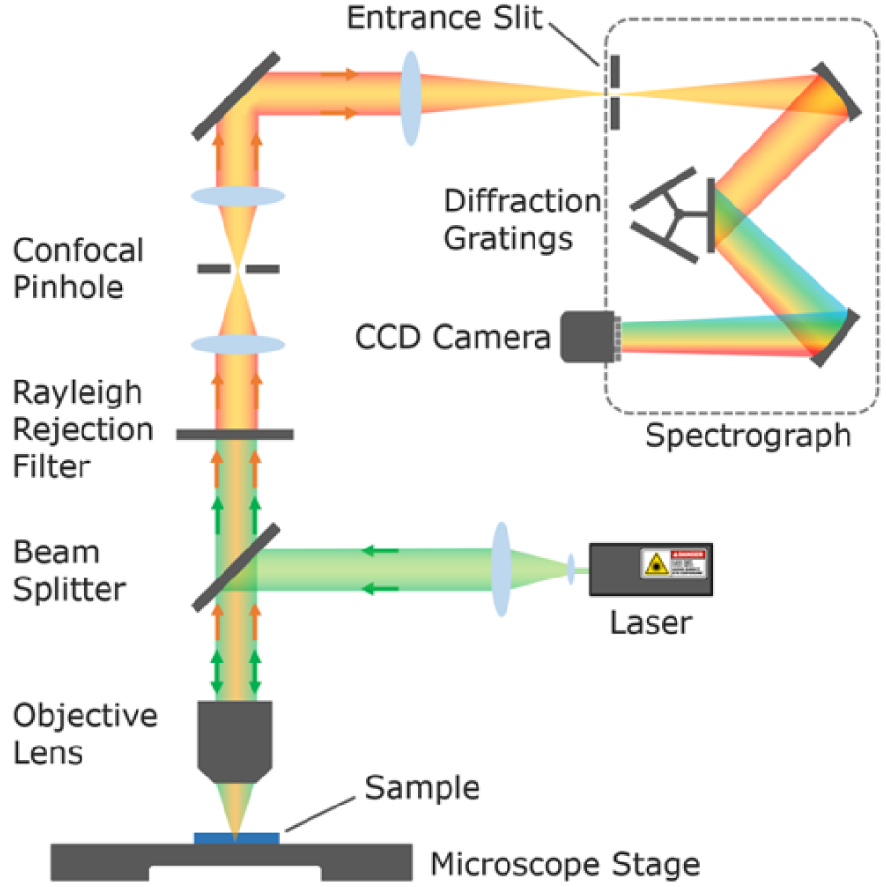 By placing a pinhole aperture (e.g. 2 × 2 blades perpendicular to one another) at the entrance of the spectrometer, it is possible to block the photons which do not originate from the focal plane on the sample (before and after), the so-called confocal Raman microscopy. By selecting objectives with low field depth (high NA objectives with large collection angle) and minimizing the pinhole size, the penetration depth of the analysis (depth resolution along the Z axis of the sample) can be reduced and the lateral resolution increased. Also the contribution of signal originating from the medium between the sample and the objective (atmosphere or liquid) can be minimized. Note that in such confocal configuration, the sensitivity of the analysis (Raman intensity) critically depends on the accuracy of the Raman probe focalization on the sample (and of the optical alignment). Proper focalization of the Raman probe can be difficult to achieve on rough and inhomogeneous samples, compromising the quality of compositional mapping. The depth resolution (Z axis) defined by Abbe is significantly lower than the lateral resolution, in the order of 1–2 μm depending on the wavelength of illumination:
With the development of laser sources with very narrow excitation, photosensitive detectors with high quantum efficiency (PMT, CCD) and high quality optical elements (mirrors, beams separators, filters and gratings), the possibility to couple Raman spectroscopy with highly resolved confocal optical microscopy and to work on high water-content samples (no water absorption using non-infrared laser sources), Raman spectroscopy/microscopy use has been booming in the last twenty years in the academic and industrial communities.
Such high depth resolution which allows the extraction of Raman signature at different focal planes is interesting for optical sectioning of samples. By combining translation stages with sub-micrometer step resolution and Z motion of the objective lens, three-dimensional (3D) sectioning of samples can be obtained. In medicine for instance, numerous studies have been led on skin because in vivo confocal Raman spectroscopy constitutes a non-invasive optical method resolution which allows the skin morphology to be visualized and (subsurface) structures in the skin to be targeted [59]. Without dissection, it is also possible to separate Raman signal originating from the inner layer of skin, namely the dermis, from the Raman signal coming from the outer layer, namely the epidermis, the axial resolution being of a few microns. Several studies dedicated to skin have explored vitiligo [59, 60, 61], atopic and psoriatic skin [62], basal cell carcinoma [63] or psoriasis inflammatory disease [64].
2.8. Fluorescence: the Ramanist's enemy
As mentioned earlier, Raman spectroscopy can use energetic probes (UV or Vis) and excited molecular entities can therefore be promoted to a superior electronic state. Under such condition, relaxation can also occur through fluorescence emission, giving rise to bell-shaped background on the Stokes spectral side only of the Raman spectra, as the fluorescence photons are of lower energy than the excitation source. For samples with strong auto-fluorescence (case of many biological samples with protein matrix), the Raman signatures can be dominated or even totally masked by the fluorescence background, resulting in their impossible detection and analysis as illustrated in Figure 5.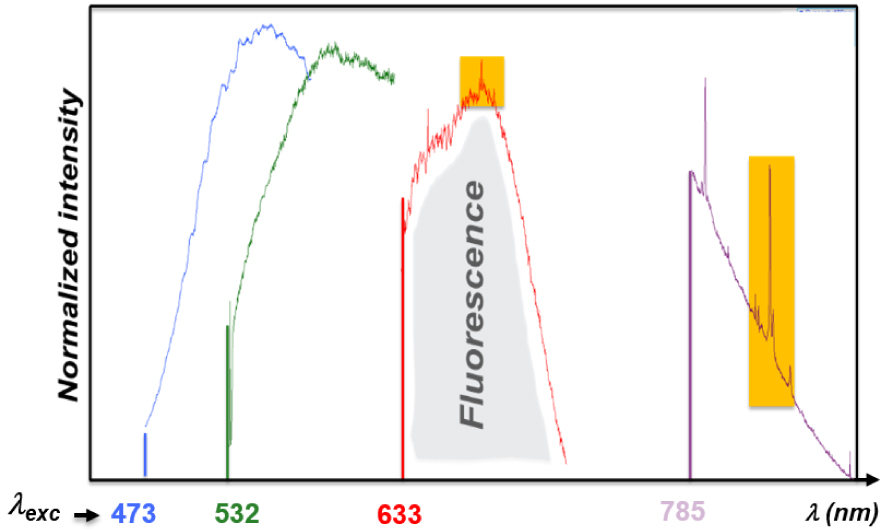 A first alternative is to use deep UV light sources (<250 nm), for which the emission of fluorescence does not interfere with the Raman signal detection, given that at such low wavelength, the two signals are well separated. As mentioned earlier, a typical Raman spectrum (4000 cm−1) in deep UV indeed occurs within only 30 nm apart from the laser line. The main disadvantages of UV illumination for bio-sample characterization are the dominating Raman signal from DNA related to the Raman resonant purine and pyrimidine bases of DNA at excitation wavelengths shorter than 300 nm, and the possible sample damages under such energetic beam (photo/thermal degradation).
A second alternative is to use near-infrared light sources (from 700 nm up to 1064 nm) which induce less sample damages, minimize fluorescence signal as fewer systems absorb in NIR as compared to the ones in visible, but with a price to pay, the dramatic loss of sensitivity (lower Raman efficiency and lower sensitivity of detector in the NIR region). With confocal Raman microscope, the depth of analysis, and therefore the fluorescence signal level, can be reduced by maximizing the confocality of the analysis.
Note that, rough and inhomogeneous (bio)samples can give rise to large backgrounds on Raman spectra, which are not only attributed to auto-fluorescence but also to photons entering the spectrometer in a non-collimated way (stray light possibly due to scattering effect of both the laser source and of the Raman signal [66]).
3. New developments related to Raman spectroscopy
As mentioned earlier, one main limitation associated with Raman spectroscopy is its lack of sensitivity, especially with Raman probes close to the near-infrared. The progress in the fundamental understanding of the Raman process and of its enhancement together with major instrumental technical developments have allowed significant increase of Raman spectroscopy sensitivity and diagnosis capabilities [67].
4. Selected applications of Raman spectroscopy
In the following paragraphs a selection of investigations performed on pathological calcifications developed in breast [102, 103, 104, 105, 106, 107, 108, 109, 110, 111, 112, 113], kidney [114, 115, 116, 117, 118, 119, 120, 121, 122, 123, 124, 125, 126, 127, 128, 129, 130, 131, 132, 133, 134, 135, 136, 137, 138, 139], gallbladder [140, 141, 142, 143, 144, 145, 146, 147, 148, 149], prostate [150, 151, 152, 153, 154, 155, 156, 157, 158, 159, 160, 161], skin [162, 163, 164, 165, 166, 167, 168], testicular microlithiasis [169, 170, 171, 172, 173, 174, 175, 176, 177, 178], atherosclerosis [179, 180, 181, 182, 183, 184, 185, 186, 187, 188, 189, 190, 191, 192, 193, 194, 195, 196] and cartilage [197, 198, 199, 200] are presented. Each section is associated with different organs and the related pathologies are preceded with some medical notions presented succinctly. The limitations and advantages of Raman spectroscopy are also discussed.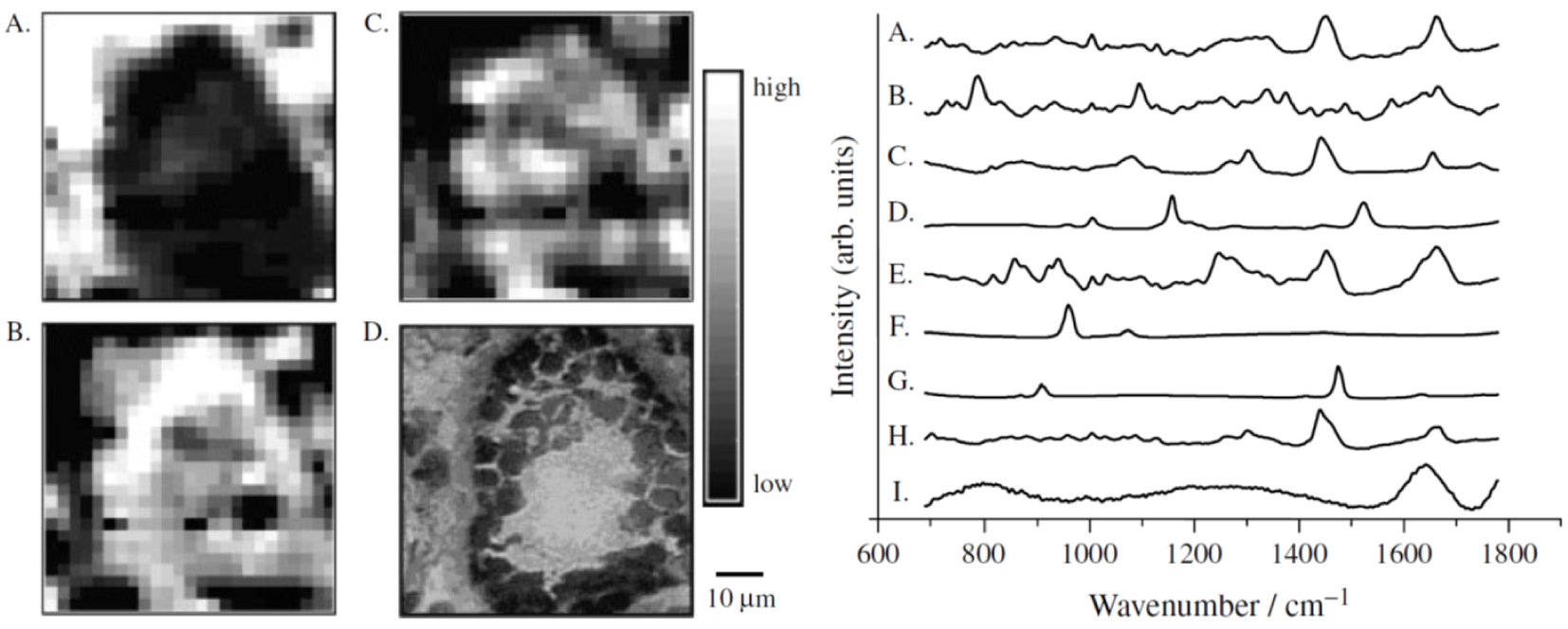 5. Conclusion
Although Raman spectroscopy is still scarcely used in the medical community, all the examples shown in this review, taken mostly from recent literature, clearly demonstrate that Raman spectroscopy is a unique diagnostic tool which gives valuable information to the clinician in various medical specialties encompassing breast cancer, nephrology, cardiology and dermatology without much difficulties in implementation. With the development of fiber optical probes integrating spectroscopic analysis (Raman but also fluorescence multimodal probes) in addition to classical imaging and treatment (i.e. laser lithotripsy), great diagnostic perspectives can be anticipated per-operating or in vivo.
Acknowledgments
This work was supported by the Physics and Chemistry Institutes of Centre National de la Recherche Scientifique and by contracts ANR-09-BLAN-0120-02, ANR-12-BS080022, ANR-13-JSV-10010-01, convergence UPMC CVG1205 and CORDDIM-2013-COD130042.