1. Introduction
Pathological deposits are very common in the human body and accurate characterization is of major importance for medical care. The research described here was performed in close collaboration with several hospitals [1, 2, 3, 4]. Pathological calcifications and abnormal deposits more generally, such as in tattoos [5] or sarcoidosis [6, 7], may be intimately linked with major health problems such as cancer [8, 9, 10, 11, 12, 13], infection [14, 15, 16, 17, 18, 19], diabetes [20, 21, 22], or genetic disorders [23, 24, 25, 26]. The various reviews published from either a medical [27, 28, 29, 30, 31] or a physicochemical point of view [1, 2, 3, 4, 22, 23, 24, 25, 26, 27, 28, 29, 30, 31, 32, 33, 34, 35, 36, 37, 38] have clearly underlined that characterizing deposits, of endogenous and exogenous origins, in the human body are crucial to not only assist diagnosis but also to optimise and develop specific therapy regimens.
More precisely, recent literature and the results we have gathered on different human tissues, including bone [39, 40, 41], skin [5, 6, 42, 43], thyroid [34, 35, 36, 37, 38, 39, 40, 41, 42, 43, 44, 45, 46], prostate [8, 47], kidney [42, 43, 44, 45, 46, 47, 48, 49, 50, 51], cartilage [52, 53, 54, 55], breast [9, 56], salivary glands [57], and pancreas [58], showed that characterization by staining is often of limited utility. A more comprehensive approach has to encompass a wide range of techniques able to describe pathological calcifications at different scales. They can be classified into different families; techniques able to define elemental compositions such as X-ray fluorescence (XRF) [59, 60] or energy dispersive X-ray spectroscopies (EDS) [61, 62], those which describe molecular composition such as Fourier transform infrared (FTIR) [63, 64] or Raman spectroscopies [65, 66, 67, 68] as well as scattering techniques [69, 70, 71, 72]. Imaging techniques such as scanning [61, 62] and transmission electron microscopy (SEM and TEM) [73, 74, 75, 76] or micro computed tomographic imaging [77, 78, 79, 80] are also of prime importance. Finally, it is possible to precisely define the electronic state of some elements through X-ray photoelectron spectroscopy (XPS) [81, 82, 83] and/or their local atomic level environment using X-ray absorption spectroscopy (XAS) [84, 85, 86], electron energy-loss spectroscopy (EELS) [76, 87, 88] or nuclear magnetic resonance (NMR) [57, 89, 90, 91].
The micrometer to nanometer scale information about abnormal deposits that these techniques yield allows an accurate description of the processes underlying the pathology, by defining morphology, elemental composition, and molecular and structural aspects. Some of these techniques can be used in vivo on abnormal deposits in human tissues while some can only be used on biopsy material. The application of all of these complementary techniques in the specific characterisation of abnormal human deposits is detailed in the present paper.
2. Defining an analytical procedure
We will consider the analysis procedure in four steps (Figure 1). The first is initial characterization directly on the human body using a portable analytical device at the physician's surgery or at the injury location depending on severity. The next would be in a hospital in which commercial analytical apparatus is available. The third step involves characterization of biopsies in a physical laboratory performing fundamental analytical research. We conclude by describing experiments requiring large scale instrumentation (often shared with other national and international users) such as synchrotron facilities. Such "photon factories" produce well-collimated and high intensity photon synchrotron radiation beams leading to better spatial resolution and/or higher sensitivity.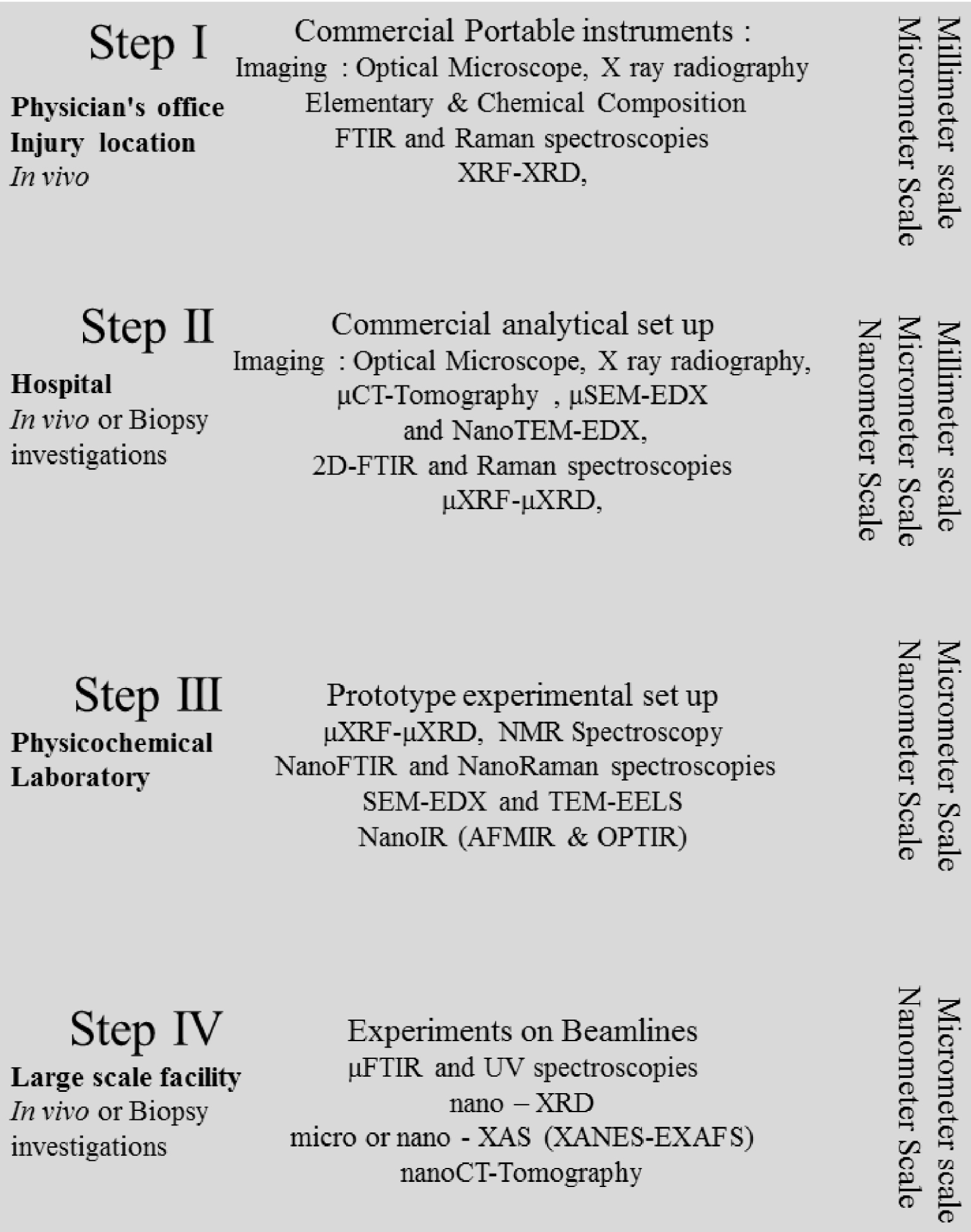 3. Sample quantity and availability
Sample quantity and availability can determine the order in which experiments are performed. Large quantities impose no priority but it must be emphasized that several scans may have to be performed several times to take possible heterogeneity into account. Obviously, if the quantity of sample is low, non-destructive characterization techniques have to be implemented first.
Sometimes, sample quantity is simply insufficient to perform the experiments. For example, XRD experiments are performed on powder; the sample is typically inserted into a glass capillary (Ø = 0.1–1 mm) and mounted on a spinner rotating at several Hz to improve particle orientational averaging. Typically, for such experiments, less than 1 μL of powder is enclosed in small glass or kapton capillaries.
Another technique needing a relatively large amount of sample is Nuclear Magnetic Resonance (NMR) spectroscopy. In order to gather information regarding local structural changes we have to take into account that the volume of a typical widely used "standard" solid state NMR sample holder (a "magic angle spinning" rotor) in a NMR experiment is around 80 μL. Also, it is possible to probe the local environment of several elements namely 1H, 13C, 31P.
4. Advantages and inconveniences of high spatial resolution
High spatial resolution experiments are not always the most desirable. Lower spatial resolution characterization can resolve many important clinical problems. We will examplify this by FTIR spectroscopy and the characterization of pathological renal calcification. In the case of kidney stones, several chemical compounds can be present in different proportions. Chemical compounds present at high abundance do not always define a medical diagnosis. Even a small proportion (5%) of struvite informs the clinician of bacterial infection. This factor imposes a requirement for an IR spectrum with a very high signal-to-noise ratio for there to be any possibility of detecting the presence of a small shoulder in the IR absorption bands or a small shift in their wavenumbers, which may help to distinguish up to 9 chemical compounds occurring in kidney stones.
It is very important to obtain a high quality IR spectrum from the core as well as the surface of kidney stones (Figure 7). Currently, only "classical" IR, in which measurements are performed on a small pellet, is capable of sufficiently high signal to noise. Also, high spatial resolution comes with characterization of only a small area of the sample. In the case of a kidney biopsy the calcification area can be somewhere within a length of typically around one centimetre and width 1 mm; it is clearly impractical to spend a few hours searching the whole sample for ectopic calcification at a μFTIR spatial resolution of 10 μm, or by NanoIR for which the area of interest is limited to 80 μm by 80 μm. Nevertheless, NanoIR experiments can represent the ultimate opportunity to determine chemical composition for very small deposits which cannot be characterized by μFTIR.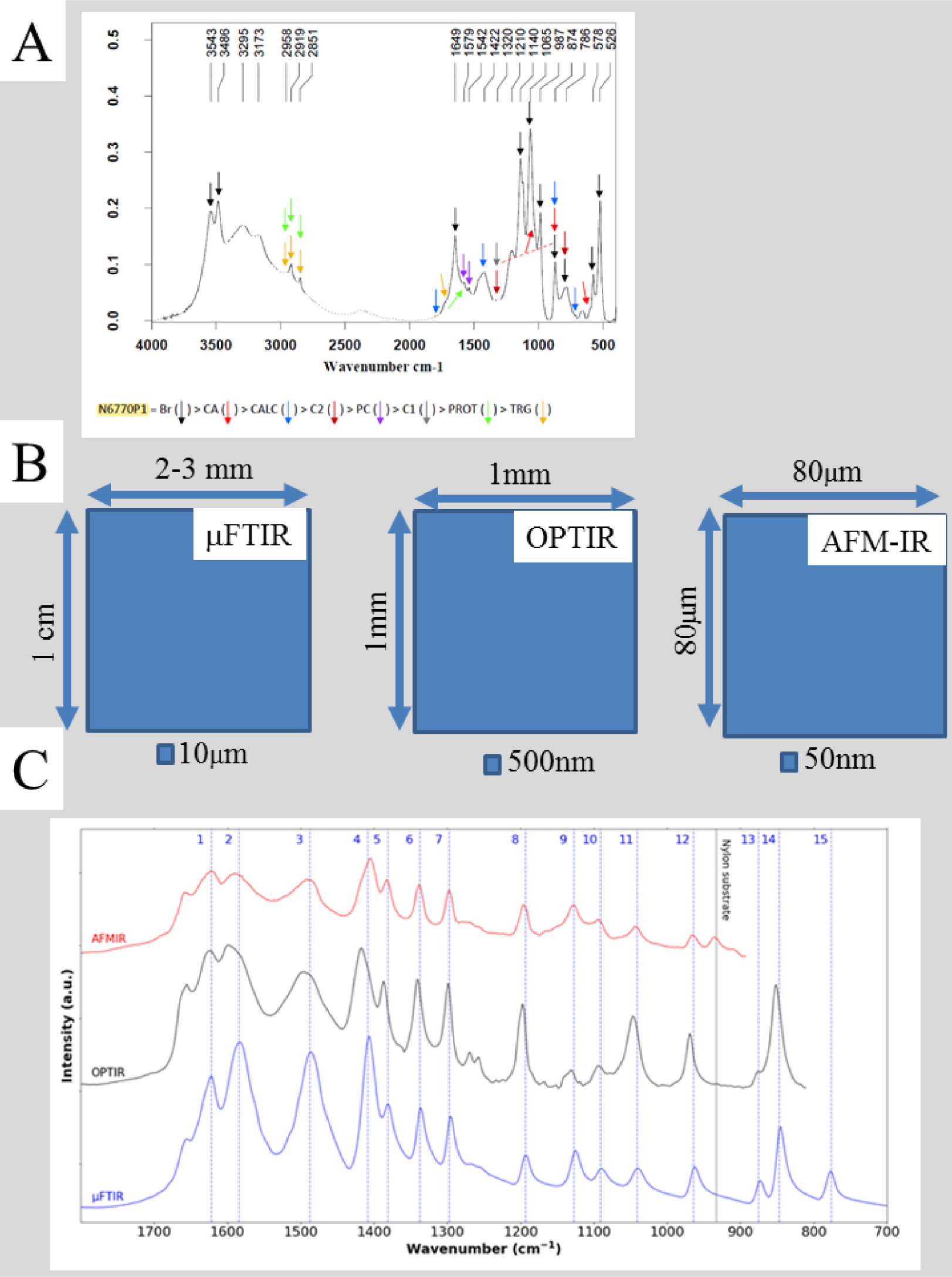 Finally, we must underline that polarization of the lasers used in NanoIR spectroscopy, either in the visible or the IR range, means that the intensity, and position of IR bands may vary, in the latter case by up to a few cm−1. This can impose limitations on the precision of any description of abnormal biopsy deposit chemistry [122].
5. Conclusion
This paper proposes a hierarchical approach to characterize abnormal deposits in biological tissues [155], starting from in vivo measurements and progressing to a physicochemical description at the nanometer scale. The approach is based on a selected set of destructive and non-destructive characterization techniques which take into account the complexity of the physicochemistry of abnormal deposits in biological tissues, consistent with their exogenous and endogenous origins. Because some of these techniques need reference compounds such an approach supposes strong interactions with research teams able to generate nanomaterials [156, 157, 158, 159]. Finally, it must be remembered that density functional theory [160, 161] offers the opportunity to relate nanomaterial atomic structure to IR, Raman or XRD characteristics [162, 163, 164, 165, 166]. As emphasized by Khosroshahi et al. [167], it's time to use nanotechnology to change the conventional paradigm for analysis and diagnosis in cases of pathological deposits.
Conflicts of interest
Authors have no conflict of interest to declare.